Doug Ford's Government Lays out Plans in Throne Speech
July 12, 2018 Last Updated: July 12, 2018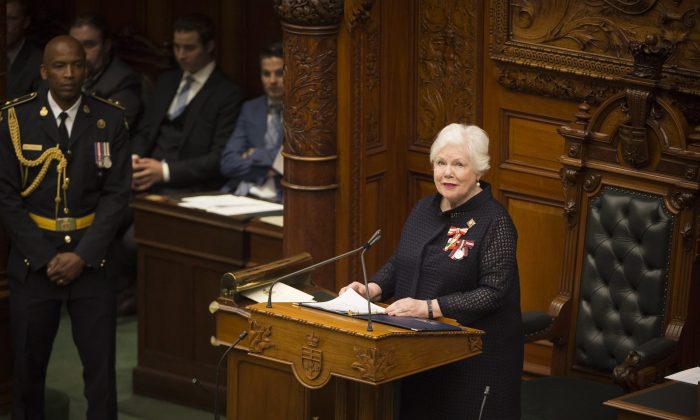 Ontario's new Progressive Conservative government promised changes meant to restore public trust in the government in a throne speech delivered on Thursday by Ontario's Lt. Gov. Elizabeth Dowdeswell at the provincial legislature.
The speech reflected many of the vows made by Ford during his campaign, and laid out at a high level what the new government intends to achieve in the upcoming months.
Ford is committing to cut taxes and government waste, lower hydro bills, grow Ontario's economy, and improve the province's public institutions.
Today, our Government for the People laid out our priorities in the Speech from the Throne. No dollar is better spent than the dollar left in the pockets of the taxpayer. We will reduce gas prices, lower your hydro bills and lower taxes for families and small businesses. pic.twitter.com/NkErTLZdRF

— Doug Ford (@fordnation) July 12, 2018
The speech, written by the premier's office and read by Dowdeswell, calls for a line-by-line audit of all government spending to identify waste, as well as a Commission of Inquiry into the financial practices of the government to restore accountability in Ontario's public finances.
"The era of accounting tricks and sleight of hand must end," Dowdeswell read.
Ford's promise of expanding beer and wine sales in grocery, convenience, and big-box stores was also included in the roadmap.
On health care, the new government is promising stable long-term funding. The speech announced commitments for 15,000 new long-term-case beds over the next five years, and $3.8 million towards mental health and addictions, including supportive housing.

The government also plans to help Ontario's police services by ensuring they have the resources they need and by "freeing them from onerous restrictions that treat those in uniform as subjects of suspicion and scorn." 
The speech said the government would be addressing the transportation needs of the province's urban centres, but no details were provided.
As it was announced on Wednesday, the government has decided to scrap the sex-education curriculum brought in by the previous Liberal government. Ford has also revoked Ontario's cap-and-trade plan.