Donald Trump in Full Damage Control Mode After Abortion Statement
March 31, 2016 7:06 pm Last Updated: April 3, 2016 3:16 pm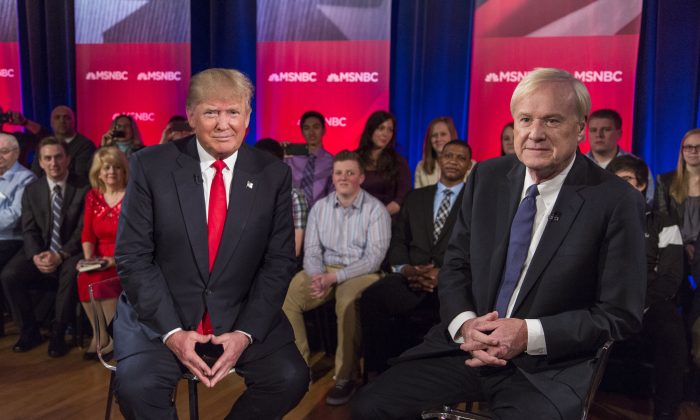 Donald Trump, up until this point, has largely ignored damage control for his many controversial statements.
He didn't backtrack after proposing a temporary ban on Muslims entering the country, he hasn't backed down on building a wall at the southern border, and he didn't apologize after describing Mexican immigrants as "criminals and rapists."
After making statements on March 30 that women who get illegal abortions should be punished, Trump has gone into full damage-control mode for the first time.  
After his comments on MSNBC, Trump released a statement reversing his position saying that it should be the person performing the abortion who is punished, not the woman who has the abortion.
Trump's Challenge With Female Voters
In a recent CNN poll, 73 percent of women had an unfavorable view of Donald Trump, and more than half of women held a "very unfavorable" view of the Republican frontrunner.
That unfavorability extends into the Republican Party, with an NBC poll showing that 47 percent of registered female Republicans hold an unfavorable view of Trump.
And these polls were conducted before Trump made his comments about abortion.
This was a complete misspeak during a conversation over a hypothetical concept.
, spokeswoman for Donald Trump
His statement was condemned so quickly across all parties that Trump revised and clarified his statements twice in two hours, in a rare moment of back-pedaling.
"This was a complete misspeak during a conversation over a hypothetical concept and there was a clarification issued," spokeswoman Katrina Pierson told CNN's New Day. "Mr. Trump is pro-life with exceptions and does not support punishing women for having abortions, even if they're illegal."
An Unpopular View
While many of Trump's positions resonate with a large number of Republican voters—60 percent of Republicans agreed with the proposed temporary ban on Muslims entering the country—suggesting punishment for women who have an abortion, under the premise it were illegal, is a different matter.
Related Coverage
It makes Trump look out of touch with the public, even with more adamant pro-life voters.
A FiveThirtyEight article, "Trump's Call To Punish Women Who Have Abortions Is Way Outside The Mainstream," points to a poll conducted in 2000, where only 10 percent of respondents thought the woman who had the abortion should be punished.