Richard 'Bigo' Barnett, the Arkansas man photographed with his feet on a desk in House Speaker Nancy Pelosi's (D-Calif.) office on Jan. 6, 2021, rejected a plea agreement offered by the Department of Justice that would have seen him spend 70 to 87 months in prison.
Barnett, 61, of Gravette, Arkansas, faces three charges stemming from the U.S. Capitol breach, including knowingly entering or remaining in any restricted building or grounds while armed with a dangerous weapon, violent entry and disorderly conduct on Capitol grounds, and theft of public money, property, or records.
Barnett's attorney, Joseph McBride, rejected the plea offer, calling it "ridiculous." Barnett will proceed to trial in the fall, he said.
"The very general question is, 'Does the punishment fit the crime?'" McBride told The Epoch Times. "There is no standard of reasonableness under which 70 or 87 months of incarceration for a 61-year-old man with no criminal record can ever amount to justice.
"In this situation, it is egregious. It is disgusting. It is a criminalization of the First Amendment's right to participate in political speech. While it was not a perfect day, he certainly should not spend years of his life—basically the entire decade of his 60s—behind bars. It's ridiculous."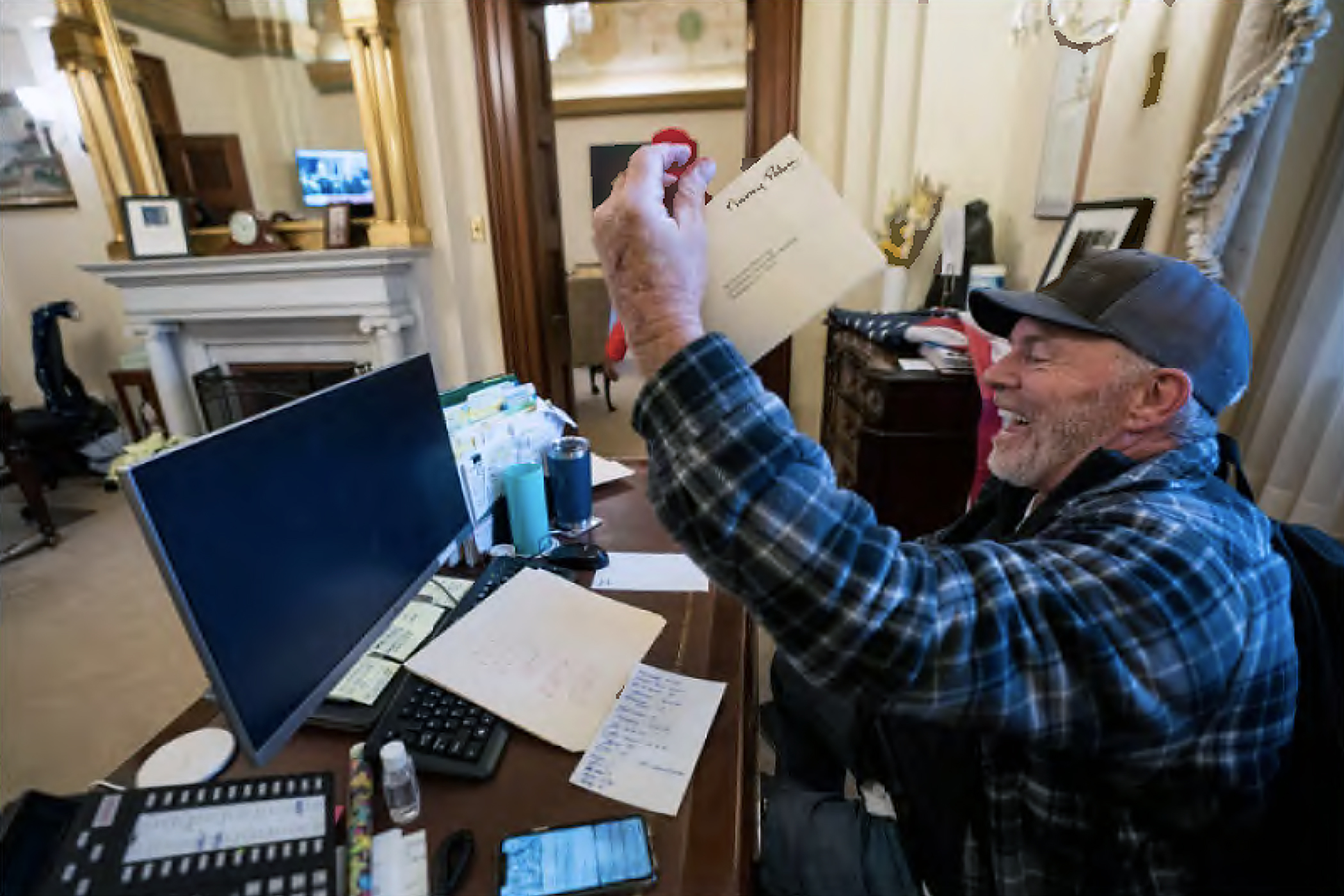 According to federal prosecutors, Barnett entered into the conference area of the Speaker's office on Jan. 6, 2021, at about 2:50 p.m. and left at 2:56 p.m. He put his feet up on a desk and posed for photographs that went viral on the internet later that day.
Theft Charge Came From an Envelope
Barnett picked up an empty envelope addressed to Rep. Billy Long (R-Mo.), then carried it out with him because a cut on his finger dripped blood on the paper, according to McBride. Barnett gave the envelope to FBI agents when he first met with them in January 2021.
Barnett cut his finger when a crowd pushed him through the Capitol's Columbus Doors a short time before he entered Pelosi's office, McBride said.  
We received the Government's plea offer this week: 70-87 months for a glorified trespass.

No criminal history.
Non violent on J6.
Pushed in to the Capitol.

They can stick it where the 🌞 don't shine.

On to trial we go.

Visit my website to fund @BigoBarnett's freedom fight. 🇺🇸 pic.twitter.com/0G4L5ymWqe

— Joseph D. McBride 👑✝️👑 (@McBrideLawNYC) March 7, 2022
Law enforcement got a tip that Barnett was carrying a stun gun in the photos taken in Pelosi's office. It was later determined to be a ZAP brand Hike 'N Strike aluminum walking stick with a built-in flashlight and a 950,000-volt stun gun.
McBride said the stun function was disabled the day prior, and there were no batteries in the device on Jan. 6, 2021. Barnett only used it as a walking stick that day.
"It's clearly not working. So for them to use this as an excuse to give him an exorbitant amount of time, it's ridiculous," McBride said. "They're just using it as a pretext to hit him over the head with a hammer because of the fame that came along with his picture."
Barnett described the situation with a bit more color in the government's charging documents.
"I did not steal it. I bled on it because they were macing me and I couldn't [expletive] see," he said. "So I figured, I am in her office. I got blood on her office. I put a quarter on her desk, even though she ain't [expletive] worth it.
"And I left her a note on her desk that says, 'Nancy, Bigo was here, you [expletive].'"
Sentencing in the Spotlight
The sentencing of nonviolent Jan. 6, 2021, offenders became a nationally discussed issue last week with the Feb. 25 suicide of Matthew L. Perna, 37, of Sharon, Pennsylvania. Perna hanged himself in his garage after learning that the Department of Justice would seek sentencing enhancers that could have put him in prison for 41 to 51 months.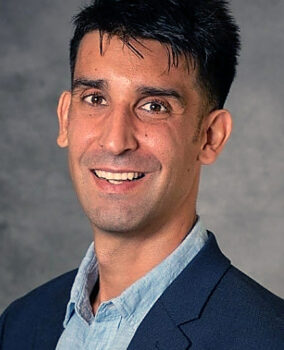 Perna spent 20 minutes in the Capitol on Jan. 6, 2021. He wasn't accused of vandalism, violence, or engaging with police. His plea deal included a felony for obstructing an official government proceeding, the certification of electoral votes by Congress.
McBride said excessive sentencing recommendations are part of a strategy.
"They want to crush all things January 6-related, when it comes to you being on the opposite side of the political spectrum," he said. "They are merciless, they are soulless, they have evil in their hearts.
"It's very unfortunate. And that's why we're in this fight. They're not going to pitch a shutout. They're not going to win all these trials. They're going to start to take losses at some point. They know that, so they are getting their pound of flesh now."