Locals who live in a gated community in southern California spotted the grayish dog living on a nearby mountain. She looked very lean, so much so that you could see her bones right through her skin, and very lost.
Clearly, the locals had good intentions to help the dog, which looked like a hound-mix, perhaps, because they decided to call a local animal rescue team called Hope For Paws.
It's best to call the experts when it comes to dog catching, or "dog saving" as the group prefers to call it. For the inexperienced, catching a stray is no easy task.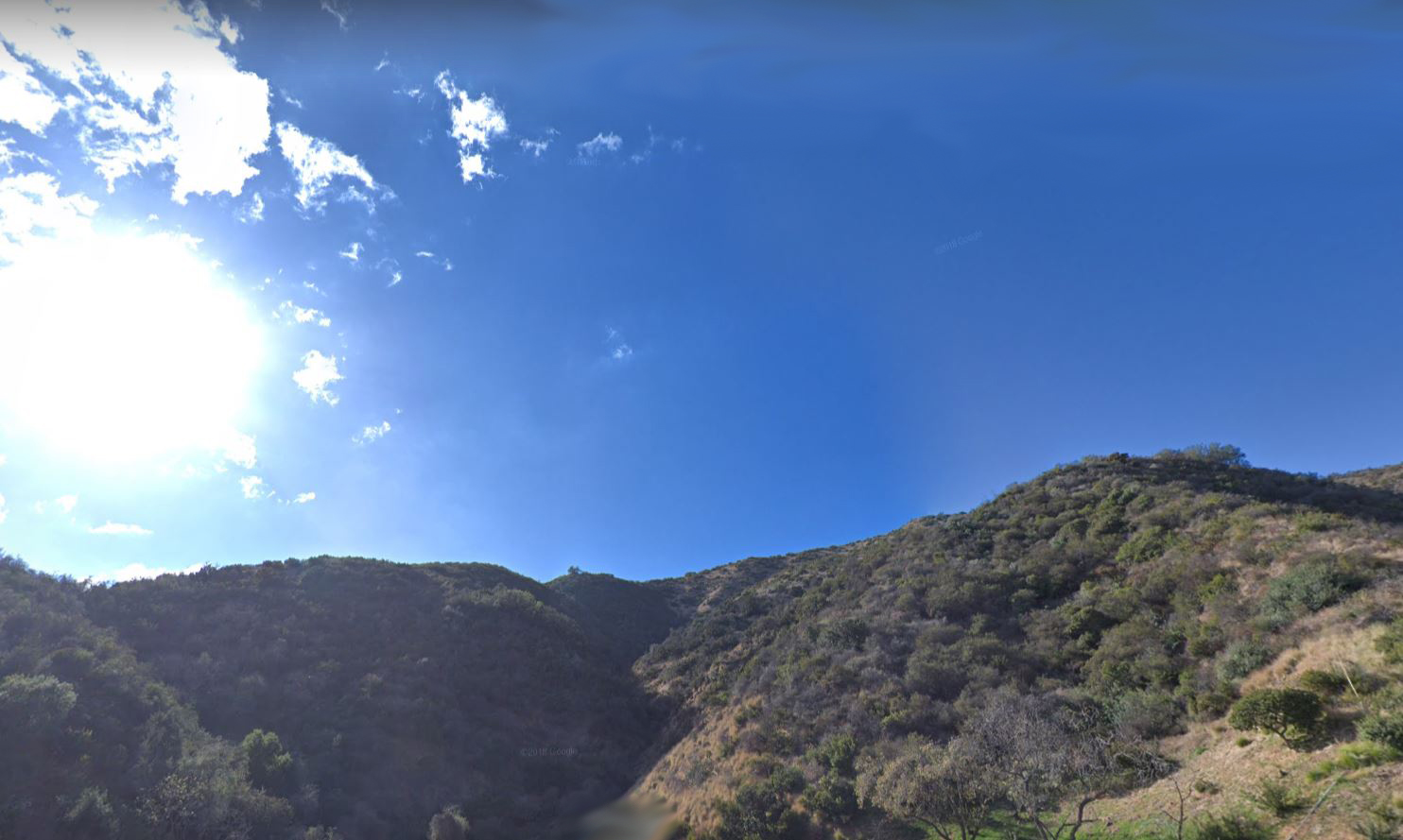 The rescue team sent two of their experienced dog rescuers, Joann and Lisa, who drove to the mountain where the dog was supposed to be living.
"Maybe somebody dumped her out here," said Joann. There were hiking trails and forests where the previous owner could have accessed from.
Watch Lisa's sneaky snare from behind in the full rescue below:
The couple soon made their way to the gated community where the call had been placed from, where what should they find but the lost dog, which appeared to be searching for scraps of food!
The person who had made the call to Hope For Paws was also there, and quickly, they set to work trying to catch the poor pooch.
Lisa had brought a tried and true doggy bait: a cheeseburger, which never fails to lure in hungry stray dogs, even ones that are terrified of humans.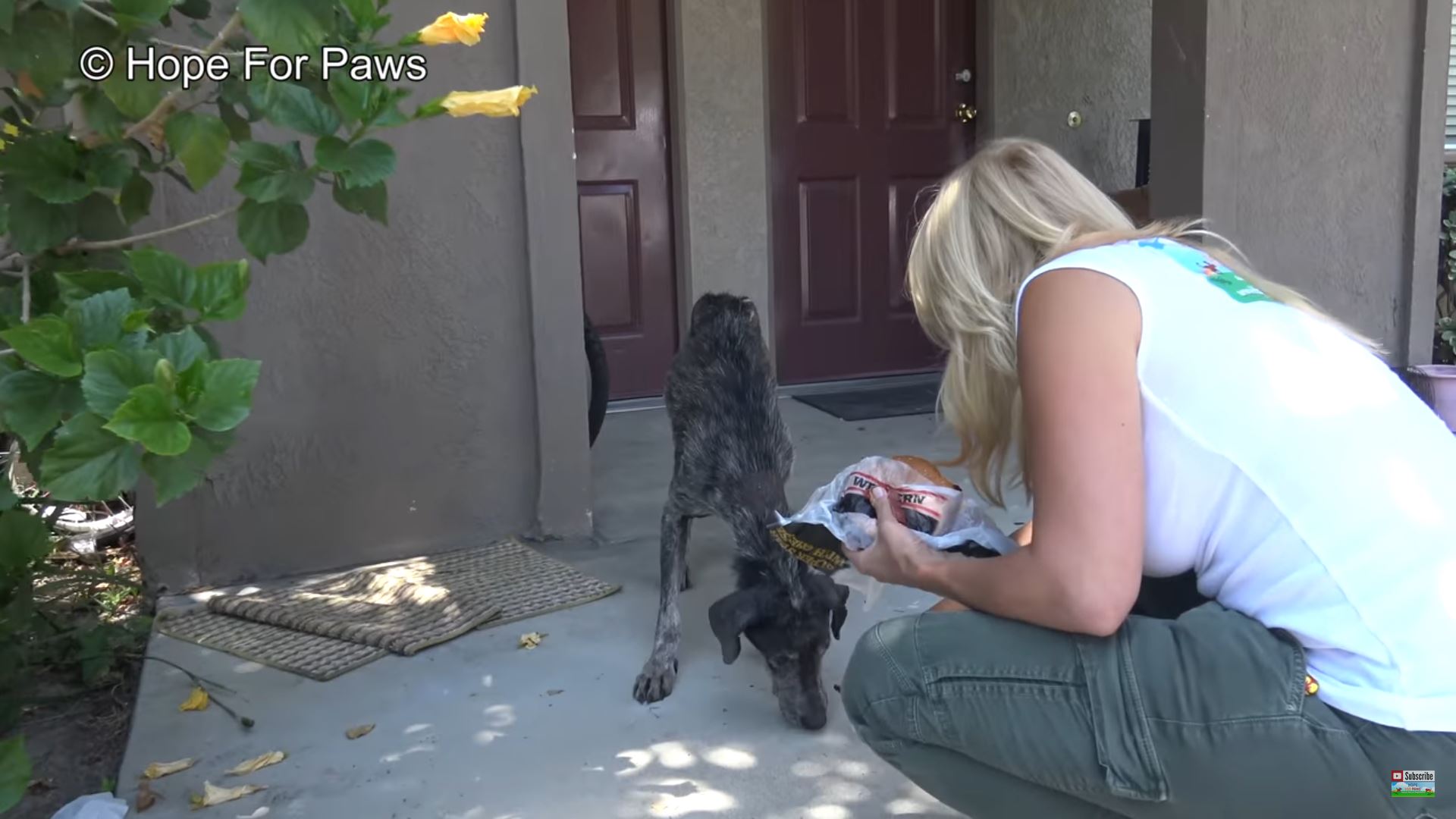 They saw that the grayish hound dog, a female, was missing most of her hair, and they could see her ribs protruding from her sides—she was extremely malnourished.
She was very nervous, but she was so hungry that she would pick pieces of cheeseburger right from Lisa's hand. And she was so distracted by the tasty morsels that she didn't seem to notice as Lisa petted her on the head—and that gave Lisa an idea.
Quickly, she and Joann switched places; Joann took the burger and fed the hound while Lisa went to grab a handheld snare, came back, and slowly approached the dog from behind, while the dog was distracted with the burger.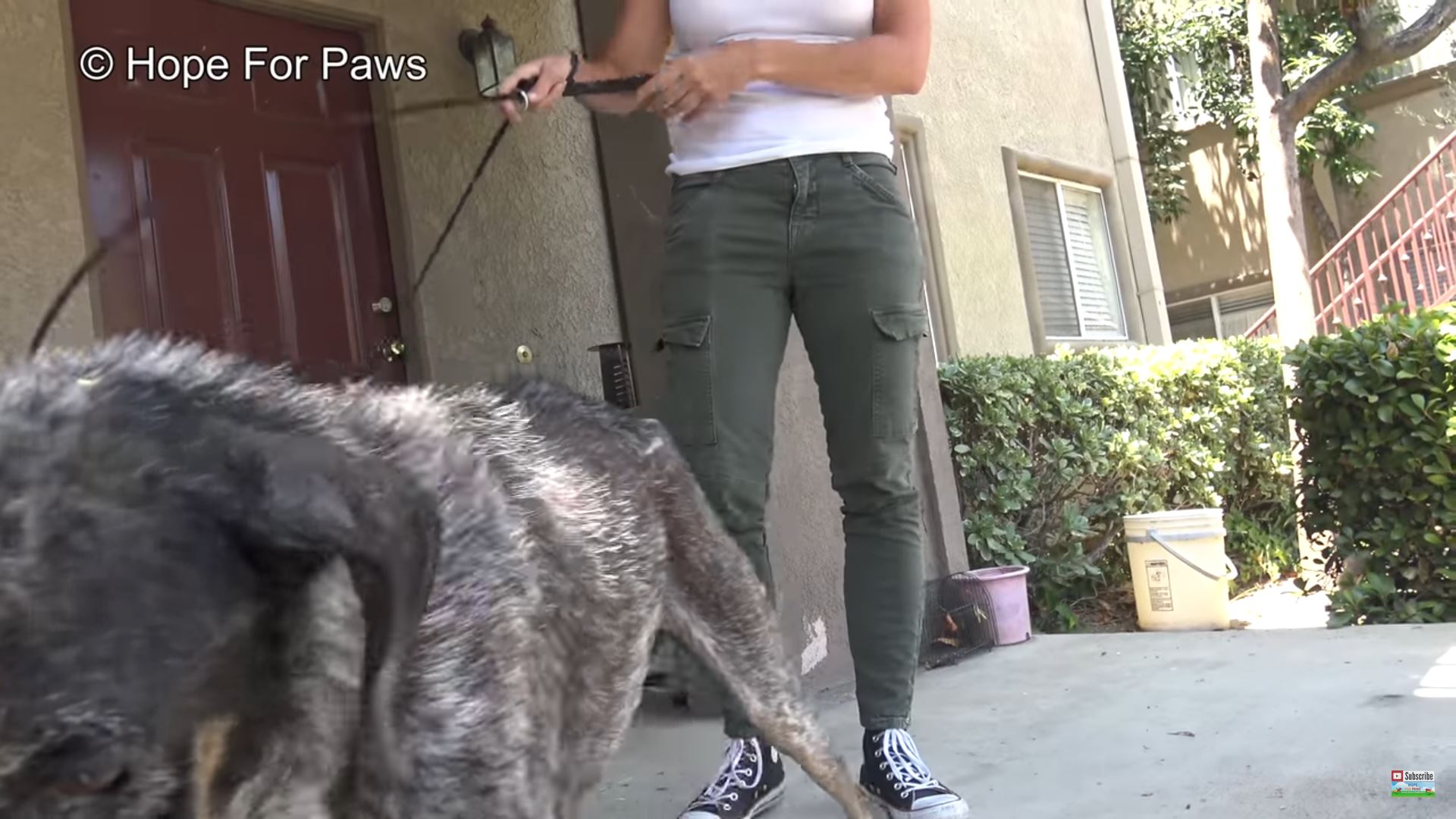 The dog hardly noticed as Lisa sidled up and reached the loop over her head from behind. When she finally saw the snare, reared, and fled, a quick turn of the wrist and the loop tightened around her neck. It was a special, flexible snare, though, so there was no pain.
"That was fancy!" said Lisa, proud of her quick action.
"Team work!" cheered Joann.
Although the hound didn't know it yet, she had just been saved. "Good girl," said Lisa, as they gently placed a leash around her neck. They decided to name her Edna.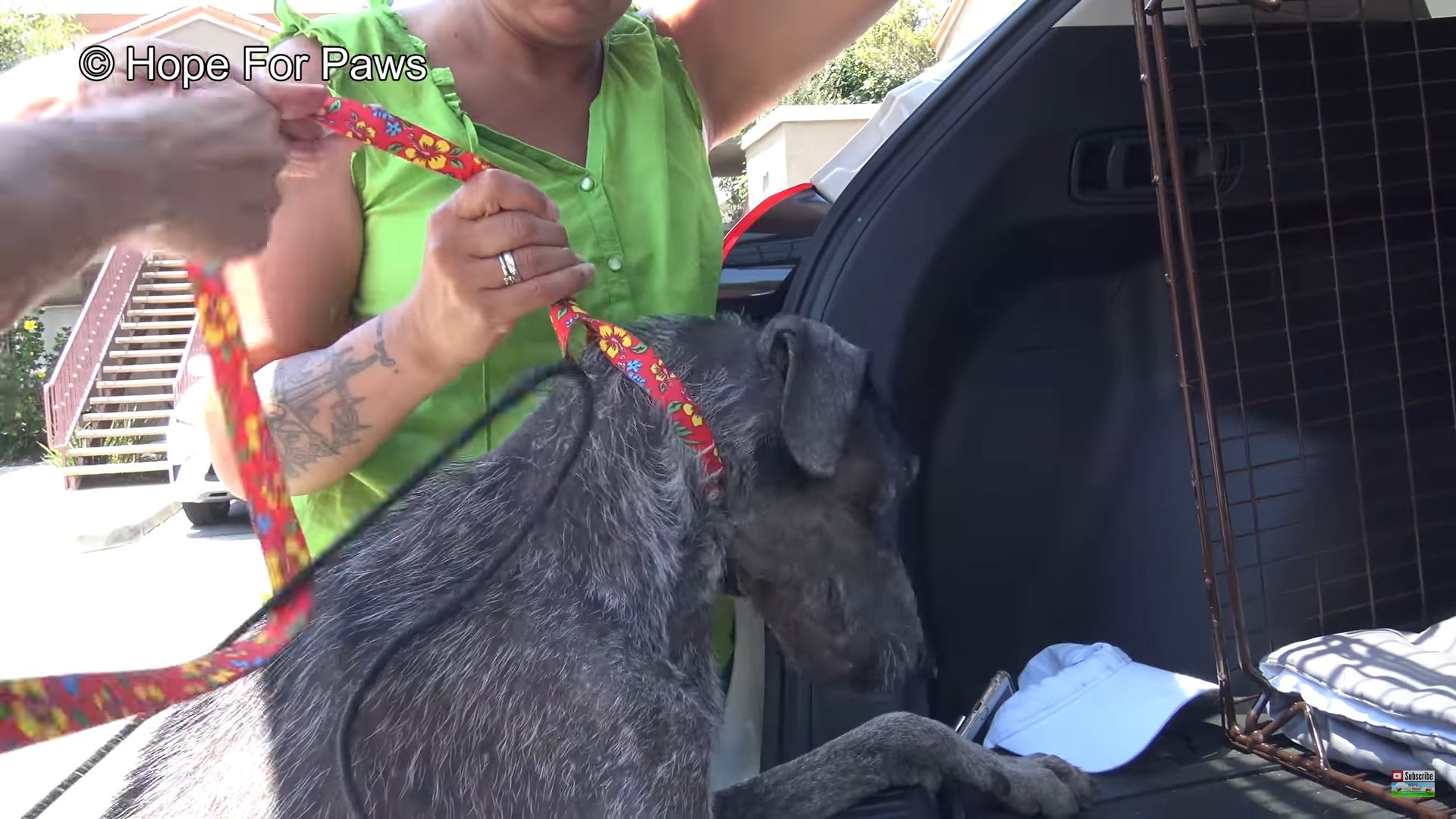 The starving dog was in no position to make much fuss and peacefully went with them to the SUV, where she was loaded up and brought to the dog hospital to get cleaned up. They soon found that she had a microchip and contacted the owner.
Edna's owner had given her away to someone new, who later told her original owner that she had died. The original owner had no idea she was still alive but declined when the rescuers offered to return Edna to them. Instead, they asked Hope For Paws to find a home for her.
Luckily, in just a few weeks, they were able to do just that. Before long, Edna had a brand-new forever home with a loving owner with lots of chances to run and play in the grass, and plenty of food to satisfy her hunger.