Defense attorneys in the Oath Keepers seditious-conspiracy trial renewed their request to block federal prosecutors from mentioning two hand grenades allegedly brought to the Washington area after they discovered that DNA found on the grenades does not belong to Florida Oath Keepers member Jeremy Brown.
Attorneys for Oath Keepers defendants Kenneth Harrelson and Kelly Meggs filed a motion (pdf) with U.S. District Judge Amit Mehta asking him to reconsider his Sept. 6 ruling allowing the U.S. Department of Justice to mention the hand grenades in the ongoing trial of four Oath Keepers and one associate.
"New evidence draws into question the issue of Jeremy Brown's possession of the two hand grenades as there was extensive forensics testing of the hand grenades that failed to result in a match to Brown or his dog that rode in the RV to attend and perform security details at the January 6, 2021 rally," the new motion said.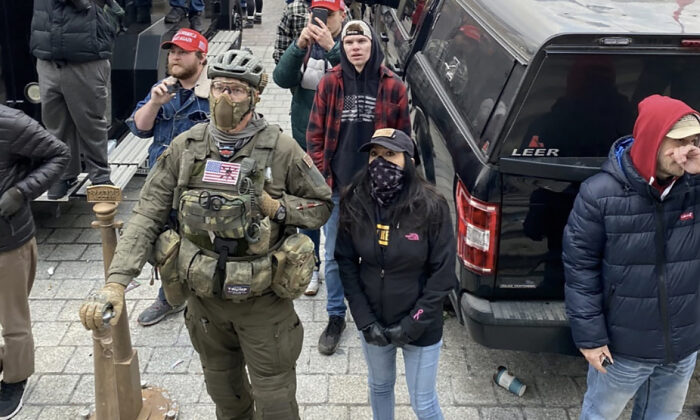 The reconsideration request came after defense attorneys discovered that an FBI evidence laboratory determined the DNA found on the grenades did not belong to Brown. He is not charged in the seditious-conspiracy case but was indicted in two other federal criminal cases in 2021 and 2022.
A search of Brown's Florida property by the FBI on Sept. 30, 2021, turned up two hand grenades stored in the same RV Brown drove to the Washington area for the Jan. 6 rallies and protest.
Grenades Ruled Admissible
Meggs' defense attorneys, Juli Haller and Stanley Woodward, filed a motion on July 29 to suppress any mention of the grenades. Their motion noted the grenades were discovered nine months after the alleged seditious conspiracy was over, and they said prosecutors cannot prove whether Brown's RV contained the explosives on Jan. 6.
Defendants in the seditious-conspiracy trial that began Sept. 27 in Washington include Oath Keepers founder Elmer Stewart Rhodes III, Harrelson, Meggs, Jessica Watkins, and Thomas Caldwell. Prosecutors accuse them of conspiring to attack the U.S. Capitol on Jan. 6 to upend or prevent the counting of Electoral College votes from the 2020 election.
Mehta dismissed the July objections from Haller and Woodward in an omnibus order (pdf) on Sept. 6, ruling evidence about the grenades was admissible.
Haller, Woodward, and Harrelson's attorney, Brad Geyer, filed DNA test results (pdf) with the Oct. 2 motion, showing the FBI did not find Brown's DNA on the grenades.
A mixture of DNA was found on the pin of one grenade. Male DNA was on the body of the other grenade. Brown was not a match to any of the DNA on the explosives, according to a report from the FBI Laboratory in Huntsville, Ala.
Brown has said he believes the September 2021 raid on his property and federal indictments were retaliation for his refusal to become an FBI informant and spy on the Oath Keepers. Agents from the FBI's Joint Terrorism Task Force met with Brown at a Florida restaurant in December 2020, according to a detailed letter (pdf) he sent to The Epoch Times on Dec. 31, 2021.
Brown is scheduled to go on trial Dec. 5 in U.S. District Court for the Middle District of Florida. On April 12, 2022, he was charged in a superseding indictment with possession of an illegal short-barrel shotgun, possession of an illegal short-barrel rifle, two counts of possession of a destructive device, improper storage of explosive material, and three counts of illegal possession of classified material.
Brown is also charged in U.S. District Court in Washington with two alleged Jan. 6 crimes: entering and remaining in a restricted building or grounds, and disorderly and disruptive conduct in a restricted building or grounds. A status hearing in that case is scheduled for Oct. 14 before Mehta.