"Yum cha," meaning "drinking tea," is a time-honored ritual in almost every Cantonese family. It's a term that refers to the Cantonese custom of going to a local restaurant to enjoy tea and dim sum.
The tradition of serving small bites of food along with tea flourished into a great culinary art in Guangzhou, China. It first emerged in teahouses across Guangzhou during the late 19th century, according to Mak Kwai Pui, dim sum chef and one of the restaurateurs behind Hong Kong's Michelin-starred Tim Ho Wan.
The craft eventually spread to neighboring Hong Kong, where many Cantonese immigrants thrived. Dim sum restaurants grew especially popular in Hong Kong during the 1950s. Yum cha, initially a morning brunch activity, became a meal served at all times of day.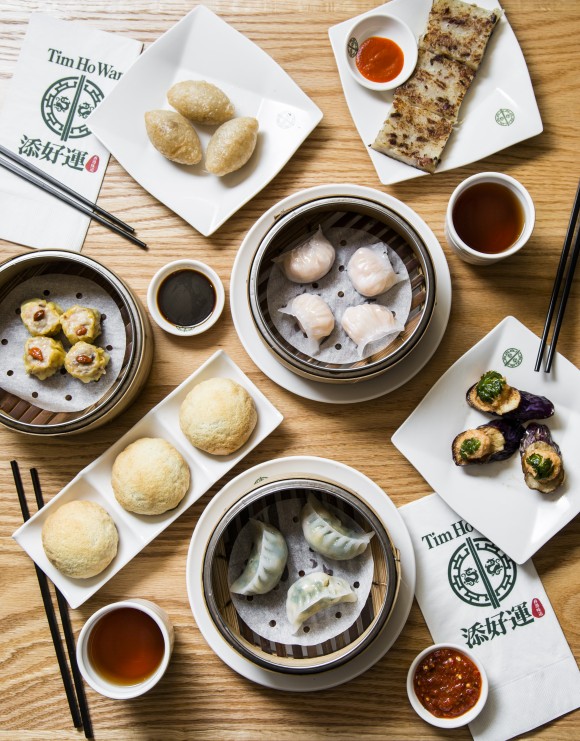 At Tim Ho Wan—which recently opened a branch in New York City's East Village, adding to a collection of over 40 outposts around the world—the chefs respect and master old-school methods of preparing dim sum, delivering some of the city's best renditions of classic dishes. This location is the brand's first in North America.
Everything is made by hand, in-house. According to Mak, all the recipes are traditional, save for a barbecue pork (char-siu) bun that is baked instead of the typical steamed treatment.
Mak started learning how to make dim sum at 15 years old, beginning as an apprentice and training for more than 10 years. Over several decades of making dim sum, his philosophy has been to "always challenge yourself to improve in quality and skill, and in training for the next generation," he said in an email.
The executive chef at the New York location, Martin Chan, is originally from Hong Kong and has been cooking dim sum for 40 years.
Chan explained what the training is like. First, the trainee learns to make the dough used for rice rolls, or cheong fun; then he advances to learning how to steam and fry, and eventually learns how to make pastries. Some of these old techniques still employed at Tim Ho Wan, Chan said, have gone out of fashion in the modern dining world—almost to the point of extinction. "I had learned a lot of these [techniques] during my early years, but a lot of things didn't get passed down later," he said.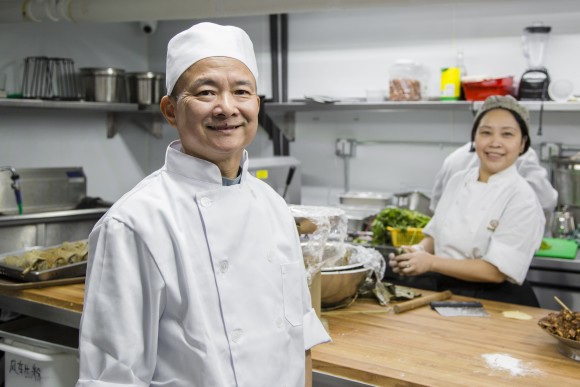 So, in appreciation of this wonderful culinary tradition, here is a guide to some of the classic dim sum dishes at Tim Ho Wan and what makes them so delicious when they're prepared just right.
Steamed Shrimp Dumplings (Har Gow)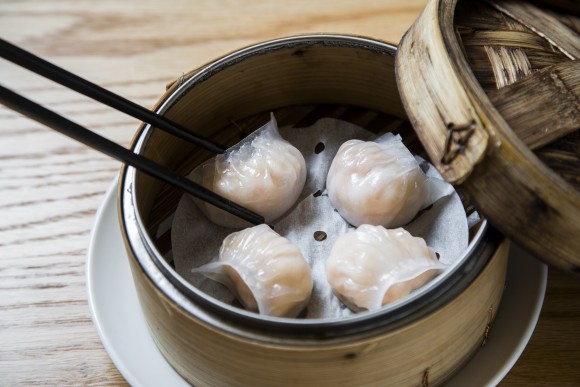 Good har gow must use incredibly fresh shrimp, with a substantial bite, while the dumpling skin, made of wheat starch, is translucent and shiny.
Mak said that the crunchy texture of the shrimp (Tim Ho Wan uses black tiger shrimp) is achieved by making sure to keep its temperature as low as possible, so the chefs ice the filling while prepping ($4.50).
Baked Bun With Barbecue Pork (Char Siu Bao)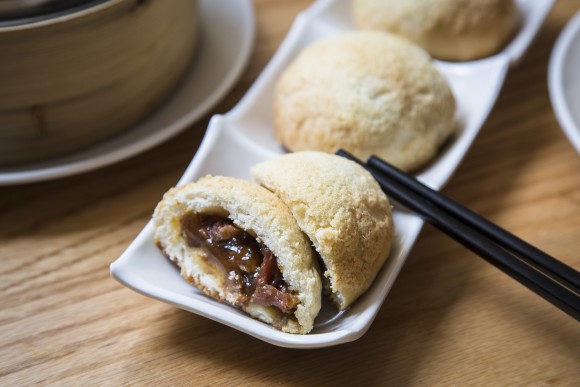 One of the restaurant's signature dishes, this char siu bao is unique because instead of the usual steamed bun filled with char siu pork, Mak makes a baked bread with a crisped exterior. If you're familiar with Hong Kong-style bakeries and their repertoire of pastries, you'll see the bread resembles a pineapple bun, with a crumbly, baked top and a soft, pull-apart interior ($4.95).
Steamed Rice Roll Stuffed With Shrimp and Chinese Chives (Cheong Fun)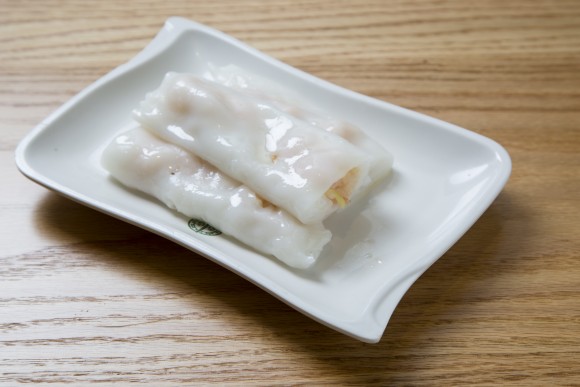 Part of the delight of dim sum comes from all the various textures you can experience while sampling the different dishes. Cheong fun, when done right, features a slippery, smooth rice roll that makes you struggle when you try to grab them with chopsticks. That unique quality is thanks to a secret recipe that mixes different flours together, said Mak. Tim Ho Wan's shrimp rice rolls are also filled with Chinese chives that were grown in the shade, giving them a bright yellow color and a more delicate flavor. The restaurant also makes a great minced beef rice roll, mixed with aromatic bits of cilantro ($5.25).
Steamed Pork Dumplings With Shrimp (Siu Mai)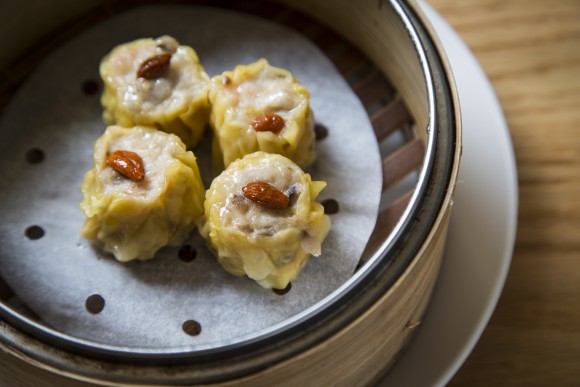 When I dined here with some Cantonese companions who'd spent a lifetime eating dim sum, they raved about how these siu mai were some of the best they've had since they left their homeland. One attests that Tim Ho Wan's siu mai is the only one she's found that reminds her of home: the shrimp, with a light taste of the ocean, meld harmoniously with juicy pork inside a thin, open-top wrapper ($4.50).
Steamed Shrimp and Chive Dumplings (Gow Choi Gau)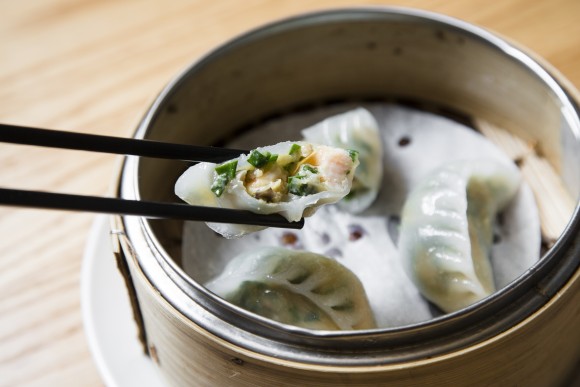 Pork and shrimp make another lovely pairing in these dumplings, enhanced by fresh, verdant chives. What sets Tim Ho Wan's version apart from your usual Chinatown spot is how much cleaner and lighter it tastes, as seen in much of their menu ($4.75).
Pan-Fried Turnip Cake (Lo Bak Go)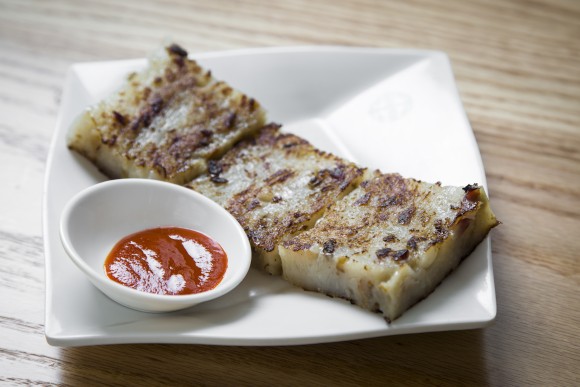 Getting the right texture involves striking a fine balance between the turnip and rice flours in the batter; too much of one or the other will make it too mushy or too firm. Despite being pan-fried, the turnip cakes at Tim Ho Wan aren't oily, and you can clearly taste all the ingredients (there's no skimping, either): turnip, dried shrimp, and Chinese sausage ($4.50).
Deep-Fried Dumplings Filled With Pork and Shrimp (Ham Sui Gok)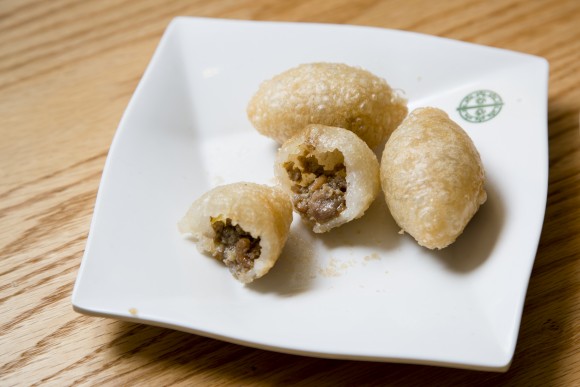 These deep-fried dumplings are worth seeking out because of the contrast in texture in the wrapper, made of glutinous rice: fried to a crisp on the outside, chewy and mochi-like on the inside. The filling is a flavorful mixture of pork, dried shrimp, dried and salted daikon, and spices ($4.50).
Deep-Fried Eggplant Filled With Shrimp (Yeung Ke Zi)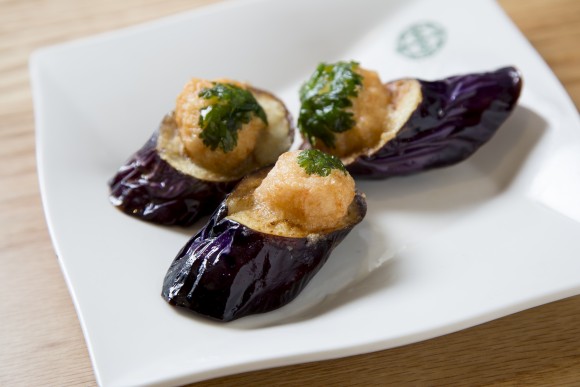 Usually, this dish, while fried, doesn't have much crunch because it is also steamed to make the eggplant tender. But Tim Ho Wan's version defies convention and magically keeps the vegetable soft while the stuffed shrimp inside are crisp. Mak won't reveal his secrets, but we can thank him for the delicious surprise ($4.75).