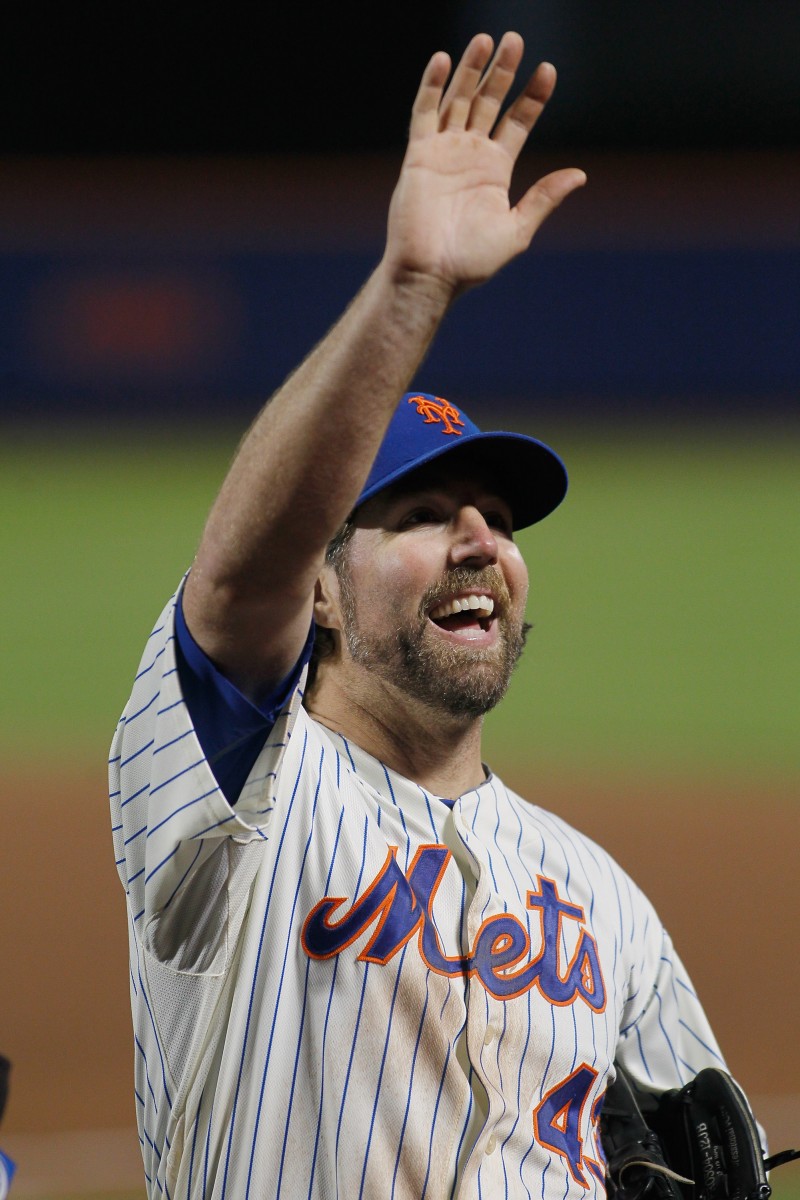 After being traded, 2012 National League Cy Young Award winner R.A. Dickey has agreed to a 2-year extension with the Toronto Blue Jays. The contract is worth $25 million and will cover the 2014-15 seasons.
Dickey, 38, spent his last 3 seasons with the New York Mets. As a pitcher for the Mets, Dickey had a 39-28 record with a 2.95 ERA. The highlight of his tenure with the Mets, and his career so far, is his 2012 season. In the 2012 season, he finished with a career-high in wins (20) ,strikeouts (230), innings (233.2) that would lead to his first Cy Young Award.
With the Mets and Dickey unable to come to an agreement, the Mets felt that the way to maximize his value was by trading him. The Mets would trade the knuckleball pitcher to the Toronto Blue Jays, who have made a number of trades that have made them a much stronger team. The Toronto Blue Jays will receive Dickey, catcher Josh Thole, and a prospect. The New York Mets will receive catching prospect Travis d'Arnaud, pitcher Noah Syndergaard, catcher John Buck, and a prospect.
Josh Thole, 26, had a .234 batting average, with 1 home run, and 21 runs batted in. He was likely traded to the Blue Jays due to his experience catching the knuckleball.
John Buck, 32, spent his 2012 season with the Miami Marlins. In the 2012 season, Buck hit .192 with 12 home runs and 41 runs batted in. Buck was a part of the blockbuster trade that included shortstop Jose Reyes, and pitchers Josh Johnson and Mark Buerhle. According to MLB.com, reporter Jonathan Mayo lists catcher Travis d'Arnaud as the Blue Jays top prospect and pitcher Noah Syndergaard as their third best prospect. Catcher d'Arnaud was a part of the trade that sent pitcher Roy Halladay to the Philadelphia Phillies. Last season, d'Arnaud played in 67 games for the Blue Jays AAA-affiliate, the Las Vegas 51s, and hit .333 with 16 home runs and 52 runs batted in. A torn ligament in his left knee ended his 2012 season early. Starting pitcher Noah Syndergaard pitched in 27 games for the Blue Jays A-affiliate, the Lansing Lugnuts, and had an 8-5 record with a 2.60 ERA, including 19 starts.
The trade of Dickey likely indicates that the Mets intend to go in a rebuilding direction. The acquisition of Dickey continues to indicate the Blue Jays intend to be a contender for the AL East division and makes them an offseason favorite for the World Series.
The Epoch Times publishes in 35 countries and in 19 languages. Subscribe to our e-newsletter.