Democrat Josh Shapiro has been elected Pennsylvania's next Governor with Austin Davis as lieutenant governor, although Republican Doug Mastriano did not concede Tuesday night.
Shapiro had 54.42 percent of the vote, or 2,571,668 votes, at the time his victory was called. Mastriano 43.74 percent, or 2,067,092 votes.
In what felt like a concession speech, Mastriano told supporters 30 percent of votes were not yet counted, and he was going to wait it out.
Shapiro's four-year term will lengthen Democrat rule in the executive office to 12 years. Current Democrat Gov. Tom Wolf is completing his second term. Eight years is the limit in Pennsylvania.
With a Republican-led state House and Senate, Shapiro will surely continue Wolf's trend of vetoing much of the legislation that comes out of the Republican General Assembly.
Shapiro, who is currently state Attorney General, will likely keep many of the policies Wolf has championed such as the Regional Greenhouse Gas Initiative, a cap-and-trade program that consumers are starting to notice through their higher energy bills.
Shapiro promised on the campaign trail to give teachers good wages, better fund schools, and not censor books in school libraries. He was well-funded by teachers' unions.
He is pro-abortion and might advocate for less restrictive abortion laws, although the General Assembly is not likely to put such bills on the floor.
Shapiro may end up using the executive order to advance his causes.
Shapiro became a household name in 2018 after releasing a nearly 900-page grand jury report investigating child sex abuse within the Catholic Church in Pennsylvania. It profiled more than 300 clergy members who allegedly sexually abused children. Many had died or retired, but the report brought the problem into focus. During the investigation, Shapiro communicated regularly with victims and invited them to his office for updates. The victims became a sort of support group of shared experiences and were devoted to Shapiro, who had brought their story to light.
The Race
The matchup between Mastriano, 58, and Shapiro, 49, was one of sharp contrasts in values and funding.
Shapiro had no challenger during the primary and had millions more in campaign money to spend. He received donations from New York, California, and other states. His donors included three members of the Soros family.
Mastriano faced a crowded primary and raised far less money, but his donors were mostly private Pennsylvania individuals giving in small amounts.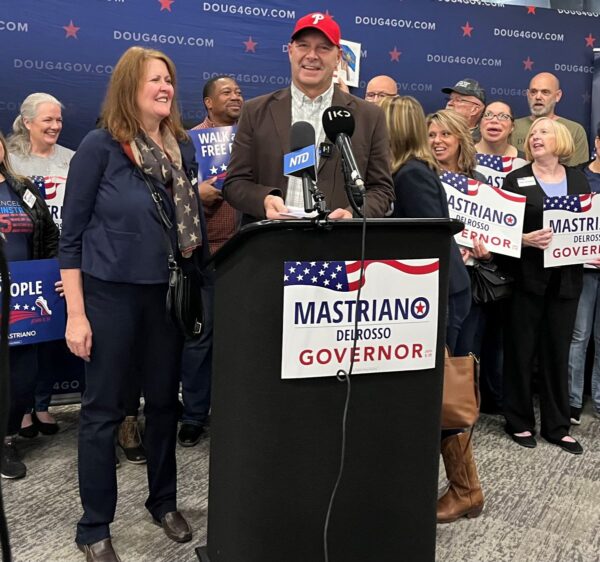 Shapiro hit television advertisements hard. Mastriano was hardly seen on television, and his supporters became frustrated when he didn't refute Shapiro's negative spin. While Mastriano tried to keep the conversation on issues, Shapiro spent a lot of time tearing Mastriano down.
The Next Governor
Pennsylvania's next governor will inherit the Department of State, which has had numerous directors in recent years. The governor appoints a secretary of state who will oversee elections.
All cabinet positions could see new leadership in the new administration, including the secretary of education, secretary of environmental protection, and State Police commissioner.
The new governor's secretary of transportation will have to navigate Pennsylvania's pledge to move toward electric cars and funding of new bridges and roads and repairs. Will they lower one of the nation's highest gas taxes? How many more traffic circles will they put in around the state?
The governor-elect must hire a secretary of health; and secretaries for labor and industry; conservation and natural resources; corrections; drug and alcohol programs; human services; aging; banking and securities; revenue; community and economic development; and agriculture.
The governor must also appoint an adjutant general of Military and Veterans Affairs, director of Pennsylvania Emergency Management Agency, inspector general, insurance commissioner, state fire commissioner, and physician general.