Delta Passengers Take Down Unruly Fellow Flyer
August 3, 2018 Last Updated: August 3, 2018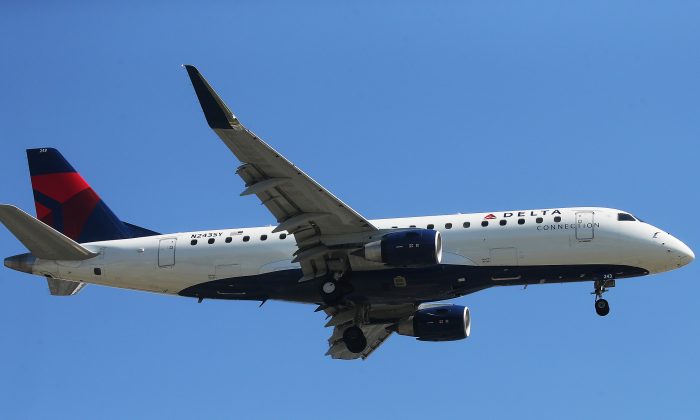 Two passengers came to the rescue when a fellow flyer became dangerously out of control on a Delta Airlines flight from Maine to Georgia.
The passenger on the Delta Flight 1249 from Portland, Maine to Atlanta, Georgia spontaneously started creating a commotion. His behaviour rapidly accelerated from unruly to dangerous.
James Tennell, a former corrections officer, was traveling with Ashley Decker. Tennell told Fox News. "I could hear a lot of screaming in the back. One of the passengers was punching the [overhead seat] lights."
Decker said the man was hitting the lights, the windows and also swinging at other passengers.  "He was trying to punch them, punch the windows."
"It was kind of scary. 9/11 immediately went into my head," she added.
"Passengers were telling me he was wanting to take the plane down," Tennell explained. "Somebody had to do something."

Tennell instinctively ran towards the back of the plane to help if he could. Another passenger, who told Tennell he was in the Coast Guard, also headed for the noise.
Tennell told the flight attendants that he was ex-law enforcement and that his companion was in the military. The flight crew gave the two handcuffs so that they could restrain the threatening flyer.
The disruptive passenger had locked himself in the restroom by then. With the help of the flight crew, the two pulled the violent passenger out of the restroom and restrained him. Once the high-risk traveler was cuffed, Tennell and the other man wrestled him to a seat and lashed him down with seat belts.
No one was hurt Tennell said, though "he did try to bite me a couple of times."

Once the unruly flyer was subdued, the other passengers burst into a round of applause.
The disruptive passenger was handed over to law enforcement once the flight reached its destination.
Tennell said that the incident showed how important it is to react quickly when danger arises. He also advised that anyone who did not have training would be better off calling for help instead of risking injury in that type of situation.
Tennell felt secure tackling the problem because he had had training in managing and restraining aggressive prisoners. He knew he was capable, so he stepped up.
"There was a lot of lives at stake, where people could have been potentially hurt," he said.

From NTD.tv
Watch Next:
Why did the US Leave the UN Human Rights Council
"We are withdrawing from the UN Human Rights Council, an organization that is not worthy of its name."