Iranian President Hassan Rouhani said on Friday that his regime will boost its missile capabilities in an apparent response to President Donald Trump's decision on the Iran nuclear deal.
Rouhani made the controversial remarks at a military parade that showcased a new ballistic missile said to be capable of reaching targets up to 1,200 miles away and carrying several warheads.
Just two days earlier President Donald Trump announced that he had made a decision on the nuclear deal that Iran reached with the United States and other world powers in 2015. Under the deal Iran ceased nearly all its uranium enrichment in exchange for a removal of sanctions and billions of dollars in cash.
"The Iran Deal was one of the worst and most one-sided transactions the United States has ever entered into," President Trump said in his speech before the UN General Assembly on Tuesday.

Critics have pointed to the Iran deal, officially named the Joint Plan of Action, as ensuring that Iran will obtain a nuclear weapon. Under the agreement, restrictions on Iran will begin to be lifted after ten years, allowing the regime at that point to install thousands of advanced uranium centrifuges, giving it the ability to develop a nuclear weapon within six months.
Iran's missile technology program was intentionally not part of the nuclear program, and was instead grouped together with several other of Iran's problematic behaviors such as arms smuggling, and support for terrorism and other rogue regimes, in UN Security Council resolution 2231.
Because the resolution is separate from the Joint Plan of Action, violations of it have no impact on the nuclear agreement itself.
U.S. Ambassador to the U.N. Nikki Haley said earlier this month that Iran has had multiple violations of the resolution when it comes to the development of ballistic missile technology.
"The regime has engaged in such launches repeatedly, including in July of this year when it launched a rocket into space that intelligence experts say can be used to develop intercontinental ballistic missile technology," Haley said in a speech at the American Enterprise Institute on Sept. 5.
Haley said at the time that the international community has powerful incentives to keep the Iranian nuclear deal in place, and at the same time is reluctant to address the regime's "so-called non-nuclear violations," referring to the ballistic missile technology.
"The result is that Iran's military continues its march toward the missile technology to deliver a nuclear warhead. And the world becomes a more dangerous place," she said.
A ballistic missile that is capable of reaching 1200 miles, puts Israel well within striking distance from Iran.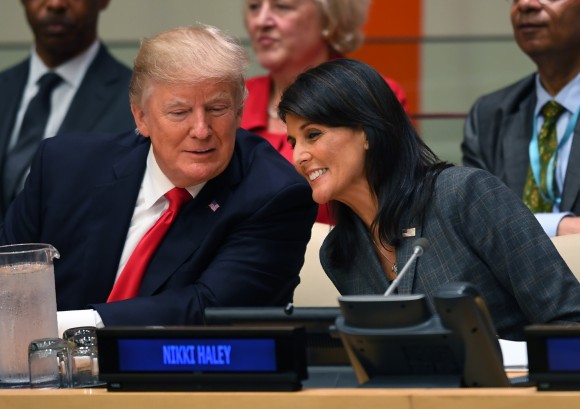 Israeli Prime Minister Benjamin Netanyahu has been a fierce critic of the deal, saying it would guarantee Iran getting a nuclear weapon. In a speech before Congress in 2015, he described it as a "very bad deal" that "could well threaten the survival of my country."
Iran frequently calls for the death of both America and Israel.
Max Abrahms, assistant professor of Political Science at Northeastern University, said that Iran's announcement of its new missile will likely lead to more escalation.
As part of the nuclear agreement, President Trump has to re-certify the Iran deal toCongresss every 90 days.
Haley said in a speech on Sept. 20, after President Trump told reporters that he had made a decision on the nuclear deal, that "Iran has been caught in multiple violations over the past year and a half."
"The truth is, the Iran deal has so many flaws that it's tempting to leave it," she said.