Death Toll Still Rising in China Earthquake
April 15, 2010 3:35 am Last Updated: October 1, 2015 8:22 pm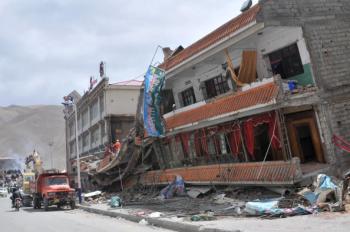 An earthquake which struck Yushu Tibetan Autonomous Prefecture in the early morning of April 14 is now said to have been much more devastating than initial reports indicated. As of Wednesday night, 589 were confirmed dead, yet local Chinese media reported the injured as being in the tens of thousands.
An estimated 90 percent of the houses in the capital of Jiegu are said to have collapsed with many people being buried underneath the rubble in freezing temperatures. Most people are out on the streets as aftershocks continue to roll through the region.
The devastating magnitude 6.9 earthquake struck Yushu Tibetan Autonomous Prefecture in China's Qinghai Province at 7:49 a.m. local time on April 14 and was followed by a 6.3 aftershock at 9:25 a.m. Due to a lack of relief support, some local rescuers are reportedly relying on digging with their bare hands.According to China National Radio, the Red Cross of Yushu indicated that 70 percent of schools have collapsed in Yushu. Deputy Secretary of Yushu Education Bureau Xiao Yuping said 56 students have died as of 9:40 p.m.
China Central Television reported that Xihun, a village near the capital Jiegu, has been leveled, where 99 percent of the houses collapsed.
Department of Civil Affairs of Qinghai Province reported that the epicenter of the quake was located in a mountainous area 4,300 meters (14,107 feet) above sea level, 18 miles from Yushu County.
The U.S. Geological Survey said the quake measured 6.9 on the Richter scale, whereas the China Seismic Information Web site said the magnitude was 7.1.
Both China News and Xinhua News reported that Jiegu Township, the capital of Yushu County, has more than 100,000 residents.
Zhuo Huaxia, vice minister of Yushu Prefecture Committee Propaganda Department indicated that 90 percent of houses in Jiegu Township have collapsed and many people are buried under the rubble. He also indicated that the roads to Yushu Airport, which is 18 miles southwest of Jiegu, have been disconnected. Governmental vehicles have not been able to return from the airport. Communication to the airport has also been disrupted.
Zhou said, "I can see injured people everywhere. It's impossible to estimate how many are there."
The deputy mayor of Yushu County indicated that they have already rescued several thousand people from the rubble, but they lack medical equipment and medicine to treat the critically injured, Beijing News reported.
Bare hands rescue
Chinese media also reported that teachers and students in an elementary school in Yushu County rescued 61 students from the rubble with their bare hands, but 34 of them were dead and the other 27 were still lying on the playground waiting for medical treatment.
One Jiegu resident told The Epoch Times that all nearby houses, including his own, had collapsed. He said the government notified the locals not to reveal the extent of the disaster to the outside world. Therefore, he could not reveal more about the situation other than that everyone was very busy.
Sound of Hope Radio (SOH) reported that many students and people are buried beneath the rubble and that no water or shelter is available to the survivors.
Local resident Mr. Wang told SOH that the earthquake destroyed Jiegu. Firefighters are focusing rescue efforts on schools and hotels, but rescue crews for residential areas are unavailable and casualties are rising.
"Basically all residential houses have collapsed, including hospitals and schools. Particularly the schools, there are many students buried under the rubble," Ms. Wang said. "Electricity is out. There are some fires. The aftershock quakes continue and have not stopped. There are over 100,000 registered residents in Jiegu. Counting the [unregistered] residents from other provinces, there are about 200,000 people in Jiegu. It's quite chaotic."
A Jiegu resident who wished to remain anonymous indicated to SOH that Jiegu Township is nearly gone. He said that many are buried in the collapsed houses. It is very cold at night and snow has just hit the area. The survivors have not received any help.
He said, "Many have died. The town is basically gone and ruined. Many people are under the rubble. There are many casualties. Many are dying. There's no rescue effort here. We don't know where to stay tonight. There's no food."
Mr. Han, another resident of Jiegu, said that there is no water or food in Jiegu. No medical assistance is available for the wounded. There are cracks in the dam.
"The whole town is paralyzed. Many residential houses have collapsed. Nearly 100 percent of the mud-brick houses have collapsed. Some buildings of steel have also collapsed. We are still very short of tents. The dam is in a dangerous condition. People are afraid of entering buildings. Therefore, all stores are closed. It's difficult for the injured to get medical help. There are very limited medical personnel. Rescue relief from outside has not arrived," he said.
A resident of Golmud City, Qinghai Province, told The Epoch Times that his wife works in Yushu. The phone has been out since noon of April 14. He assumed the telecommunication system has been disrupted. He said that there are many mud-brick school buildings in Yushu and everyone is concerned that many school children have died, similar to the situation during the Sichuan earthquake.