Victorian Premier Daniel Andrews on Wednesday criticised demonstrators who have protested against the government's controversial pandemic law as "a small, ugly mob," saying they would not distract him from his work.
Hundreds of people had spent the fifth night occupying Victorian Parliament's steps to protest the bill which will give the premier the power to declare a pandemic and extend it for three months at a time, for as long as considered necessary.
A video posted on social media on Monday shows protesters gathering around a copy of a wooden gallows, attempting to place the head of an inflatable doll of the premier named "Punching bag "Dan" through a noose.
They held signs such as "Kill the bill," "Dan Andrews human rights abuser" and "Stop Dan's dangerous new legislation" while shouting "Freedom," "Traitor" and "Hang Dan Andrews."
The crowd applauded as a woman called for politicians to "dance on the end of a rope."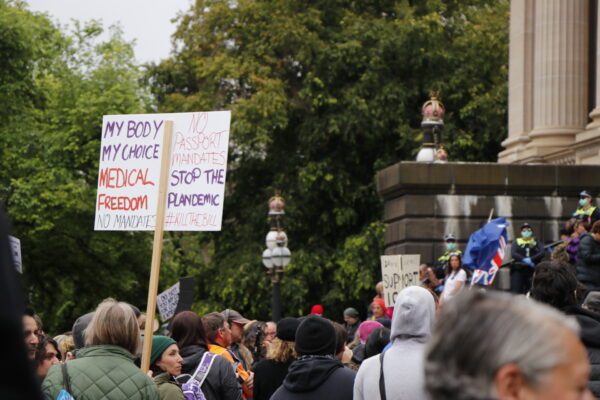 Andrews, who has been under fire for imposing the longest lockdown in the world, called the protesters' behaviour "appalling" and "potentially criminal."
"I'll not be deterred from the work I'm doing to keep every family safe," he told reporters on Wednesday.
"It is so unfair for a small, ugly mob to be taking attention away from the more than 90 percent of Victorians who have had a first dose and will soon have had a second dose."
Andrews said the government did not have the luxury to spend "six months to get everybody's agreement on every single issue" in the bill.
"The bill is filled with safeguards, oversight mechanisms that far exceed any other state I think, perhaps any other country," he said.
Opposition Leader Matthew Guy, who previously condemned the premier as "drunk on power," said he did not agree with any inappropriate behaviour by demonstrators but supported the protest.
"Not every single person out there is saying silly things, the majority have not," he said, accusing Andrews of seeking to divide Victorians.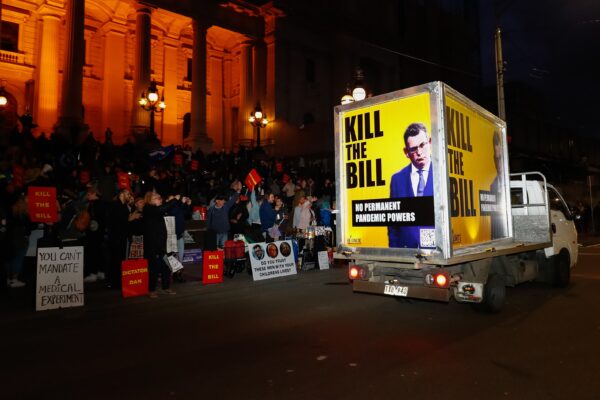 Meanwhile, a number of state MPs attended the ongoing protest, including Liberal MP Roma Britnell who met the protesters on Tuesday.
"These people have genuine concerns. They have the right to be listened to," she said.
"I didn't see any violence. If there had been violence, if there had been inappropriate behaviour, I wouldn't have stayed, I wouldn't be part of that."
The Public Health and Wellbeing Amendment (Pandemic Management) Bill 2021, tabled in parliament on Oct. 26, was debated in the upper house Tuesday afternoon and well into the night has been the subject of ongoing protest for the past few weeks in Melbourne.
The Bill is touted as establishing a permanent structure for the government to manage pandemics in future.
However, while it streamlines certain operational aspects of the government and establishes new safeguards around privacy rights, it also contains wide-ranging provisions legal associations like the Victorian Bar argue will give the premier and health minister unprecedented power over the state.
These include allowing the health minister to make pandemic orders which can be specific to "classes" of people, based on characteristics such as age, location, vaccination status and occupation.
The Bill also gives "broad and unchecked powers" to authorised officers, including the power to take any action, give direction, or detain a person for the sake of protecting public health. The Bar said there were 382 such officers in the state.
"It is one thing to allow temporary rule by decree to deal with an unforeseen and extraordinary emergency in circumstances of extreme urgency. It is something else altogether to entrench rule by decree as a long‐term norm," the Victorian Bar Association said in an internal letter.
"In our view, this is antithetical to basic democratic principles and should not be allowed to happen," it continued.
"We are now more than 18 months into the pandemic. It has become clear what sort of powers might be required to deal with it. There is no need to give the government of the day a blank cheque to rule by decree."
Daniel Y. Teng contributed to this article.