Parents are always trying to find ways of connecting with their kids, getting down on their level and relating to them in a way they can understand. For some parents, this might include taking their kids to see their favorite band or to the latest Pixar movie.
But for one Michigan dad, it meant going much, much further!
Tim Haddad and his wife, Tina Spadaro Haddad, are pretty typical Michigan parents who love their football team and beach vacations to the Gulf Shores in Florida. The Haddad family though, has some pretty unique Christmas traditions, including an epic lip sync battle that brings everybody together in an intense competition.
As Tina Spadaro Haddad told People, "there were many family members dressed. One Britney Spears, another Mick Jagger, so we had to come prepared." Knowing the competition would be fierce, she and her daughters Madalyn and Sloane came up with a brilliant plan to blow their rivals out of the water.
"There's been some interesting and dynamic performances in the past," Tim Haddad told WMAQ in Chicago. "So the girls wanted to make sure that if we did something that we showed up strong and did something that would be memorable."
It just required a little help from their dad, pop superstar Beyonce Knowles, and … a leotard.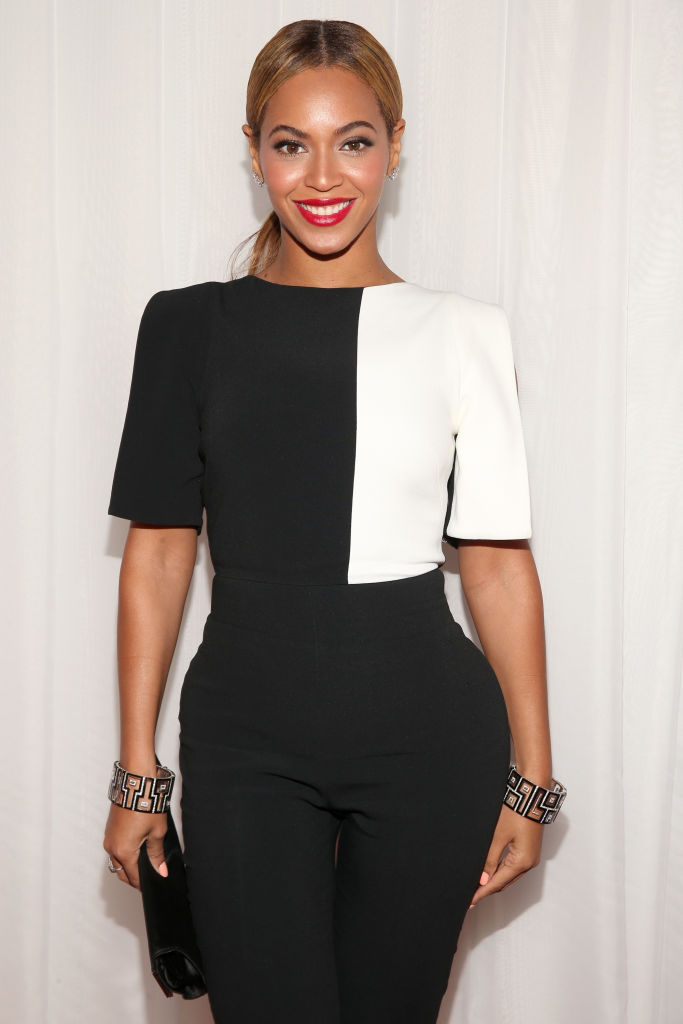 Tina Spadaro Haddad told Scary Mommy, "I threw out the Beyoncé 'Single ladies' video. The girls BEGGED him and because he loves to make us laugh, through much nagging on our part he agreed." But their dad definitely needed a few pointers about the dance, so for a couple of weeks before the Christmas competition, they went to a choreographer for help.
"The biggest part obviously was getting into a leotard," Tim Haddad told WMAQ. Then the moment finally arrived and the phone cameras started rolling. "As it was happening I just thought 'this is nuts,'" his wife told People.
As the music played, Dad and his two daughters came out in their leotards and give a spirited performance of the song, with the dance moves fairly well coordinated. But the sight of two young girls and one big dad in black all in black leotards just had everyone in stitches from the beginning.
Belly laughs and guffaws came from the family crowd in the video. "You must be so proud!" someone says to Tina Spadaro Haddad. "I'm going to have a heart attack watching!" says another family member, coughing and sputtering. Another yells out, "make him stop!"
You asked you received……Haddad Lip Sync contest. Stay back girls he's all mine!!! #BESTDAD #Beyonce #allthesingleladies #christmaslipsync

Posted by Tina Spadaro Haddad on Monday, December 25, 2017
Little did the Haddads know that the video would go on to garner 36 million views, almost as much as some of Beyonce's music videos! The video was such a big viral splash that Haddad and his daughters were invited to daytime talk show Pickler & Ben to talk about their hit performance.
As Steve Haddad told Ben, the day after the performance came out, "I got a hard time from the buddies. At the end of the day, they knew it was for the girls, being a good dad, and they knew it was all worth it."
Before they knew it, Pickler and Ben had shed their clothes to reveal black leotards, along with dad Steve, and the whole crew was reenacting the dance live on stage. There's no question that Haddad deserves the title of #BESTDAD. As his wife, Tina, wrote on Facebook, "stay back, girls, he's all mine!"