Many restrictions in New York and surrounding states will be lifted later this month, New York Gov. Andrew Cuomo announced on May 3.
"Beginning Wednesday, May 19, most capacity restrictions will end across the tri-state area," the Democrat told a press conference in Albany. "This is a major reopening of economic and social activity."
That includes rules governing how many people are allowed in retail stores, gyms, amusement parks, offices, and other establishments.
In New York City, Broadway could reopen fully.
Like most governors, Cuomo imposed harsh measures in 2020 to try to curb the spread of the CCP (Chinese Communist Party) virus, which causes COVID-19. He has been slower than most to roll back the restrictions, even though larger states such as Texas have done so with no corresponding increase in COVID-19 metrics.
Cuomo's announcement comes several days after the city's mayor, Bill de Blasio, said the city would be ready to reopen fully by July 1.
"We are ready to bring New York City back fully on July 1st, all systems go, because you've earned it," de Blasio told a briefing.
Cuomo and de Blasio have frequently clashed while in their respective positions, despite both being Democrats. De Blasio, who can't run for another term because of term limits, recently called for the governor to step down because of accusations of sexual harassment and assault.
De Blasio told reporters that he hadn't spoken with Cuomo before announcing the target date. Cuomo later laughed when asked about de Blasio, mocking him, prompting a de Blasio spokesman to reference the accusations and how the state government hid data about COVID-19 nursing home resident deaths.
Cuomo on May 3 cited a decrease in positive COVID-19 tests, hospitalizations, and deaths, along with a steady increase in the number of New Yorkers who have gotten a COVID-19 vaccine, with 7 million people, or about 35 percent of the state, being fully vaccinated.
The number of hospitalizations related to COVID-19 dropped to 2,539 on May 2 from a record high of more than 18,000 in March 2020.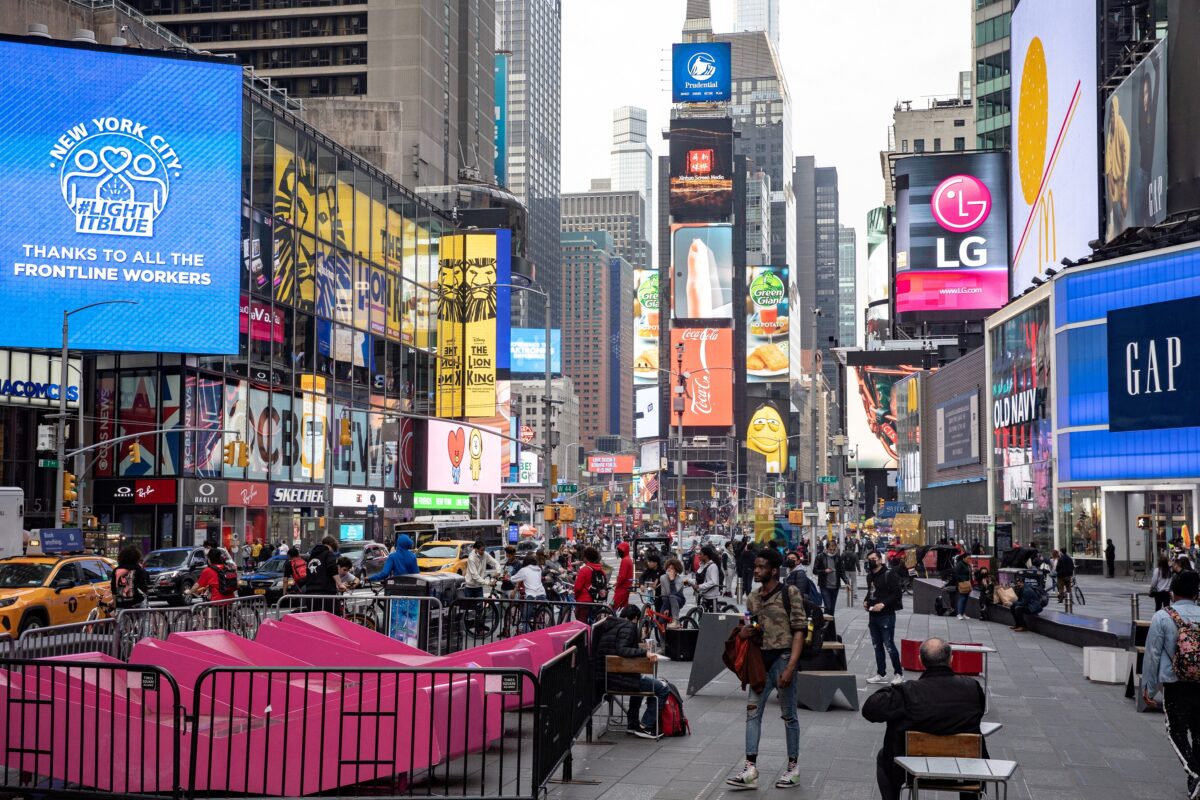 Curfews on outdoor food and beverage service will be removed on May 17 while similar curfews on indoor service will be lifted on May 31. Other restrictions, such as gathering size limits in stadiums, will be eased but not totally removed. The state is also keeping the six-foot social distancing requirement unless events require proof of vaccination or a negative COVID-19 test.
"So it's six feet. But if you say, 'Look, I'm only going to allow press in the room who are fully vaccinated. I'm only going to allow people in the restaurant who are fully vaccinated or just took a negative test,' then you can go above the six feet. We started this with the playoff games in Buffalo," Cuomo said.
Along with lifting and easing restrictions, the governor is coordinating with transportation officials for the resumption of 24-hour subway service in New York City, with the return date pegged as May 17.
Senate Majority Leader Chuck Schumer (D-N.Y.) on May 2 had called for the resumption of nonstop service.
"The city that never sleeps has a name we have to live up to everywhere, including within our subway service," Schumer said.
Meanwhile, New Jersey's prohibition on indoor bar-side seating is due to be lifted on May 7. Bar owners will then be responsible for using partitions or maintaining six-foot social distancing, New Jersey Gov. Phil Murphy said.
Reuters contributed to this report.