Culture of China Revived in America
April 12, 2014 7:58 pm Last Updated: April 12, 2014 10:34 pm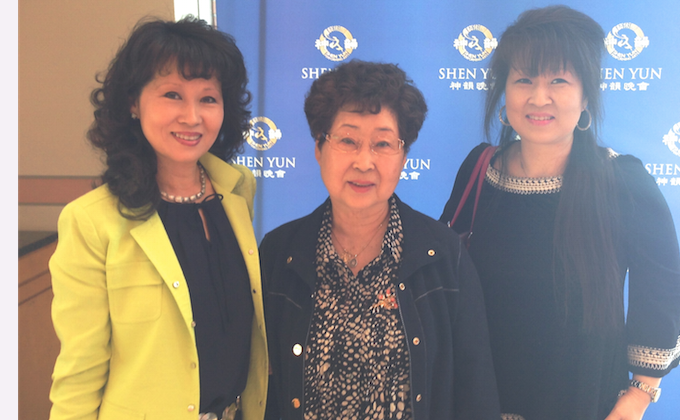 NEWARK, N.J.—Soo Salazar hoped that one day people in China could see what she just had.
"It was wonderful, just amazing. It was just very inspirational," she said.
As it stands though, the performance that had left her so moved has yet to perform in the country that inspired it.
Shen Yun Performing Arts staged the second of three shows at the New Jersey Performing Arts Center Saturday afternoon, and Ms. Salazar had taken it in with her mother and sister. Next year, she said she would bring the rest of family to see it.
Shen Yun stages classical Chinese dance, as well as folk dances of the majority Han ethnicity and ethnic dances from the many other ethnicities that make up the country. It also includes musical soloists, a state-of-the-art animated backdrop, and a unique East-West orchestra.
Despite being the source of the culture, China is no longer the same country that gave birth to the deeply spiritual tales Shen Yun draws upon for many of its story-based dances. After over 60 years of official atheism and efforts to eradicate the country's spiritual beliefs, most notably during the decade-long Cultural Revolution, China's divinely-inspired traditional culture has been all but lost there.
And so it fell onto a group of overseas Chinese to create Shen Yun Performing Arts and make reviving that culture its founding mission. It's a mission that requires systematic training and a pure heart, says Shen Yun's website.
Ms. Salazar said that allowing that culture to spread and be shared was important.
"The level of dedication, the professionalism, was just amazing. And it's wonderful how they're sharing their culture with the rest of the world," she added.
Ms. Salazar was formerly the global human resources head for a pharmaceutical company and is now an associate director at Forest Laboratories.
The night was a new experience for her, an introduction to classical Chinese dance, an art form with a history of over 5,000 years.
"It's just beautiful, beautiful. The level of quality and the culture—that really transcends into the performance itself. The passion, the dedication, and the perfection of what they've done is just amazing," she said.
Her mother was also touched, describing the presentation repeatedly as "so so beautiful."
Sung Lau, Ms. Salazar's sister, was also impressed.
"It was beautiful, I've never seen anything like that," said Mrs. Lau.
"The costuming was gorgeous. The coloring and the scenery of China is beautiful."

Reporting by Aric Chen and Matthew Little
New York-based Shen Yun Performing Arts has four touring companies that perform simultaneously around the world. For more information, visit Shen Yun Performing Arts.
The Epoch Times considers Shen Yun Performing Arts the significant cultural event of our time. We have proudly covered audience reactions since Shen Yun's inception in 2006.