Cruz's Speech: Start of 2020 Presidential Campaign or Political Suicide?
July 21, 2016 Last Updated: July 21, 2016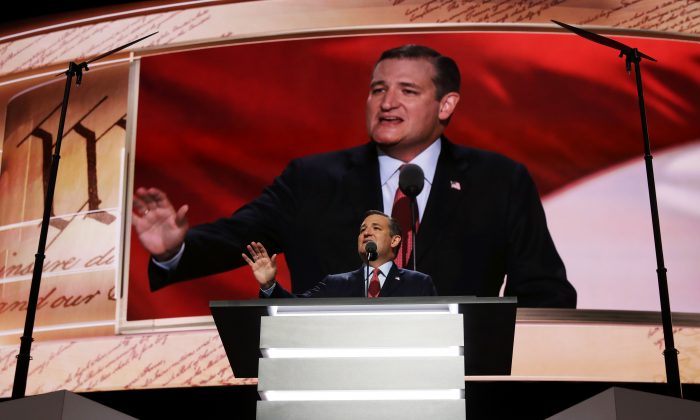 Ted Cruz's speech at the Republican National Convention sent shockwaves through the GOP after he refused to endorse the Republican's presidential nominee Donald Trump.
"Don't stay home in November," Cruz told the audience. "Stand and speak, and vote your conscience, vote for candidates up and down the ticket who you trust to defend our freedom and to be faithful to the Constitution."
The political ramifications for Cruz are unclear at this point, but two conclusions have been drawn—this is either a kickoff for his 2020 presidential run or political suicide.
The change in mood was perhaps best exemplified by Fox News political commentator Charles Krauthammer who predicted the kickoff, but by the next morning called it a "political suicide."
"Tonight is going to be the kickoff of Ted Cruz's 2020 campaign," said the Fox News commentator on Wednesday afternoon foreshadowing the speech which would take place hours later.  
.@krauthammer: "Tonight is going to be the kickoff of [@tedcruz's] 2020 campaign." #SpecialReport #RNCinCLE pic.twitter.com/w0tHMLwZSY

— Fox News (@FoxNews) July 20, 2016
Krauthammer's foresight was validated by the speech, but in an unexpected way—instead of rallying behind Trump and laying the groundwork within the delegation loyal to the Party and Trump—Cruz made a principled repudiation of the Trump campaign, grounded in the core tenets of conservatism. 
On the morning after the speech, he doubled down on his non-endorsement and defended his position citing personal attacks on his wife and father by Trump as reasons for his inability to endorse the candidate. 
"The day that became abrogated was the day that became personal," Cruz said when speaking at a Texas delegation breakfast Thursday morning, adding that he would not be a "servile puppy dog." 
Following the breakfast, Krauthammer said that "what Cruz delivered was the longest suicide note in American political history." 
Krauthammer: Cruz's #RNCinCLE Speech Was 'Longest Suicide Note in US Political History' https://t.co/7QQ9O9LDS1 pic.twitter.com/lcjGxEIe2Q

— FoxNewsInsider (@FoxNewsInsider) July 21, 2016
The Trump campaign and supporters who spoke at the convention similarly panned the speech as a political misstep that fit within Cruz's reputation as an outsider unwilling to fall in line with the Party.
Conservative radio host Laura Ingraham called Cruz's speech "a shame"; former New York Mayor Rudy Giuliani ripped him as a "disloyal Republican"; and campaign chairman Paul Manafort said the Texas senator showed "very bad judgment."
Trump himself tweeted about the speech, saying, "Wow, Ted Cruz got booed off the stage, didn't honor the pledge! I saw his speech two hours early but let him speak anyway. No big deal!"
Wow, Ted Cruz got booed off the stage, didn't honor the pledge! I saw his speech two hours early but let him speak anyway. No big deal!

— Donald J. Trump (@realDonaldTrump) July 21, 2016
The nominee of the party is slated to speak on the fourth and final day of the convention, and the stakes to bring together and show a united Republican party are higher following the snub by the second place finisher of the primary season.  
Gov. Chris Christie, who was the first major political figure to  endorse Donald Trump, told CNN's Dana Bash on the convention floor: "I think it was awful. And quite frankly, I think it was something selfish."
"He signed a pledge. And it's his job to keep his word," Christie said. "And I think the performance you saw up there is why Ted has so richly deserved the reputation he's developed on Capitol Hill."
One of the most outspoken critics of Senator Cruz, Senator Peter King from New York, also weighed in on the controversial speech. 
"Tonight, America saw the real Ted Cruz. He's a fraud, he's a self-centered liar and should be disqualified from ever being considered as a nominee for President of the United States in the future," King said in an interview with CNN.
King has made headlines before saying that he would "take cyanide" if Cruz won the nomination, and said that Cruz gives "Lucifer a bad name."
Another representative from New York, Chris Collins, reminded Cruz that the American voters did "vote their conscience."  
"First of all it made him a small person and it's typical Ted Cruz, all about him. But I'd like to maybe remind Ted, America did vote their conscience. They didn't vote for him," Collins told CNN.
New York—Donald Trump's home state—was one of the loudest state delegations to boo Cruz off the stage, calling on him to endorse the nominee.