Cruz Looks to Pull Ahead in Wisconsin With Governor's Endorsement
Scott Walker announces endorsement a week before contentious primary.
March 29, 2016 Last Updated: April 3, 2016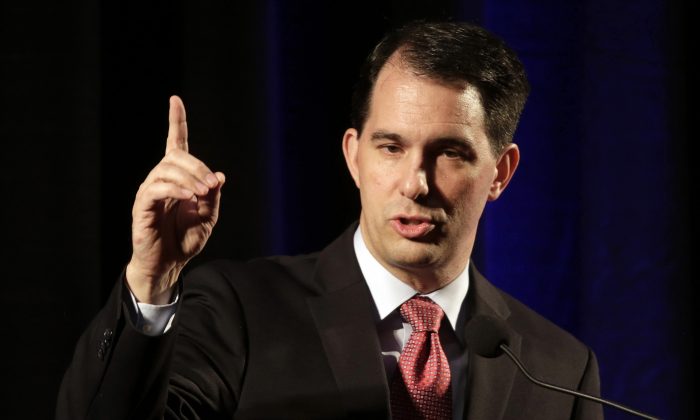 Scott Walker endorsed Ted Cruz on March 29 one week before the Wisconsin primary on April 5. Walker announced his endorsement during a Milwaukee radio show, and on Twitter, calling Cruz "the best-positioned candidate to win the Republican nomination."
.@TedCruz is the best-positioned candidate to both win the Republican nomination and defeat Hillary Clinton. I'm proud to stand with him.

— Scott Walker (@ScottWalker) March 29, 2016
The Republican Governor made a short-lived bid for the presidency before dropping out in September. Donald Trump, who claims responsibility for Walker's quick exit from the race, anticipated the endorsement:
After the way I beat Gov. Scott Walker (and Jeb, Rand, Marco and all others) in the Presidential Primaries, no way he would ever endorse me!

— Donald J. Trump (@realDonaldTrump) March 28, 2016
Wisconsin is a contentious battleground state between Trump, Cruz, and Kasich, with recent polls showing a dead heat between the three—31 percent for Trump, 29 percent for Kasich, and 27 percent for Cruz. Other polls have shown a slight lead for Cruz.
Upon receiving the endorsement, Cruz took to Twitter welcoming it: 
I'm honored to earn the endorsement of Gov. @ScottWalker​: https://t.co/zdTm46s0Ad

Help us #CruzToVictory: https://t.co/m5pJ9QKmYp

— Ted Cruz (@tedcruz) March 29, 2016
Wisconsin is a winner-takes-all state with its 42 delegates only going to the winner of the primary.
Cruz needs to keep as many delegates as possible from going to Trump in order to force a contested convention, during which he can make the argument that he's the best candidate to represent the Republican party.
Related Coverage
Winning in Wisconsin would improve that argument, in preparation for July.