OTTAWA—Crown prosecutors say Freedom Convoy organizer Tamara Lich had an interaction with convoy spokesperson Tom Marazzo at a June 16 event in Toronto in violation of her bail conditions. The Crown cited the allegation while Lich appeared before a court in Ottawa on July 5 over charges that she failed to comply with her bail conditions.
The crown has presented a photograph of Lich and Marazzo at the event and a video recording as evidence. The video allegedly shows Lich giving a speech at the event, and then sitting at a table where Marazzo and others are seated.
Marazzo, a military veteran, volunteered as a spokesperson for the Freedom Convoy protest in Ottawa in February.
Lich's defence has questioned the course of action taken by the prosecution and police, including issuing a Canada-wide warrant for her arrest, dispatching long-time veteran homicide detectives for her case, and holding her in custody for nine days so far, after her re-arrest on June 27.
The defence says a brief congratulatory exchange after winning an award wouldn't lead to any illegal activity, and isn't a breach of bail conditions. The court heard testimony that lawyers were present at the event and approved the picture taken of Lich and Marazzo. The defence added that Lich's bail conditions specify that there's to be no communication except in the presence of counsel.
The defence says Lich should be released.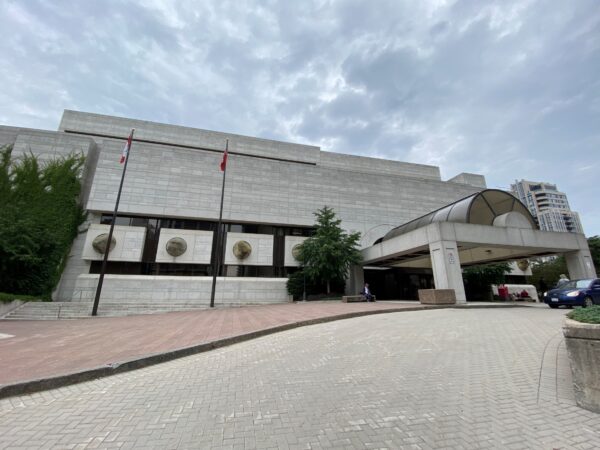 Lich, one of the key organizers of the Freedom Convoy protest movement against COVID-19 mandates, was first arrested in Ottawa on Feb. 17. She was charged with counselling to commit mischief and obstructing police, among other charges.
After initially being denied bail and remaining in custody for 19 days, she was released on March 7 with several conditions, including having no contact with other convoy organizers.
In late April, the Justice Centre for Constitutional Freedoms selected Lich as the winner of its 2022 George Jonas Freedom Award, inviting her to accept the award in a ceremony in Toronto on June 16. Crown prosecutors said in May that by agreeing to attend the ceremony, Lich had breached her bail conditions and should be sent back to jail to await trial.
However, on May 25, Ontario Superior Court Justice Kevin Phillips ruled that Lich didn't breach her bail conditions, saying that "courts are not a thought police."
Lich was arrested 11 days after the June 16 award event in her hometown of Medicine Hat, Alberta, and was transferred to Ottawa to attend a bail hearing. Her initial court appearance on June 30 was brief, with the court saying she will remain in custody until her full hearing on July 5.
The Freedom Convoy protest started as a demonstration against the federal COVID-19 vaccine mandate imposed on cross-border truck drivers in January, but expanded into a bigger movement with many joining the cause to protest various COVID-19 mandates and restrictions.
The protests in Ottawa lasted for around three weeks, and ended after the federal government invoked the Emergencies Act on Feb. 14, with police clearing the demonstration in an escalated operation over a few days.