A court in the Netherlands determined what country manufactured the missile that struck down a Malaysia Airlines flight in 2014 over eastern Ukraine, killing 298 people.
"The court is of the opinion that MH17 (Flight 17) was brought down by the firing of a BUK missile from a farm field near Pervomaisk, killing all 283 passengers and 15 crew members," presiding judge Hendrik Steenhuis said, according to Reuters news agency.
That flight is different than Malaysia Airlines Flight 370, which disappeared in 2014 while flying from Kuala Lumpur, Malaysia, to Beijing. The location of Flight 370, which disappeared about four months before Flight 17 was shot down, has still never been determined.
The statement was issued in the trial of several Russians and a separatist Ukrainian who were found guilty in absentia of the mass murder for their alleged involvement in shooting down Flight 17 over eastern Ukraine.
Russians Igor Girkin, Sergey Dubinskiy, and Oleg Pulatov and Ukrainian separatist Leonid Kharchenko were on trial at the Schiphol Judicial Complex in Badhoevedorp, Netherlands, according to reports. Pulatov was acquitted while the three others were found guilty.
None of the defendants appeared for the trial that began in March 2020, and if they're convicted, it's unlikely they'll serve any sentence anytime soon. Prosecutors had sought life sentences for all four. Prosecutors and the suspects have two weeks to file an appeal.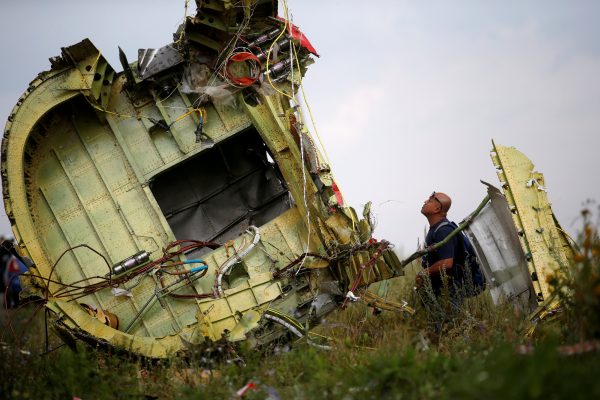 Pulatov was the only one of the suspects who was acquitted and was represented by defense lawyers at the trial. They accused prosecutors of "tunnel vision" in basing their case on the findings of an international investigation into the downing while ignoring other possible causes.
Steenhuis said he would go on to rule on other legal issues and the guilt or innocence of the suspects later in the hearing.
Robbert van Heijningen, who lost his brother, sister-in-law, and nephew, called the downing "an act of barbarism" that he could never put behind him, regardless of the verdict.
"I call it a stone in my heart, and stones … don't disappear," he said.
Flight 17 was traveling from Amsterdam to Kuala Lumpur on July 17, 2014, when it was shot down over eastern Ukraine following Russia's seizure of the Crimean Peninsula. That occurred following mass protests and the overthrowing of the previous Ukrainian government, known as the Euromaidan or the Maidan Uprising.
The Associated Press contributed to this report.