While being stuck in gridlock traffic is bad enough, just imagine being stuck in your car during a blizzard, with car accidents and no way to get home and get warm.
When Jade and Quintin Stell, of Cascade Locks, Oregon, realized that a traffic jam had left drivers stranded in the snow for hours overnight during the wintery February conditions this past month, they decided to do something about it.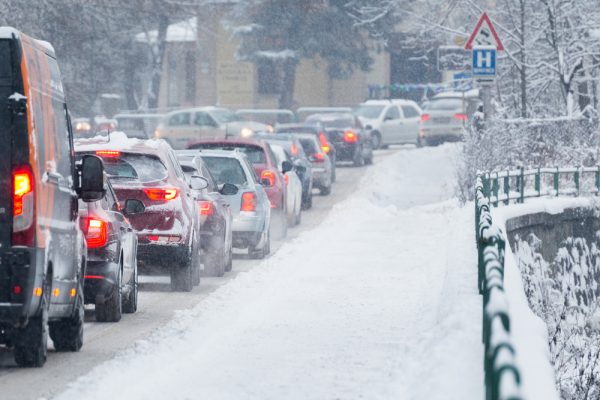 The Stells had been caught in the traffic jam, caused by a car accident the evening prior, for a full three hours before finally getting a chance to head home.
When they woke up and learned that not everyone had been quite as lucky, they decided that they wanted to do what they could to ease the burden for people still stuck in the hazardous road conditions. Heading for the grocery store, they picked up supplies to make sandwiches and set out with provisions for the stranded motorists.
Couple brings food to stranded drivers

After they made it home from a three hour traffic jam, this couple hiked back to the freeway the next morning to bring food and water to motorists who were still stranded. via HeartThreads

Posted by KARE 11 on Thursday, February 21, 2019
The people on the road couldn't believe their luck when Jade and Quintin, marching through the gridlocked cars on foot, started handing them food—without asking for anything in return. They brought everything from sandwiches to water and bananas, taking the advice of various stranded motorists to head for cars that had people in need—such as one family that had a baby stuck in the car with them, and another car that had a hypoglycemic individual badly in need of some food.
"They were like how much? And we were like, how much? What are you talking about? Free! We're not trying to get anything from you, we just want to care for you and help you out," the couple said.
One person refused to let them walk away empty-handed, giving them $100. Instead of keeping it as a reward, though, they used it to turn around and go buy more groceries. So armed with even more funds, they were able to keep the supplies going—and help feed dozens of motorists who were stranded for what ended up being a whopping 19 hours.
When people caught on, Jade and Quintin ended up going viral for their good deeds. Photos were surreptitiously snapped as they walked down the line, smiles on their faces, handing food in through car windows to people who desperately wanted to get back home.
While the couple didn't expect to get as much attention as they did for their kind deed, they made sure to use the opportunity to inspire others to do the same.
"It was an experience that seemed so simple and such like a nothing thing on our part, but it was so rewarding to be able to love on people in that way," Jade Stell said.
You may also want to watch this video
Motorcyclists travel on busy road—then, they use their bikes to block traffic for this purpose