A handful of counter-protestors showed up in Hollywood, California, on Oct. 20 to oppose more than 100 protesters who rallied in support of Netflix employees who walked off the job to pressure the entertainment platform to cancel comedian Dave Chappelle's stand-up special, "The Closer."
Activists have criticized Netflix CEO Ted Sarandos for the company's refusal to cancel Chappelle's controversial standup comedy performance in which he reacts to accusations of "punching down" on transgender individuals.
In his special, Chappelle showed support for "Harry Potter" author J.K. Rowling, who has said, "If sex isn't real, the lived reality of women globally is erased."
"I agree, man," Chappelle said. "Gender is a fact. Every human being in this room, every human being on Earth, had to pass through the legs of a woman to be on Earth. That is a fact."
Joey Brite, who organized the counter-protest, told The Epoch Times her group supports Chappelle's right to free speech and that they stand against cancel culture.
"They want him shut up so badly and they want to punish him," Brite said. "People think you're crazy if you start talking about this issue. What is everybody flipping out about? Why are they putting so much energy into trying to get Dave Chappelle to shut up?"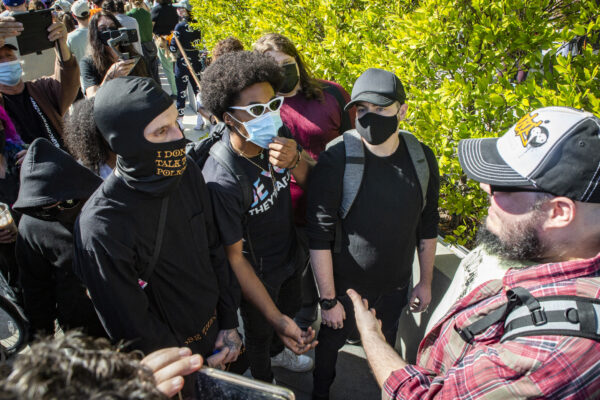 Activist Ashlee Marie Preston, the organizer of the "Stand Up in Solidarity" rally in support of the "Team Trans" walkout at Netflix, didn't respond to inquiries on Oct. 20.
Several moms of teenage daughters who decided they were transgender and other concerned parents have backed Brite's group, called Can I Get a Witness (CIGAW), which she said has more than 2,000 supporters. They oppose transgender ideology being pushed on children.
The Netflix controversy began when Chappelle's special debuted on Netflix on Oct. 5. Sarandos defended Chappelle's right to artistic freedom in emails obtained by media outlet Variety, to some staff who found Chappelle's jokes offensive.
Three employees were suspended over the controversy, according to CNN, and one employee was fired last week for leaking "confidential, commercially sensitive information" to Bloomberg about "The Closer," which was published in an article last week.
Brite, a lifelong liberal, left the Democratic Party over its decision to embrace an extreme transgender ideology, she said.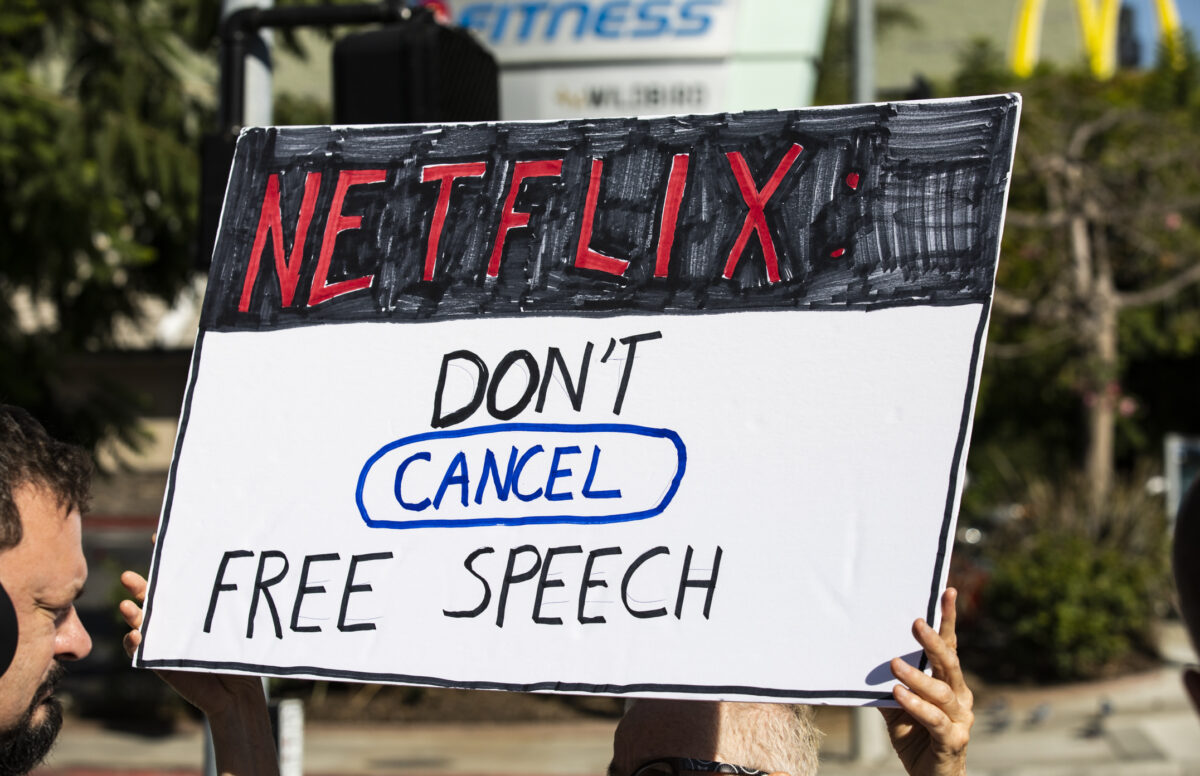 Her group was there not only to support Chappelle but to draw attention to "how this transgender ideology or gender ideology is destroying the family [and] destroying aspects of our society from every angle," she said.
The small group of counter-protestors was joined by a few comedians carrying "We love Dave" signs.
A parent who goes by the pseudonym Charlotte Jacobs couldn't attend the protest but told The Epoch Times that the counter-protesters are mainly liberals disillusioned with the Democratic Party over its support for radical activists. She said cancel culture is "trampling on first amendment rights."
"We support Dave Chappelle's ability to discuss the trans movement in any manner that he sees fit," she said. "Dave Chappelle has been excoriated for making his views on the trans movement known. And likewise, we parents who are in this fight feel as though we have to be anonymous and wear disguises because we're unable to discuss anything about trans ideology, even if it's hurting our children."
Jacobs said there needs to be more open dialogue about how transgender ideology is affecting children like her own daughter.
Another parent who goes by Gigi LaRue, a pseudonym, told The Epoch Times her teenage daughter has also been affected, and that she supports Chappelle's right to free speech.
LaRue said the conversation about the transgender movement has been shut down "in polite circles" through cancel culture.
"We really can't talk about it. People instantly bristle if you try to say anything," she said. "It's very weird."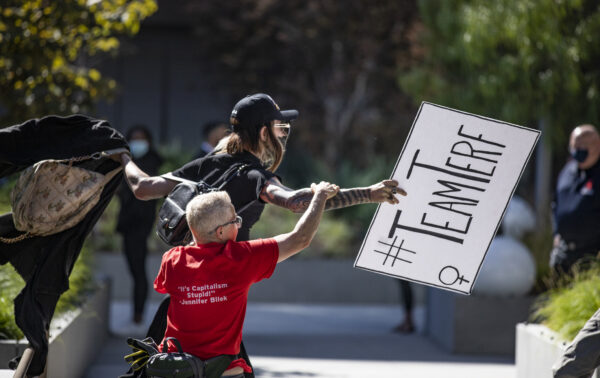 The counter-protestors left the protest, which started at 10:30 a.m., after about two hours, when things started to "devolve," Brite said.
"We thought it was going to be uncomfortable and unsafe," she said.
Brite, who is 5 feet 2 inches, said she chased a 6-foot-5 individual who grabbed one of the group's signs.
One man who had expressed support for Brite's group was also pepper-sprayed by an activist, she said.
A witness on the scene said some activists were dressed in black, "possibly Antifa," though there were "no visible weapons," he said. "One guy was carrying a broken stick from one of the signs that they broke."