When a police officer pulled over an army veteran who had just returned from service in Iraq, the soldier was unsure what he'd done wrong at first. Then the cop asked him to step out of the car and told him something that tugged at his heartstrings…
Not long after returning from a 15-month tour in Iraq, serving in the U.S. Army, William Jazwinski, from Somers, New York, was pulled over by a police officer while driving home one day in his pickup truck. He rolled down the window and greeted the officer, not sure what he'd done. "Good morning officer, was I speeding?" he asked, according to his Facebook post.
The cop told him that he wasn't speeding, and he didn't have any reason to pull him over except to thank him for his military service. He said: "Good morning. No, not speeding. Just wanted to stop you and say thank you for your service."
Jazwinski realized the officer must have learned he was a veteran from a bumper sticker on his truck. "Oooh the bumper sticker, nice. You're welcome sir," said Jazwinski. "My pleasure."
"Where did you serve?" the officer asked Jazwinski.
Jazwinski, a former Heavy Wheeled Vehicle officer in the military, replied: "I went to Iraq. Did a 15 monther out of Fort Benning."
But it turned out that was not the end of it. The officer told Jazwinski how his own son had also served in the military, but sadly, he passed away while serving.
"Well alright. My son went to Iraq," the officer said. "He didn't make it home."
Jazwinski expressed his condolences and revealed that he'd just finished a PTSD program geared toward helping soldiers rehabilitate from war conditions into civilian life.
"Man, I'm so sorry to hear that. I just finished a PTSD program," Jazwinski said.
Just then, the officer saw the folded American flag resting on Jazwinski's dashboard, which was just like the one he had received from his late son. "I see you have a flag in the truck. The one we got for him! Well it's at the house," he said.
Suddenly, the officer asked: "Can I ask a question?" Jazwinski answered: "Sure."
That's when the officer told Jazwinski the real reason he pulled him over. "Do you mind stepping out and receiving a hug?" the officer said. "You remind me of my son."
"I pulled you over. I thought you were him," the officer added. "I still don't believe it most days he's gone."
What had started as a simple thank you turned into a heart-to-heart moment between the two strangers. Jazwinski stepped out of his car. Having completed a PTSD program, he needed that hug as much as the officer needed it.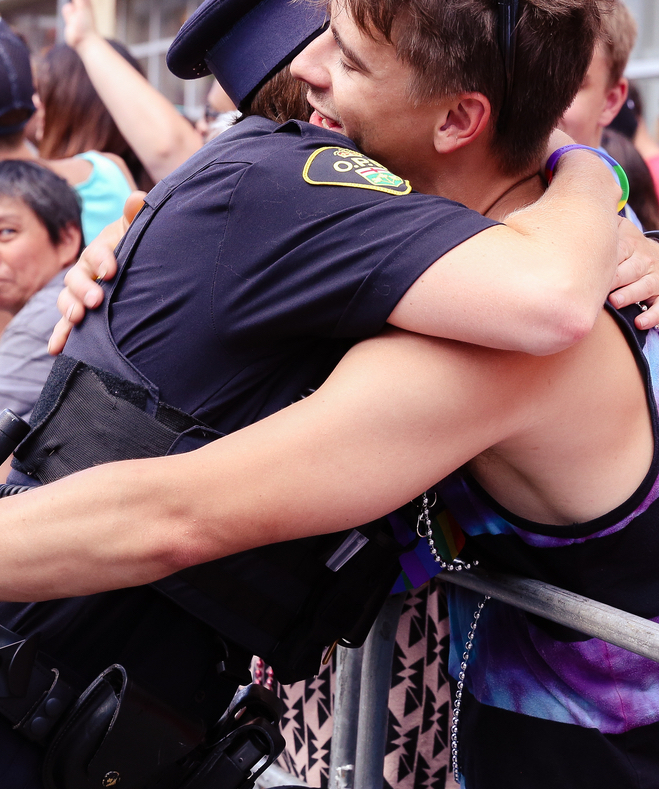 "With tears in both our eyes I got out and hugged that man," Jazwinski recalled the tearful moment. "I'm talking about for a minute or two crying. Down to our knees crying. I needed that."
Recounting the incident that tugged at his heartstrings, Jazwinski wrote a heartfelt message of gratitude for all veterans, serving military members, and their families.
"To all the family and friends of soldiers, fighting or done fighting, God bless you. Your peace and your hearts. It's so hard without them, I know. This road is a tremendous one. Love to all," he said.
Let us never forget the sacrifices of the fallen servicemen and the loved ones they left behind.