Harbin, a city of 10 million people in northeast China, is without water for at least four days, possibly due to major contamination caused by an explosion in a chemical factory.
The city government shut off the municipal water supply on November 21, saying there would be no city-supplied water for the next four days because the city was "performing maintenance on the water system."
On November 22nd, the city&#039s official website stated that the cut-off was due to a "chemical plant explosion which could cause water pollution in upstream water sources."
On November 23, the Harbin city government amended the website, saying an explosion at the Jilin Petroleum Benzene Production Plant, owned by the China National Petroleum Corporation (CNPC) may have caused contamination in the Songari River. There was no mention of when the water would be turned back on. The phrase "The water in the Songari River near Harbin has been found normal" was removed from the previous announcement.
According to Time magazine, Harbin residents were panicked by the government&#039s inconsistent announcements and started hoarding food and water. Drinking water in Wal-marts in Harbin City was sold out in a few hours.
In the afternoon of November 22, water was shut off in all residential area, hospitals and schools.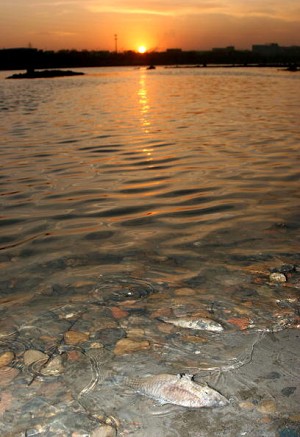 The Harbin government claims to have be taking emergency measures to provide for its citizens. The city of Suihua delivered 260 tons of drinking water to Harbin, and more is due to arrive from the cities of Mudajiang, Suiha, Jixi, and Yichun. Governor Zhang Zuoyi and Deputy Governor Wang Limin have also visited Harbin to personally inspect the situation.
Harbin has been unable to supply the water necessary for the operation of its heavy industries, which is worsening the economic impact of the disaster.
The suspension of water supplies in Harbin underlines the longer-term challenges China will face in maintaining provisions of fresh water for its cities during the next decade, according to the British Financial Times.
It has been over a week since the explosion at the Jilin Petroleum Plant. The Jilin Petroleum Plant will not disclose what chemicals were released into the Songari River. Some Internet postings say that Harbin&#039s drinking water supply system was contaminated with potassium cyanide. A blog message claimed that Harbin urgently shipped large volumes of chemicals to the closed water supply zone in an attempt to neutralize the poisonous contamination.
Some even claimed the contamination was connected to a failed military exercise which would have simulated the effects of a major military assault on the city. None of this was confirmed by government officials.