Computer Manufacturers in China Pre-installing Spyware
July 27, 2009 2:12 am Last Updated: October 1, 2015 9:35 pm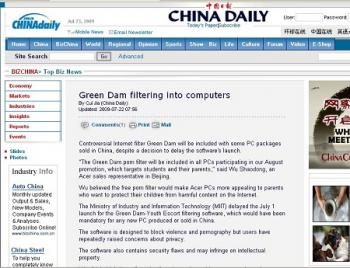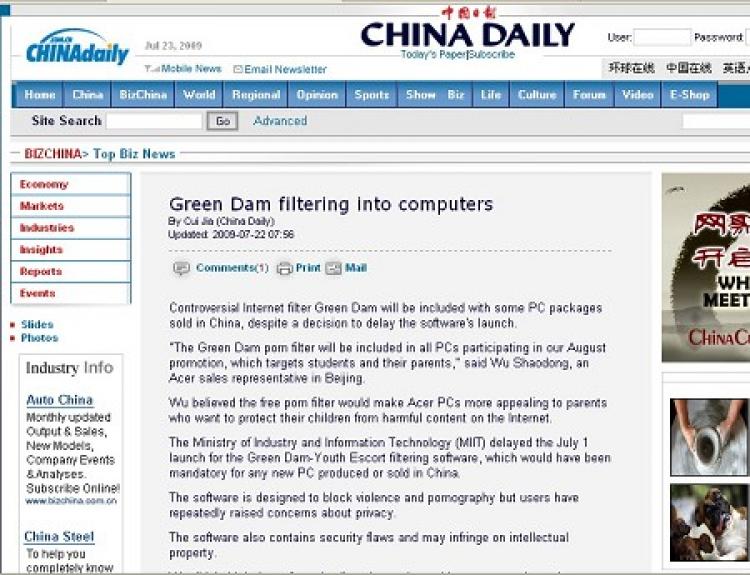 At the end of June, the Chinese regime announced it would delay the requirement that all computers sold in the country carry a specific software known as "Green Dam," which serves as spyware to aide them in their censorship endeavors. This came with strong opposition from business groups and Chinese computer users.
But recently, some famous computer makers including Acer, Lenovo, Sony and Asus have already started shipping computers with the pre-installed Green Dam monitoring software per request of the Chinese regime.
  
According to the English version of the state-run China Daily on July 22, Wu Shaodong, a sales representative in Beijing for Acer Inc., said that the Green Dam monitoring software will be pre-installed on all PCs participating in their August promotion targeting students and their parents.
Acer company spokeswoman Meng Lei said that the company began installing the Green Dam spyware on PCs as early as in July, following orders from the Ministry of Industry and Information Technology of China.
  
The Lenovo Group, China's top and world's fourth largest computer manufacturer, also installed Green Dam in its latest Thinkpad laptops. The company spokesman said users could choose to activate the software or not. "We pre-install the software according to the law," he added.
  
The Sony Corp. started pre-installing Green Dam in June. But Sony said they have stopped doing so.
It was reported that Taiwan-based computer maker Asustek Computer Inc. has included the Green Dam software on CDs with their computers since July 1.
However, two notable U.S.-based PC companies, HP and Dell, have not put Green Dam on PCs as of yet.
Mass protest incidents have happened frequently this year, such as the Deng Yujiao incident in May, the Shishou incident involving over 10,000 people in June and the Urumqi incident in July. Lots of pictures, texts and videos depicting the truth surrounding these events have spread throughout the Internet despite the Chinese Communist Party's attempts to block the passage and flow of information. Because of this, observers say that this is part of the Communist regime's plan to tighten Internet control.
Read the original Chinese article.