Commercial Chinese "Valentine's Day" Irks Purists
July 31, 2006 12:00 am Last Updated: July 31, 2006 12:00 am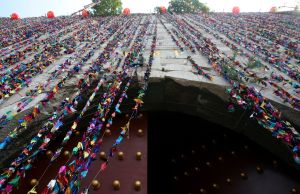 SHANGHAI – Chinese purists are aghast that commercialism has hijacked a festival that traditionally celebrated a young woman's skills in sewing and weaving.
On Monday, China marked Qi Xi festival, a Chinese Valentine's Day, in which, in folklore, a cowherd and a weaver girl are said to have been transported to the heavens to become stars after an ill-fated love affair.
It is also a day that businesses in major Chinese cities jack up prices for flowers and organise match-making parties.
But as romantic as it sounds, Qi Xi was never celebrated in the name of love, said Liu Zongdi, a scholar on folklore studies.
"Qi Xi means the coming of autumn, when girls start sewing and weaving for cold weather," Liu said. "So it's basically celebrated by girls to demonstrate skills and make wishes."
But Shanghai's entrepreneurs – aware of the relative marketing power of needle-work versus love – are determined to promote Qi Xi as China's own Valentine's Day.
"We've received many orders to deliver flowers on Qi Xi, and 30 percent growth in the sales is expected," said one florist, who was selling roses for more than 50 percent the usual price.
Others were less enthusiastic, saying Qi Xi lacked the commercial pull for young Chinese of the Feb. 14 Valentine's Day, which is widely celebrated in China.
"Consumers have not fully accepted the idea of Qi Xi festival as China's Valentine's Day," said Gao Rong, an employee at a Shanghai cinema selling "couple's tickets".
Ticket sales were up, but only slightly – far from satisfactory compared to Western Valentine's Day, he said.
One group of concerned citizens not seduced by the commercial offerings, however, were Han Weiyang – a troupe devoted to preserving Qi Xi's traditions.
On Sunday, they descended on a Shanghai street dressed in traditional clothes, and demonstrated sewing and weaving skills in the ancient way.
"To interpret Qi Xi Festival as China's Valentine's Day is inappropriate, making it part of pop culture," said Yao Yuan, a spokesman for the group.