Colorado's Democratic Party Admits Mistake: Told Clinton's Campaign But Left Sanders in the Dark
Sanders picks up a delegate after votes are reallocated.
April 12, 2016 1:45 pm Last Updated: April 13, 2016 8:00 am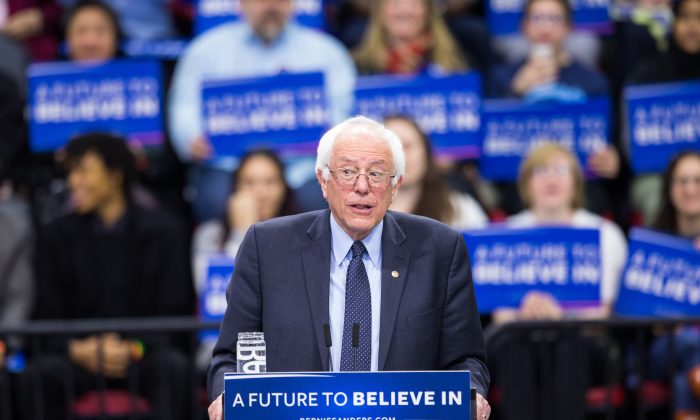 Bernie Sanders won the Colorado caucus on March 1, but by a wider margin than originally reported, due to a clerical error. The error came when the state reported the results from ten precincts around the state. 
Colorado's Democratic Party shared the information with Hillary Clinton's campaign, but left the Sanders campaign out of the loop until April 11—when the Sanders campaign was informed by the Denver Post. 
The mistake is relatively small, but the implications are farther reaching when tallying up delegates.
After correcting the numbers, Sanders's support went from 54 percent to 56.5 percent in Denver county, splitting the delegate allocation in the district 5-3 instead of 4-4. 
The new projection shows the Vermont senator winning 39 delegates in Colorado, compared with Clinton's 27. 
Even if Clinton gets all 12 of the superdelegates, the state would be a split decision, and those 12 delegates have faced increasingly more pressure to back Sanders. If he gets one of those superdelegates, he will have the majority of the delegates from the state. 
"It was basically a reporting error on caucus night," Democratic Party Chairman Rick Palacio said in an interview Monday.
According to the Denver Post, "The problem occurred when a party volunteer at Byers Middle School in Denver punched the wrong vote tallies into the party's interactive voice response system for the presidential preference poll collected from 10 precincts."
The Colorado Democratic party discovered the error a week after the caucus, but did not admit to the error until April, and have still not updated their website with the corrected results. 
Bernie Sanders's Campaign Manager Jeff Weaver commented: 
"We are obviously pleased to essentially narrow the delegate lead by two delegates, one up and one down, it's a zero sum game," he said in an interview. 
As for the campaigns receiving differing information, Weaver said that it is "certainly disturbing that that information gets sent to one campaign and not to another."
The Sanders campaign is trailing Clinton in pledged and superdelegate totals. For the pledged delegates, Clinton leads 1,307 to 1,097, and 469 to 31 in superdelegates.