The 22-year-old suspect who allegedly killed five people and wounded 17 others in a gay nightclub in Colorado uses "they/them" pronouns and is "nonbinary," his lawyers and court documents said Tuesday.
"Anderson Aldrich is nonbinary," his lawyers Joseph Archambault and Michael Bowman wrote Tuesday night in a footnote (pdf). "They use they/them pronouns, and for the purposes of all formal filings, will be addressed as Mx. Aldrich." "Mx." is often used by people who are transgender.
"Mx. Anderson Aldrich, by and through counsel, makes the motion to the Court demanding their right to a preliminary hearing," according to the filing. It then said that "Mx. Aldrich demands their right to a preliminary hearing," and that "Mx. Aldrich demands their constitutional right to a bond and Due Process."
Aldrich, who is biologically male, faces multiple murder and hate crime charges over the shooting at the Club Q over the past weekend. The suspect was injured during the shooting but was released from a local hospital, and he was booked into a jail in El Paso County, officials told local news outlets.
The defendant will appear virtually via jail during his preliminary hearing, a state court spokesperson told the Colorado Sun.
It was also reported that Aldrich's father was an MMA fighter, Aaron Franklin Brink, who made appearances in the UFC, World Extreme Cagefighting, King of the Cage, and more. Brink, who has a lengthy criminal record, also appeared in pornographic films.
The suspect's father had convictions for battery against the alleged shooter's mother, Laura Voepel, both before and after the suspect was born, state and federal court records show. A 2002 misdemeanor battery conviction in California resulted in a protective order that initially barred the father, Aaron F. Brink, from contacting the suspect or Voepel except through an attorney, but was later modified to allow monitored visits with the child.
The father also was sentenced to 2 years and six months in custody for importation of marijuana and while on supervised release violated his conditions by testing positive for illegal steroids, according to public records. Brink could not be reached for comment Tuesday.
Aldrich was known as Nicholas Franklin Brink until around 2016 when a petition was submitted on his behalf by his grandparents to change his name to his current name. The name change was reportedly submitted due because of online bullying he had faced.
"Minor wishes to protect himself and his future from any connections to birth father and his criminal history. Father has had no contact with minor for several years," the petition stated, according to the New York Post and other outlets.
Attack Details
Daniel Aston, Raymond Green Vance, Kelly Loving, Ashley Paugh, and Derrick Rump were identified as the five victims who were shot and killed in the Saturday night attack. About 17 others were injured, police said.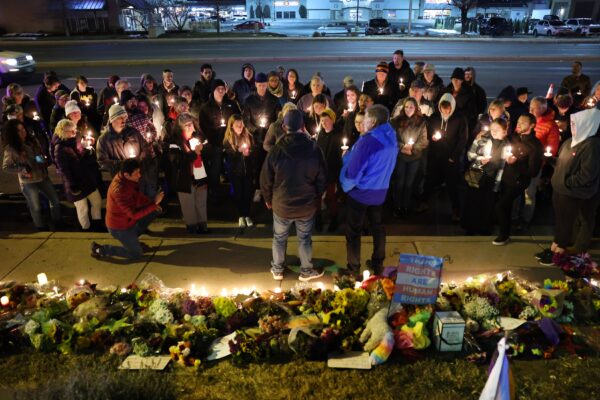 Authorities said in news conferences that Aldrich entered the Club Q before midnight with a rifle and handgun before he started shooting. He was quickly taken down and subdued by two patrons until police arrived on the scene, according to authorities and witnesses.
Colorado Attorney General Phil Weiser said that additional charges of menacing may be added.
"Every single person who was there at Club Q is a victim of one crime or another," Weiser told CNN Tuesday.
Prior Incident
Last year, Aldrich was accused of threatening his mother with a homemade explosive device and forced neighbors to evacuate while the bomb squad and negotiators talked him out of it.  After officials breached the home, they did not find any explosives.
Video footage posted by local media outlets appeared to show the suspect ranting about police and telling them to breach the home.
"I've got the [expletive] outside, look at that, they've got a bead on me," Aldrich is heard saying. "You see that right there? [Expletive] got their [expletive] rifles out."
Later on, Aldrich can be heard saying: "If they breach, I'mma [expletive] blow it to holy hell."
After the incident, Aldrich was booked into the El Paso County Jail on two counts of menacing and three counts of first-degree kidnapping, according to a news release issued by the El Paso County Sheriff's office.
The Associated Press contributed to this report.