In one of the most heated congressional races to date in 2022, trucking company owner Mike Collins easily defeated Donald Trump-endorsed Vernon Jones in Georgia's 10th Congressional District Republican primary runoff election.
With 34 percent of the votes reported at 8:09 p.m. on June 21, Collins received 78 percent of the vote while Jones accumulated 22 percent, according to The Associated Press.
Collins will face Tabitha Johnson-Green or Jessica Fore, the candidates in the Democratic primary runoff. Green and Fore remained in the race after a recount requested by third-place finisher Phyllis Hatcher did not change the results.
The 10th Congressional District seat opened after Rep. Jody Hice unsuccessfully ran against incumbent Brad Raffensperger in last month's Republican primary for Georgia secretary of state.
Incumbent Republican Gov. Brian Kemp, who decisively defeated Trump-endorsed David Perdue in last month's primary, backed Collins.
Collins also received the backing of all six primary candidates who did not advance to the runoff.
Collins is the son of the late former Republican congressman Mac Collins. He owns a trucking company and drives an 18-wheeler to campaign events.
In the May 24 GOP primary, Collins received 26 percent while Jones received 22 percent. Collins had the fundraising edge, spending $517,000 compared to $397,000 for Jones.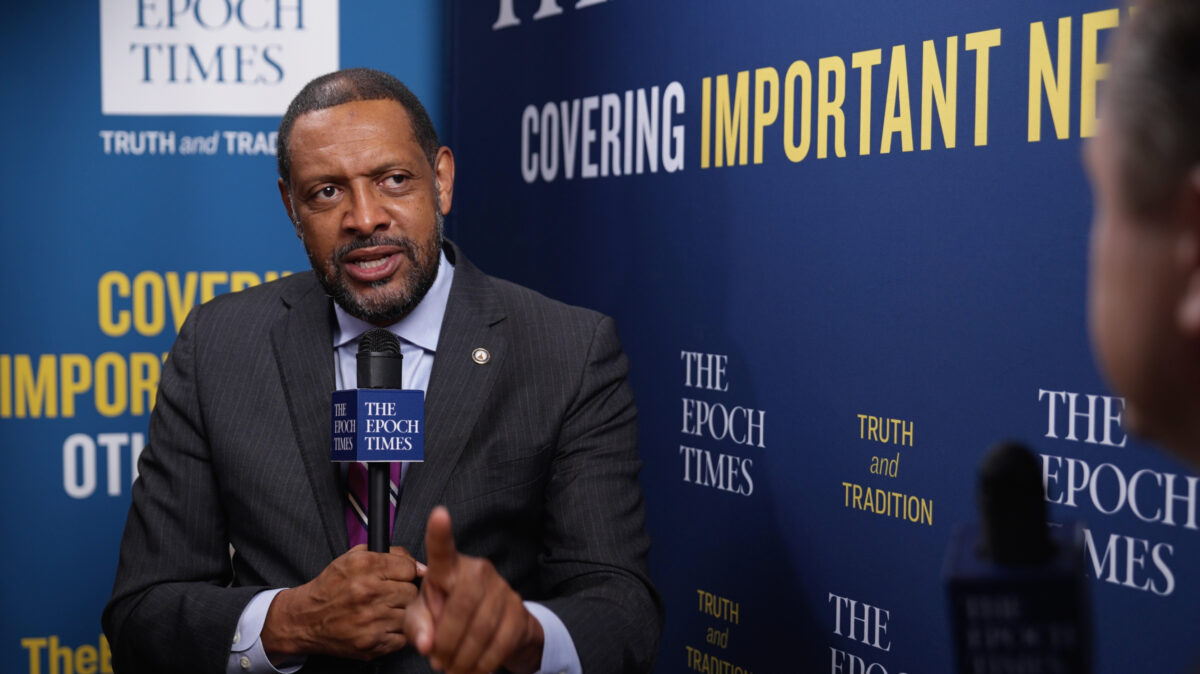 A lifelong Democrat and a former state representative, Jones switched parties, endorsed Trump's 2020 Presidential campaign, and left the Georgia state house in 2021. At Trump's urging, he stepped out of the Republican gubernatorial primary to give Perdue a clearer path.
Jones, who has called himself "the black Donald Trump," secured the former president's endorsement in the U.S. House race in a district that covers 18 counties east of Atlanta and stretches through Athens and Elbert County to the South Carolina line.
He was also endorsed by the National Rifle Association.
On June 20, Trump released a recorded message to voters in the district condemning Collins for unfair treatment of Jones and "vicious political ads that aren't true."
In the message, Trump also said that Jones has "proven time and time again he's with the MAGA movement."
"Right from the beginning, he was with us. I realized it early, and I'm very proud of it," Trump said in the message. "Vernon, he's going to fight so hard. He's a man that will never let you down. He just doesn't stop, and he's the kind of guy that Georgia needs and Georgia, I think, will get."
Collins was edged by Hice in the 2014 10th District primary,
Though he did not get Trump's stamp of approval, Collins stands behind the former president's America First platform and openly says that the 2020 Presidential election was not legitimate. He also promised to vote against Rep. Kevin McCarthy (R-Calif.) if the House minority leader is nominated for speaker of the House if the GOP regains control of the chamber.
Leading up to the runoff, Collins told Henry County Republicans that they should vote for him "if you're looking for somebody that is truly, unapologetically pro-Trump, an America First agenda candidate, conservative to the core, an outsider never been elected anything in my life."
In the Democratic primary on May 24, Johnson-Green generated 42 percent of the vote. Hatcher and Fore received around 19 percent each, and Fore finished with 137 more votes than Hatcher.
According to Georgia law, Hatcher was allowed to seek a recount, but the new figures added four votes to Fore's number and decreased Hatcher's total by two.