Colin Kaepernick did something a bit different during Thursday night's preseason game.
Before Kaepernick's San Francisco 49ers played an away game against the San Diego Chargers on Sept. 1, the quarterback didn't sit on the bench as the national anthem reverberated throughout Qualcomm Stadium.
Instead he knelt in respect to the military servicemen and women who were in attendance for the Chargers' 28th annual Salute to the Military night, he said. After the team's 31-21 victory, Kaepernick told reporters his refusal to stand during the national anthem is being misinterpreted as unpatriotic. He also stood during a rendition of "God Bless America" at halftime.
"I think it's a misunderstanding. The media painted this as I'm anti-American, anti-men-and-women of the military, and that's not the case at all," Kaepernick told reporters after the game.
Related Coverage
Kaepernick has been the recipient of widespread condemnation for opting not to stand during the national anthem.
"I realize that men and women of the military go out and sacrifice their lives and put their selves in harm's way for my freedom of speech and my freedoms in this country, and my freedom to take a seat or take a knee, so I have the utmost respect for them and I think what I did was taken out of context and spun a different way," he said.
Kaepernick believes his role as a public figure affords him an opportunity to bring awareness to perceived injustices around the United States. With his platform, Kaepernick says he'll donate $1 million to community outreach organizations.
"I've been very blessed to be in this position and to be able to make the kind of money that I do and I have to help these people," said Kaepernick. "I have to help these communities. It's not right that they're not put in the position to succeed or given those opportunities to success."
Kaepernick, 28, is slated to make $11.9 million this year. 
Throughout the game, Kaepernick was met with mixed reactions from the crowd.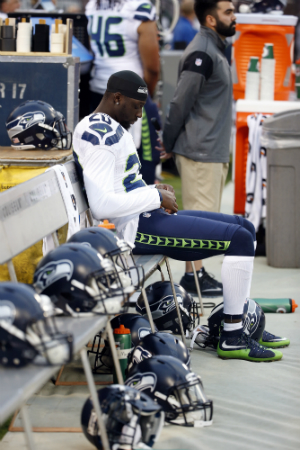 "More than anything, the people just saying, 'We support you, we're with you, don't let anybody deter you from what you're trying to do,'" he said. "And I think that sticks with me because a lot of those people are people that I want to give equal opportunities to."
Kaepernick didn't only receive support from some people in the audience. Teammate Eric Reid also kneeled during the national anthem, while Seahawks cornerback Jeremy Lane sat on the bench during the "The Star-Spangled Banner" before Seattle's game against the Oakland Raiders.
Related Coverage