Coffee-Based Fuel Set to Burgeon in Ontario
June 21, 2010 7:01 pm Last Updated: October 1, 2015 7:49 pm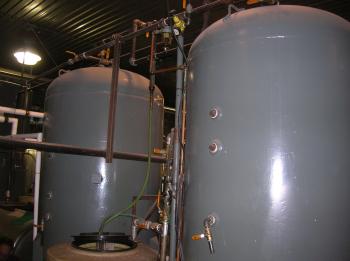 Spotting a thin layer of oil around the edges of a cold cup of coffee was what led Mano Misra to research whether oil from spent coffee grounds could produce biodiesel fuel.
The chemical and metallurgical professor at the University of Nevada, Reno, discovered that it could. In fact, Misra found that 100 percent of the oil from waste coffee grounds can be cheaply converted into high-quality biodiesel.
Now, thanks to Misra's discovery, a family-run operation in Ontario is planning to divert 16 million kilos of coffee grounds from that province's waste stream and turn it into biodiesel at their Oakville facility.
Jon Dwyer, CEO of Energy Innovation Corp (EIC), says biodiesel made from coffee grounds can be used in any engine, either as a stand-alone fuel or mixed with gasoline or diesel.
"Our fuel can be used in any diesel engine whether it's a train, a truck, a Volkswagen Jetta or a simple generator without any modification to the engine whatsoever."
After two years of research and development with the University of Toronto and with plans underway to build three facilities in Ontario, EIC is set to become the world's first company to capture and turn used coffee grounds into biodiesel on a large scale.
EIC has entered into an agreement with some 500 coffee shops to collect their spent coffee grounds before they enter the public waste system. That's about 16 million kilos of wet coffee grounds kept out of Ontario landfills annually until 2013.
The start-up company's scientists have met with representatives from Metrolinx to demonstrate that their GO trains, which service Greater Toronto and Hamilton, can run efficiently on biodiesel while reducing soot emissions—a big problem with the trains.
"There's been a lot of public outcry that the trains have large soot emissions, which is a by-product of the locomotive engine," Dwyer says. "So Metrolinx is looking at a very big bill at the moment for buying electric trains, they have to change their entire infrastructure to do it, and we contend that that's not even necessary."
EIC sells the fuel—which actually smells like java—for 85 cents a litre, while diesel currently costs around 89 cents a litre.
"We always stay price-competitive with diesel," Dwyer says. "We have to demonstrate that bio-diesel is a cost-effective fuel."
EIC also manufactures biodiesel from flax oil, and in the process produces human-grade flax flour and flax pellets. The pellets are sold internationally as tilapia (a species of fish) and shrimp feed, and domestically as cattle feed. The flour is gluten-free and high in protein, says Dwyer.
"People with gluten allergies who are celiac absolutely love it. It's got a great nutty flavour."
While there is evidence that plant-derived fuel production has put pressure on food supplies in developing countries, Dwyer maintains that converting flax seeds to biodiesel provides a solution to the "food for fuel" dilemma because it produces both food and biofuel. In addition, flax oil is limited as a food because it goes rancid when heated and therefore cannot be used in cooking.
"We're not using food for fuel. We make both food and fuel from one crop. We're providing food and fuel from flax seed and that one seed is giving Canadian farmers a great return for their crop," he says, noting that Canada is the world's largest producer of flax.
Coffee-based fuel, which Dwyer says is produced without the use of harmful chemicals, also doesn't drive up food costs the way using soy and corn does, and has the added advantage that leftover solids can be converted to ethanol, used as a compost, or burned as biomass instead of coal.
Misra estimated that with approximately 16 billion pounds of coffee grown worldwide each year, spent coffee grounds can potentially add 340 million litres of biodiesel to the world's fuel supply.
Canada has a mandate to institute an average 2 percent renewable fuel content in the nation's gasoline by January 1, 2011, which means that of the 28 billion litres of diesel Canada burned last year, 560 million litres of that will have to be biodiesel next year.
But in 2009, Canada produced only 100 million litres of biodiesel, meaning it will have to import 83 percent of the biodiesel required to meet the January 1, 2011 mandate, according to Dwyer.
"It's a ridiculous prospect," he says. "Canada is an international exporter of crude oil, and is set to emerge as an international importer of renewable fuel. That is not the future Canadians deserve, and one we simply can't sustain. All of the fuel can be made here giving Canadians great jobs and reducing greenhouse gas and CO2 emissions in our country."
With the biodiesel market facing huge growth, Canada has the opportunity to "become the leader very quickly if everybody starts to pay attention to this very important topic," he says.
EIC is also interested in research being done on how to make fuel from algae, which produces more fuel by far than any other biodiesel source. The company aims to be the first in Canada to build an algae processing plant.
"Algae can be an absolute huge staple for the biodiesel industry," Dwyer says. "It's essentially the future, but the technology doesn't currently exist to sustainably grow algae for use as a biodiesel feedstock."
In all, EIC plans to build eight biodiesel and flax refining facilities in Oakville, Hamilton, and Sarnia, Ontario, each producing 3 million litres of biodiesel per year from used coffee grounds and flaxseed. Each facility will create eight full-time jobs, with other spin-off jobs in manufacturing, waste management, and agriculture.
"We have a food product, we have a fuel product, and we have an animal-feed product," Dwyer says. "So we'll be able to pay farmers the same price per tonnage that they get selling the product internationally—in fact, most likely more."
He says EIC wants to take "Canadian products derived from waste and derived from Canadian agriculture to the world."
"Our model is very easily exportable. While our immediate goal is to help Canada reach its level on an international scale, our applicability is pretty much endless."