Clothing Manufacturer Says Shen Yun Costumes Lovely
'The colours were beautiful against the backdrops'
April 12, 2014 2:01 am Last Updated: April 12, 2014 3:02 pm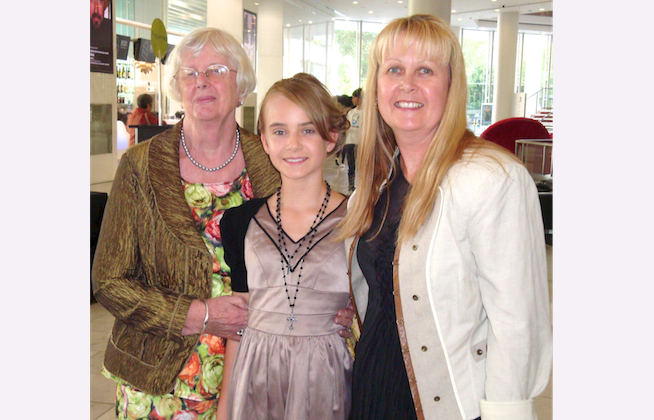 AUCKLAND, New Zealand—Shen Yun Performing Arts International Company performed for the final time at the Aotea Centre, ASB Theatre for the 2014 World Tour, on April 12, before travelling to Sydney, Australia.
Amongst the audience were Helen Hall, owner of clothing manufacturing company, Helen's Sample Room, her daughter Olivia and mother Angela Farrell.
Ms. Hall's daughter learns dancing and she thinks it is important for her to see dance performances with different styles and techniques.
"We really enjoyed it," she said.
Olivia added, "It was really, really colorful."
Mrs. Farrell said, "The synchronization was amazing."
Based in up-state New York ,Shen Yun has at the heart of the performance, classical Chinese dance, one of the most comprehensive dance systems in existence.
Classical Chinese dance is "known for its incredible flips and spins, and its gentle elegance, it is one of the most rigorous and expressive art forms in the world," according to their website.
Ms. Hall said she really enjoyed the dancing, "especially the ribbon dances."
"It was very, very lyrical movements, I think. I just love the movements and the telling of the stories. I've really enjoyed that," said Mrs. Farrell.
The website explains, "every costume in a Shen Yun performance is presented with brilliant colors, displaying a splendid spectacle—from the Tang Dynasty's "Raiment of Rainbows and Feathers" to imperial dragon robes, phoenix coronets, and cloud capes; from the civil official's headdress and robes to the warrior's helmet and armor; and from the traditional rightward cross-collared Han clothing to the ethnic attire of the Manchurian, Tibetan, Dai, Mongol, and Uyghur ethnic groups."
Mrs. Farrell said, "the costumes were outstanding. I loved the way they moved."
Ms. Hall added, "I thought they were lovely, the colors were beautiful against the backdrops."
State-of-the-art digital backdrops are a unique feature of Shen Yun.
Ms. Hall said, "I thought that the backdrops were very interesting."
The backdrop is an animated projection that changes with every scene, moving the audience from celestial palaces to seaside villages, and allowing the performers to move seamlessly from stage to screen, and back.
Mrs. Farrell said, "Very spectacular actually."
"I thought it was fantastic, it was really, really, really good," said Ms.Hall.
Reporting by Margo McVicar and Leigh Smith
New York-based Shen Yun Performing Arts has four touring companies that perform simultaneously around the world. For more information, visit Shen Yun Performing Arts.
The Epoch Times considers Shen Yun Performing Arts the significant cultural event of our time. We have proudly covered audience reactions since Shen Yun's inception in 2006.