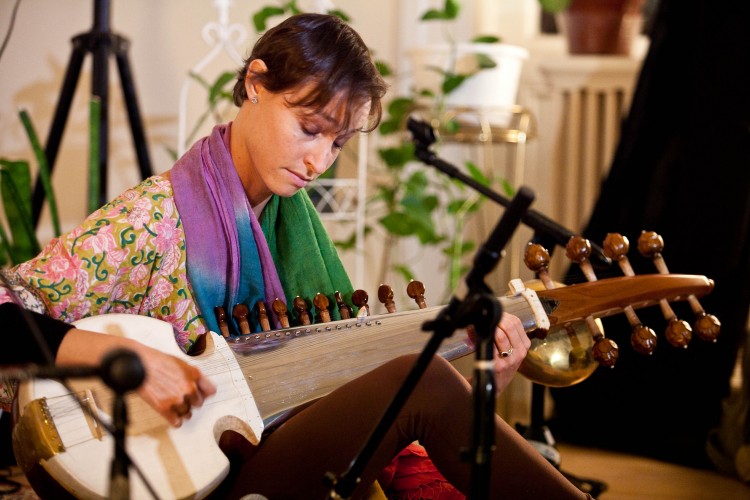 NEW YORK—An ensemble of classical Indian musicians, half of whom were Westerners, performed recently at an event in Manhattan to raise awareness about the persecution of Falun Gong in China.
Event organizer Nemanja Rebic said Falun Gong's universal principles of truth, compassion, and tolerance are connected to Indian classical music, which is an ancient form of art, and so it was easy for him and the other musicians to connect to it.
Indian music is rooted in very pure, ancient universal principles, so I thought it would be a wonderful idea to support this cause through this wonderful form of art, he said prior to the start of the concert.
Falun Gong is an ancient spiritual practice for mind and body that contains moral teachings and five, gentle, slow-moving exercises including meditation. Popularized in China and practiced by close to 100 million people around the world, the practice came under severe repression in China in 1999 when it was banned by the former Chinese Communist Party leader.
Many practitioners persist in following truth, compassion, and tolerance at great cost to their lives, and the persecution is still going on today, said event host Kannan Sankaran, a practitioner of Falun Gong, and a staff member of The Epoch Times, living in New York.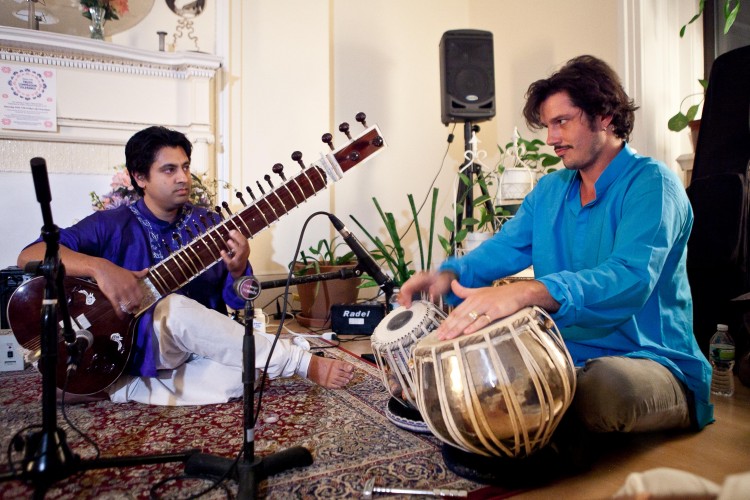 Prior to performing a haunting raga "jog," Kannan's brother Abhisekh Sankaran, visiting from Mumbai, India, said: "Tonight we hope to send out positive energy through Indian classical music. We hope that the situation in China can improve as a result."
Indian classical music is always set in a raga. A raga is comprised of a series of five or more musical notes upon which a melody is constructed. The performer then interprets the raga in his or her own unique way through the construction of musical phrases that can sound like musical embroidery. No two performances are alike.
"A performance can be defined as the act of coloring the mind and emotions, and therefore metaphorically means any feeling or passion—for instance, love, affection, sympathy, desire, interest, motivation, joy or delight," said Kannan. Ragas are also associated with different times of the day as well as the seasons, he added.
This midnight raga jog is a song of longing for the beloved, explained Abhisekh. It can powerfully express the emotion, and can bring forth emotions very strongly, he said. The raga's words, "How will time go by without you? I will have sleepless nights without you," are around 100 years old, Abhisekh's said his guru Ajay Thosar told him.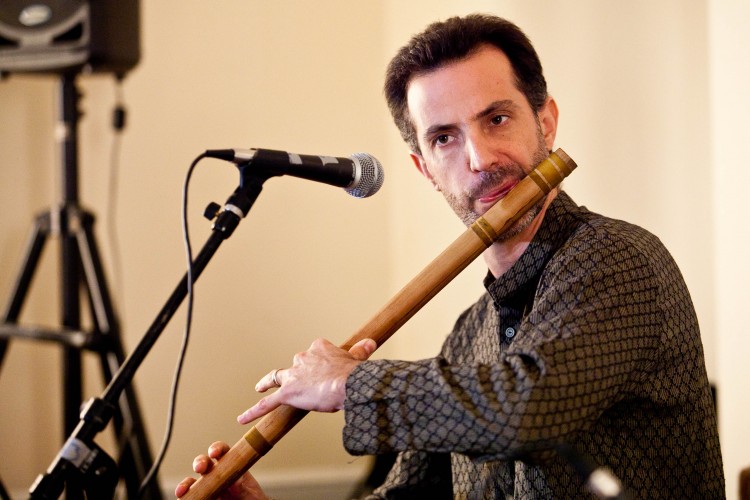 New ragas are continually being created, but it requires a level of fame for the tune to stick. Most Indian classical musicians perform well-known ragas which can easily be enjoyed by audiences familiar with the tunes.
The concert opened with a Carnatic (south Indian) raga "hamsadhvani," played by Brooklyn-based Eric Fraser, on a bamboo "bansuri" flute. The simple flute is among the oldest instruments known to mankind, and a very important instrument in Indian classical music. The blue-skinned Hindu god Krishna is typically depicted with a flute in hand.
Fraser established the raga in a slow and deliberate manner, and then slowly built up the tune, including a joyful circular journey through what felt like walking on cresting, sparkling ocean wave at times; at other times like frolicking in tall green grass under a brilliant blue sky.
A recent Fulbright senior research scholar for Indian music, Fraser has trained in the "guru-shishya parampara" (a lineage of teachers and disciples) tradition under his guru Pt. Gopal Roy since 2003.
Next, came a heart-felt performance by Grammy-nominated performer and recording artist Camila Celin on the sarod. Sarod is a fretless instrument with between 20 to 25 strings. With so many strings, the delicate instrument required a lot of tuning both before and during the performance, but Celin's "bageshri" raga, meant to be heard late at night, was worth the wait.
Bageshri depicts the emotion of a woman waiting for her lover. The ascending and descending of the numerous strings, along with the instrument's characteristic melodic, drone and sympathetic strings, led to a deep conveyance of mood and reverberance.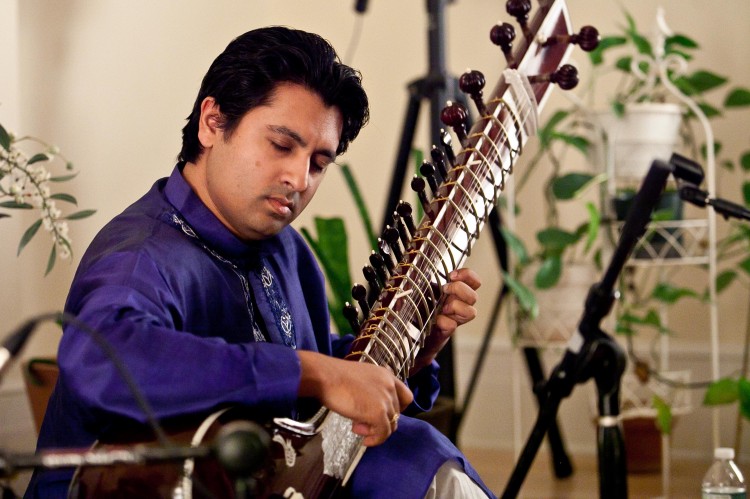 Celin began learning guitar at the age of 12 in Bogota, Columbia, and continued her musical passion throughout her life on a variety of string instruments before arriving at the classical Indian sarod.
Prior to beginning her performance, Celin voiced her respect to her gurus, and to the other performers in the audience, and said they could understand the great amount of practice that goes into learning an instrument. Indian musicians typically learn their craft from teachers, also called gurus, and respect for the guru is embedded in traditional Indian culture.
Indrajit Roy-Chowdhury, a young and highly talented sitar player performed next. Roy-Chowdhury played raga "bihag" in two different styles, allowing for a last-minute variation in honor of the autumn season. The performance was technically superb, and filled with nuanced moments, varied tempo, and well-formed phrases. As Roy-Chowdhury moved from crescendo to crescendo, a good number of "kya baat hais" (bravo in Hindi) could be heard from the audience members.
Roy-Chowdhury recently took up the profession of a full-time sitarist after receiving the Bennenson Award for the Arts to further his study of Indian classical music, and graduating from undergraduate studies at Duke University. Roy-Chowdhury began learning at an early age under the tutelage of his father, sitar maestro Pandit Subroto Roy-Chowdhury.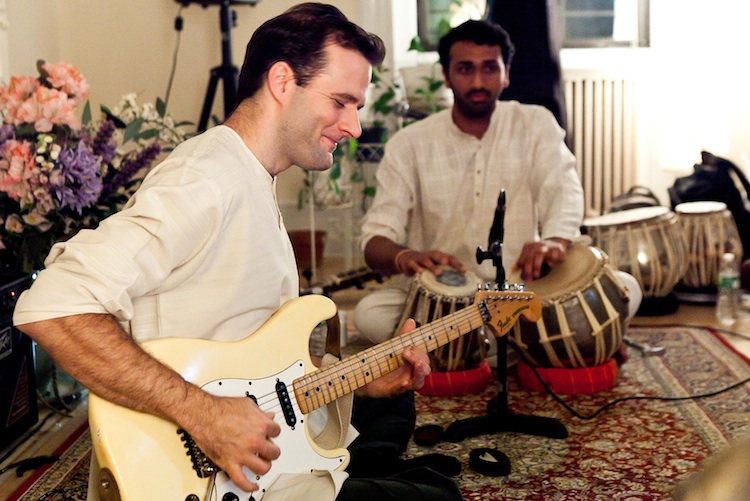 After a break where attendees enjoyed pakoras (fried chick pea dough mixed with vegetables) and Indian sweets came Rebic's soulful electric guitar raga "abheri," named "Nagumomu."
"Few people have tried to play pure raga on guitar," said Rebic. It is really challenging on guitar because the strings do not pull easily, making it difficult to create the simulation of vocals which is built into classical Indian instruments such as the sarod and sitar, explained Rebic.
Rebic's guitar playing style is so creative though, incorporating sarod-style picking, classical-style finger picking, and unconventional percussive techniques and effects, that he truly accomplished what few others can do. The explosive performance was made even better by the drum accompaniment by Bala Skandan on mridangam and Abhisekh on tabla.
Partway through the guitar performance, the drums were allowed to take over in a style common in Carnatic classical performances. Drummers exchange solos in an exchange known as "tani avartanam," and then slowly come together to a crescendo before the main performer returns.
The mridangam is a double-sided drum with a body usually made with a hollowed piece of jackfruit wood about an inch thick. Used as the primary accompaniment in Carnatic classical music, each end of the mridangam produces a different sound, both bass and treble.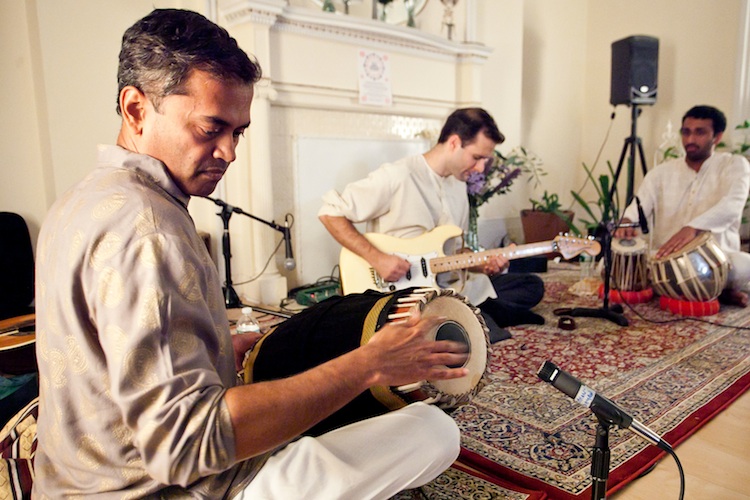 It was highly unusual and was a treat to have a percussive event where a mridangam exchanges with a tabla. Skandan's self-assured, serious, rich and sophisticated drum beats nearly stole the show, but Abhisekh held his own on the tabla and retained a playful approach.
Accompanying a number of the performers on tabla was Ehren Hanson, a resident of New York, where he works as a professional tabla player, composer, and director of Anindo Chatterjee School of Tabla. Hanson was clearly in step with his fellow musicians and had no trouble with the accompaniment at all. He added depth and beauty to the main stage performers each time he played.
Near the end, two fun performances topped off what was a truly beautiful evening. The Sankaran brothers performed a contemporary song, half Hindi, half English lyrics, called "Krishna Nee Begane," by Colonial Cousins. The duet was accompanied by guitar, tabla, and flute.
Finally came a group performance of the popular raga "pahadi." The group performance was transportive, like walking on heavenly clouds shaped like lotus flowers, and supported with sparkling diamonds from below. The sound was full, and exploded with the rhythm and the poignancy of each individual instrument heard throughout the night.
"We live in the world where there's a lot of beautiful things and horrible things too, and we have to try to help in ways that we can, and music is always accompanied by love. If it is music it has to be love. This is our way of trying to put some ships out into the ocean and bring peace," said Fraser.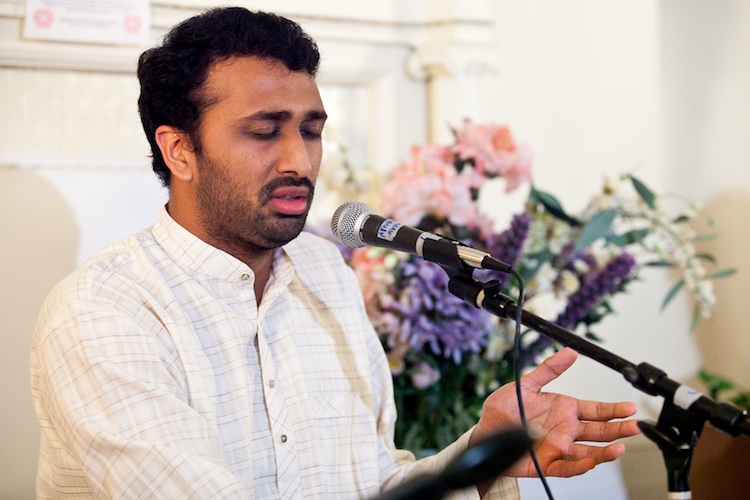 One night, seven ragas, and a sea of suffering in China newly illuminated with hope for respite. And for one night in New York—a bunch of happy, nourished guests.
The event was held at Chandayan, a tabla school and performance space which is run by virtuoso tabla player Pt. Samir Chatterjee. Event information can be found at www.tabla.org
The Epoch Times publishes in 35 countries and in 19 languages. Subscribe to our e-newsletter.