Civil Rights Heroes Still Working
April 11, 2014 6:00 am Last Updated: April 24, 2016 6:38 am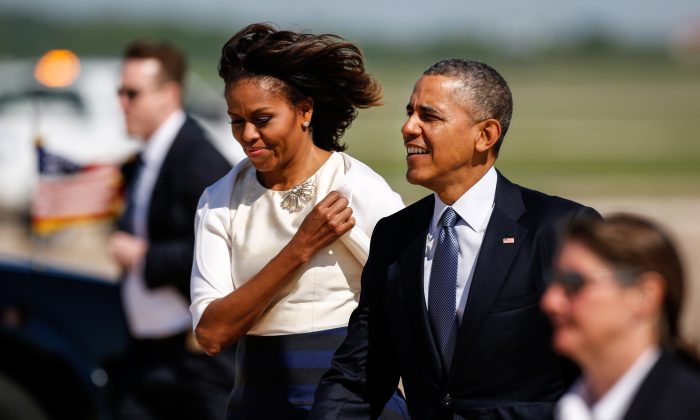 In 1964, it was nearly impossible to believe that a black man would be elected president of the United States. In 2014, it is nearly impossible to imagine Congress passing legislation that could move America so boldly toward its original promise. That promise was liberty and justice for all.
The legislation was the Civil Rights Act. It seems as if today's legislators could never agree to such a big bill. 
Yet President Barack Obama commemorated the 50th anniversary of the Civil Rights Act at President Lyndon Johnson's library in Austin, Texas Thursday. Who knows what else is possible for America?
Obama said, "We recall the countless unheralded Americans, black and white, students and scholars, preachers and housekeepers—whose names are etched not on monuments, but in the hearts of their loved ones, and in the fabric of the country they helped to change."
As historian and founder of Black History Month Carter G. Woodson said, "Those who have no record of what their forbears accomplished lose the inspiration which comes from the teaching of biography and history."
Johnson deserves to be celebrated this year. But he stood on the shoulders of countless brave, unselfish citizens. Many of their names are known: Rosa Parks, Martin Luther King Jr., and John Lewis. So many more are unknown, or less known, and their work started long before the 1960s when it bore such extraordinary fruit.
Dr. Mays and Gandhi
In a library in Atlanta, there is a plaque honoring Benjamin Elijah Mays. Born in 1894 or 1895 to a poor family in North Carolina, he earned a doctoral degree despite tremendous odds and opposition. Dr. Mays became president of Morehouse College and mentored Dr. King. He welcomed Jewish scholars who fled the Holocaust. Mays traveled to India in 1936, and had many conversations there with Mahatma Gandhi. King's ideas about using nonviolence and civil disobedience had deeper roots than is usually assumed.
Dress Shoes, Homework Help
James Beasley drove to the same library nearly every day after his full day of teaching, and worked until closing. Everybody called him Mr. Beasley. On Saturdays he worked a full day. 
Beasley wore dress shoes, a pressed shirt and a tie every day. He wanted to show the mostly poor children who frequented the library how to look in order to be taken seriously as a professional, he said. His wife was a teacher, too. They lived comfortably. I think he kept his second, part-time job so he could present himself to those children. He used to create scavenger hunts that could only be solved by understanding the Dewey Decimal system. Whoever solved the hunt would find a dollar folded inside a book. His patience for homework help was infinite. He gave the most disheveled street person the same courtesy he would have given the Prince of Bohemia.
Beasley once stopped to help a white lady with a flat tire. She was trembling in fear of him, he said. It hurt his feelings, he said.
When cops came around, he felt uncomfortable, he said. He had bad memories. Because when he was young, he was in the civil rights movement. He sat in at lunch counters. He marched. He was stopped while driving. He was followed. He was beaten.
And he went on to spend an entire hardworking life, quietly making his spot in the world a little bit better. 
I could say he was one in a million. I think it's more accurate to say he was one among a million, of all the peaceful warriors of the civil rights movement. Many of them are still here, some famous, some obscure. 
As Johnson said, the movement was bigger than any one event. It was the "effort of American Negroes to secure for themselves the full blessings of American life. Their cause must be our cause, too. Because it is not just Negroes, but really, it's all of us who must overcome the crippling legacy of bigotry and injustice. And we shall overcome."