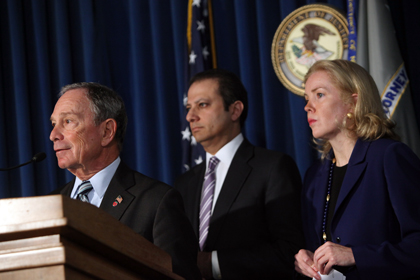 NEW YORK—The main contractor behind the CityTime payroll timekeeping system has agreed to repay $500.4 million after admitting to defrauding the city "into significantly overpaying for CityTime," according to the released prosecution agreement.
The main contractor behind CityTime, Science Applications International Corporation (SAIC), will pay the United States Marshals Service more than $500 million in settlement charges.
It is the largest award the city's Department of Investigations, which partnered with the U.S. attorney for the Southern District of New York, has ever recovered, according to the mayor's office.
Of that money, $466 million goes to New York City as compensation for its losses. Another more than $40 million, owed to the corporation by the city, will be waived. The city ends up recouping more than $500 million. Along with funds already frozen or recouped, the city has been reimbursed for most of the costs of the project, the city said in a statement.
The project was originally budgeted to cost $63 million, but cost overruns led the city to pay close to $700 million.
CityTime, a digital timekeeping system for city employees, began in 2000, aiming to replace a paper-based timekeeping system and save taxpayer money. It currently services more than 163,000 city workers.
"We have developed evidence that the corruption on the CityTime project was epic in duration, magnitude, and scope," reads a statement by Manhattan U.S. Attorney Preet Bharara and Rose Gill Hearn, the commissioner of the New York City Department of Investigation, in a press release from June 20, 2011, when the indictment was unsealed after new evidence suggested kickbacks in the project reached $40 million.
The attorneys said that Mark Mazer was given authority to serve as a principal agent and representative of the NYC Office of Payroll Administration (OPA), the city agency in charge of CityTime, but "used his authority at OPA to approve timesheets for consultants who were on leave, who had been fired, and who were working less time than was reported." This kind of behavior allegedly led to cost overruns, such as the number of consultants more than doubling to 300 plus, and consultants billed at rates of $160 per hour—or more than $300,000 per consultant, per year.
The indictment alleged that SAIC executives received millions of dollars in kickbacks for work steered to Technodyne, and that Mazer allegedly received more than $25 million in kickbacks for his efforts.
The prosecution settlement, announced by Mayor Michael Bloomberg and Department of Investigation Commissioner Rose Gill Hearn on Wednesday, absolves SAIC of any potential criminal liability. The city cannot pursue any claims against them in the future.
"Today's settlement is a major victory for taxpayers, and just as importantly, it is a major victory for justice and public integrity," said Mayor Bloomberg, who had requested a reimbursement of the entire CityTime project in June 2011.
The technology company will continue to be reviewed by an independent monitor appointed by U.S. attorney's office for three years.