Chris Rock will not be pressing charges against Will Smith after Smith appeared to strike Rock during the Academy Awards on Sunday night, said the Los Angeles Police Department.
During the ceremony, Smith walked onto the stage after Rock told a joke about his wife Jada Pinkett Smith's shaved head as he presented an award.
"Jada I love you, 'G.I. Jane 2,' can't wait to see it," Rock said as the camera cut to Pinkett Smith, who appeared to roll her eyes. After that, Smith walked onto the stage and appeared to hit Rock, saying: "Leave my wife's name out of your [expletive] mouth."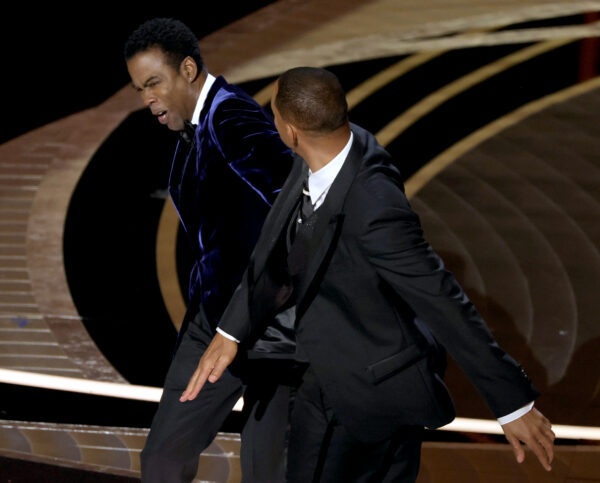 The Los Angeles Police Department told outlets that Rock won't file charges.
"LAPD investigative entities are aware of an incident between two individuals during the Academy Awards program," the police department told CNN and other news outlets in a statement on Monday. "The incident involved one individual slapping another. The individual involved has declined to file a police report. If the involved party desires a police report at a later date, LAPD will be available to complete an investigative report."
It's not clear if the incident was staged or not, but during a speech after receiving an Academy Award for Best Actor for "King Richard," Smith apologized to the Academy and other nominees over the incident. He didn't apologize specifically to Rock.
"In this time in my life, in this moment, I am overwhelmed by what God is calling on me to do and be in this world. Making this film, I got to protect Aunjanue Ellis, who was one of the most strongest, most delicate people I ever met," Smith said. "I got to protect Saniyya (Sidney) and Demi (Singleton), the two actresses that played Venus and Serena. I'm being called on in my life to love people and to protect people and to be a river to my people."
He added: "I want to apologize to the Academy. I want to apologize to all of my fellow nominees. This is a beautiful moment and I'm not crying for winning an award. It's not about winning an award for me; it's about being able to shine a light on all of the people."
Earlier on Monday, the Academy issued a statement saying that it doesn't condone violence.
"The Academy does not condone violence of any form. Tonight we are delighted to celebrate our 94th Academy Awards winners, who deserve this moment of recognition from their peers and movie lovers around the world," the statement read, without providing more details.