With competition fierce for admission to college in China, students are being monitored by video cameras while writing national college entrance examinations to deter them from cheating.
China's national College Entrance Examinations (CEE) are the largest set of tests in the world, and determine the future of thousands of students and their families.
A record breaking 10.5 million students are registered for the exams this year but only 5.9 million of these students will be eligible for college.
China's Education Examinations Instructive Center has been using video cameras to monitor the CEEs in 31 provinces this year. In 16 of these provinces, including Tibet and Xinjiang, the video surveillance is in real-time.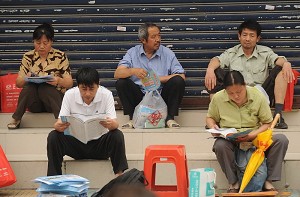 The earthquake in Sichuan on May 12 caused the examination dates in parts of Sichuan and Gansu provinces to be postponed; and many of the essay topics this year were related to the earthquake.
The 90,000 students from six of Sichuan's most affected regions have not yet been told when they will be allowed to sit the exams.
Across China there are 2,500 testing centers, 8,700 testing sites, 360,000 testing venues, 100,000 proctors, and about 9,500 examiners in each province.
The consequences of cheating are much harsher this year than in previous years. If students leaked any of the test questions before the end of the examination period they would be violating the national laws.
In Beijing, Liaoning, and Shanxi provinces students are monitored by real-time video surveillance. The Ministry of Education has requested that the video records be kept for at least six months.