With the U.S. intelligence community due to produce a report on COVID-19 origins in weeks, the Chinese regime has unleashed a new wave of propaganda and disinformation aimed to paint the United States as the pandemic source.
Over the past few weeks, the regime has redoubled its efforts to promote a conspiracy theory that the virus originated from the U.S. Army Medical Research Institute of Infectious Diseases at the Fort Detrick army base in Maryland, a claim first proposed by a Chinese foreign ministry spokesperson last year, without evidence.
The concerted propaganda push comes as the regime faces mounting international scrutiny over whether the COVID-19 virus originated from a Chinese lab in Wuhan, where the virus first started to spread. Meanwhile, in China, a fast-spreading Delta variant of the virus is challenging Beijing's costly lockdown strategy.
The state-owned Science and Technology Daily, which the regime has described as "a major publicity channel for the Chinese central authorities," on July 29 ran an article citing World News Network, a U.S.-based English news aggregator, alleging that the U.S. military spread the COVID-19 virus to Europe through a blood donation drive. The source of this conspiracy theory appears to be an Italian media outlet.
Another Aug. 4 article in English, penned by World News Network staff reporters and citing unnamed experts, alleged without evidence that some patients who contracted EVALI, a disease associated with vaping, in July 2019 might have been COVID-19 patients.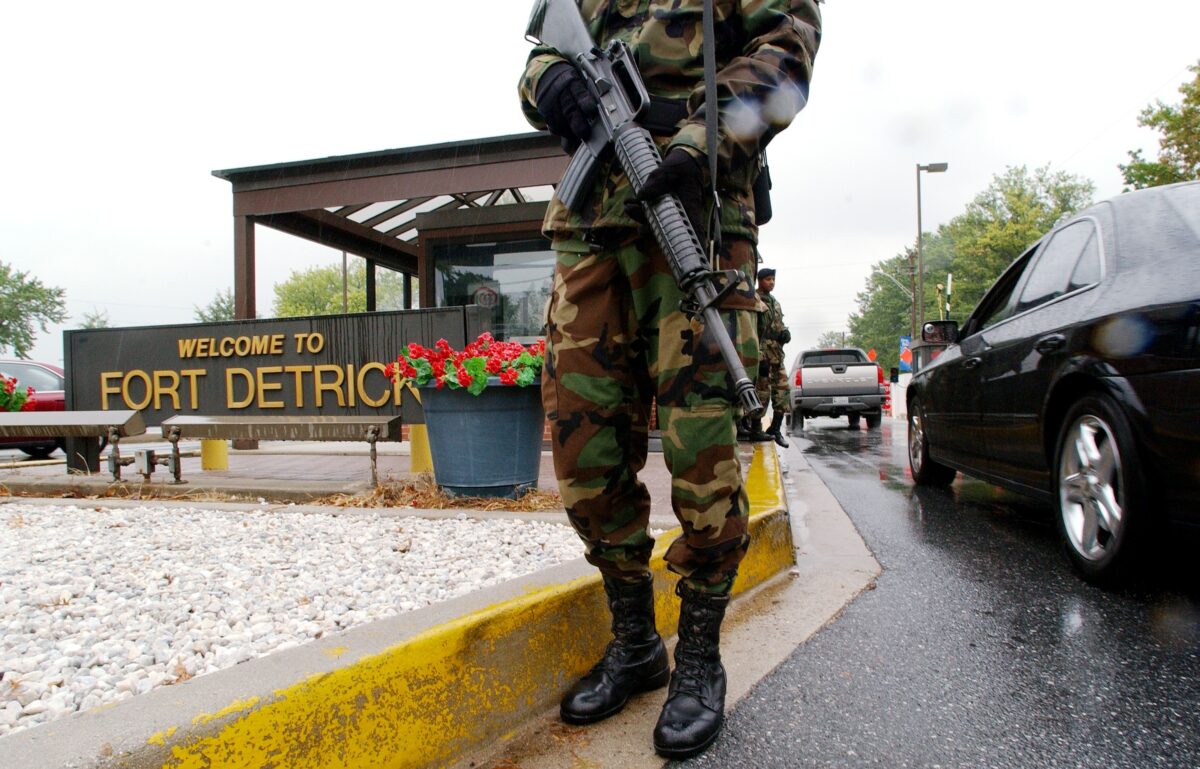 Global Times, a state-run tabloid known for its hawkish tones, went further by organizing a petition that calls for a World Health Organization (WHO) inquiry into the Fort Detrick lab. The petition was widely promoted on other Chinese media. The outlet claims to have brought a total of 25 million signatures in three weeks.
Other state-controlled outlets have trumpeted similar views. Broadcaster CCTV on July 29 aired a 20-minute segment accusing the United States of "engaging in origin-tracing terrorism."
Anti-U.S. memes and illustrations—such as one describing the United States as a "super-spreader," and another listing eight alleged U.S. failures—have also been promoted by state-run outlets on Chinese and international social media.
CCTV's overseas arm, CGTN, produced a cartoon suggesting that the lab leak theory was concocted by the Central Intelligence Agency (CIA), which it dubbed the "Conspiracies Invented Agency."
Aggressive Push
In January, a WHO-led panel made a trip to Wuhan to investigate the virus origins and in a subsequent joint report with Chinese scientists said it was "extremely unlikely" that the outbreak could have been a result of a virus escape from a lab in Wuhan.
Since then, scientists and world leaders have voiced concerns about the integrity of the WHO report, given that the regime didn't provide investigators with crucial raw data nor allow access to records of the Wuhan Institute of Virology (WIV).
"We are asking China to be transparent, open, and co-operate especially on the information, raw data that we asked for in the early days of the pandemic," WHO Director-General Tedros Adhanom Ghebreyesus said during a press conference on July 15.

But the WHO report's conclusion has come in handy for Chinese officials and state newspapers in their effort to push back against growing international scrutiny.
Seizing upon the report as a means to refute outside criticism, a number of state media asserted that the United States "kidnapped WHO experts" to "smear" China.
"Cooking up conspiracies, suppressing scientists, politicizing origin tracing, the United States is undoubtedly that 'political kidnapper' trying to invert black and white," reads a state-run China News article from Aug. 1. It was posted on the Health Commission of Hebei Province's official website the next day.
The Chinese regime last month rejected a WHO proposal for a second phase virus origins probe that included an audit of labs in Wuhan. Beijing later submitted a "Chinese proposal," in which it insists that the new investigation shift its focus to other parts of the world, and that "what has already been conducted during the first phase" shouldn't be repeated.
Su Tzu-yun, director of the Taiwan-based Institute for National Defense and Security Research, told The Epoch Times, "They want to use this second probe to conduct more coverup."
On Western platforms such as Twitter and Facebook, which remain blocked in China, Chinese diplomats have doubled down on their aggressive rhetoric targeting the United States.
"If the US keeps doing nothing and blindly shouting 'CHINA!,' then it's the political virus," wrote Zhao Lijian, a Chinese foreign ministry spokesperson, in an Aug. 5 tweet that included a cartoon of a virus pathogen laughing at Uncle Sam blindfolded by a mask. The tweet has been shared 1,400 times.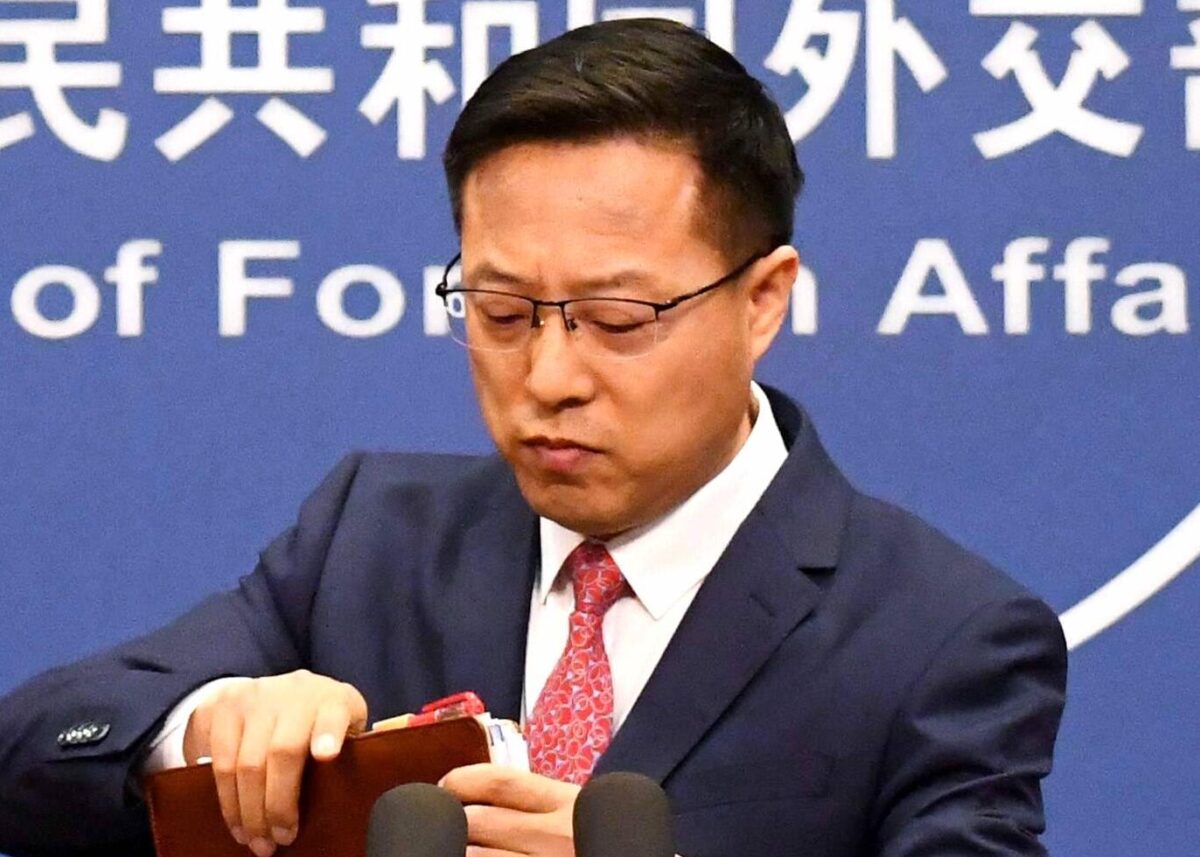 Zhao gained notoriety last year for pushing a conspiracy theory that the virus was introduced to Wuhan by the U.S. Army.
In a recent press conference, Zhao also demanded an investigation into the Baric Lab at the University of North Carolina headed by virologist Ralph Baric, who is known for his expertise in engineering viruses in a lab. He made no mention that Baric, who in May signed on to a letter supporting a deeper look at the lab leak origin theory, had worked with the WIV and published a 2015 scientific paper about a SARS-like virus in Chinese horseshoe bats, with the Wuhan lab's virologist Shi Zhengli as a co-author.
Chen, a writer from Guangdong Province in southern China who only gave his last name, told The Epoch Times: "These are not foreign diplomats, they're rather more similar to the heads of terrorist syndicates, arrogant and peremptory.
"You block the international investigation because you're feeling anxious."
Some Western countries are pushing back against the regime's disinformation attempts. On Aug. 10, the Swiss Embassy in China said on Twitter that a Swiss biologist recently quoted by numerous Chinese media probably doesn't exist and called for the removal of the "false news." Chinese outlets had cited a person named "Wilson Edwards," an alleged Swiss biologist who discussed the virus origins and criticized the WHO's independence.
The citations were quickly erased. A July 30 Global Times article on Edwards's claims has quietly vanished from view. On state-run China Daily, two paragraphs on an Aug. 10 article citing the so-called biologist were also deleted.
The Party Has 'Turned Worse'
In about two weeks, the U.S. intelligence community is set to report to President Joe Biden on the findings of a three-month virus origin investigation.
A House Republican report on Aug. 2 found a "preponderance of evidence"—from attempts to "hide and cover up" research done at the WIV to lax lab safety protocols—indicating that an accidental lab leak was the most likely source of the pandemic.
In May 2019, months before the outbreak, the director of WIV's P-4 laboratory, Yuan Zhiming, had raised concerns about safety deficiencies in China's high-level bio labs, saying "biosafety awareness, professional knowledge, and operational skill training" needed to be improved among laboratory personnel.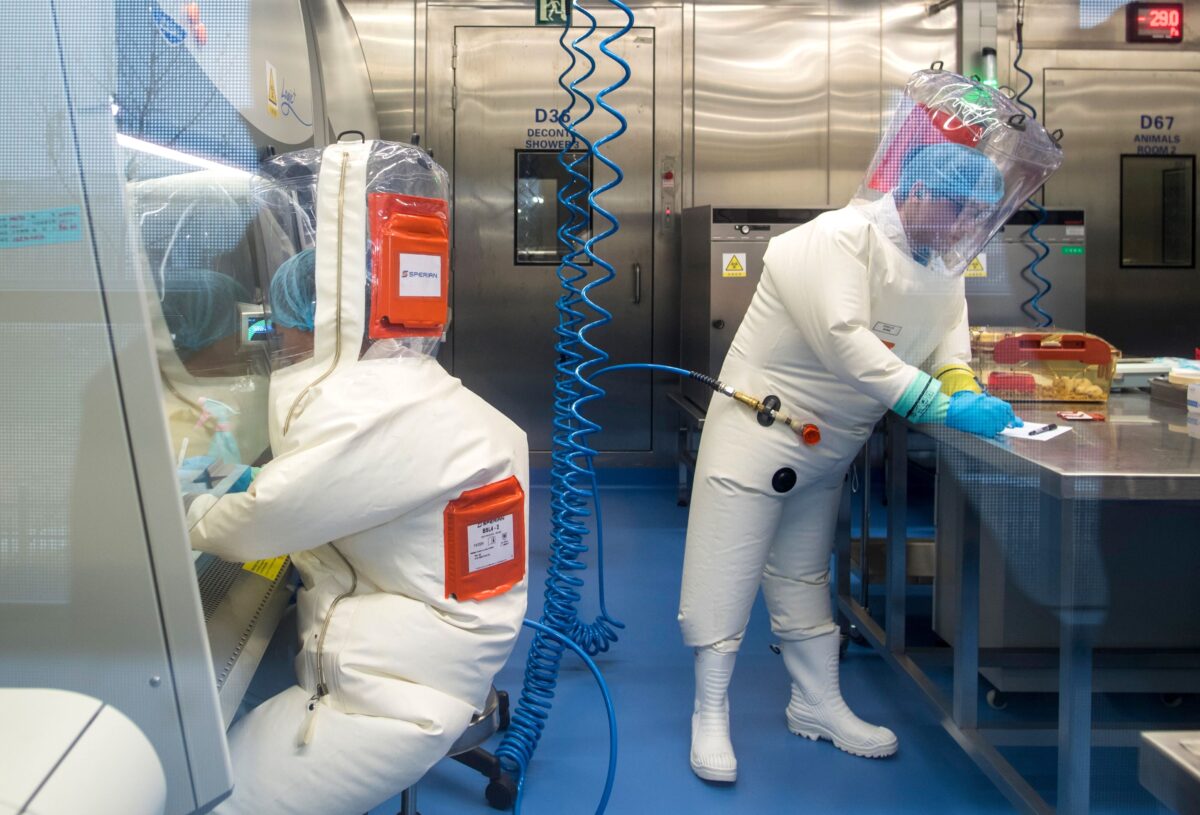 Despite the Chinese regime's "actions to deflect blame," its credibility has been hampered by a history of concealing unfavorable information, according to China analyst Su, who noted the authorities' suppression of the true death toll and damage from the recent flooding in central China as an example.
"We need to note that the Chinese Communist Party's essence has not changed but has only turned worse," he said. Beijing's recent move to suspend the issuance of Chinese passports due to the pandemic is likely a sign of some greater internal crisis, he said.
Chen, the Chinese writer, also subscribes to the lab leak theory. He said that Chinese authorities were "making false counter charges" toward Western critics while shutting down dissent inside China.
"As soon as someone in China mentions the pandemic origins in a WeChat or QQ conversation, the accounts and groups get suspended," he said referring to the two Tencent-owned Chinese social media apps.
"This issue is too serious, and they are afraid. Therefore they will delay, conceal, lie, and shirk the responsibility so long as they are able."
Luo Ya contributed to this report.