Amid the Chinese New Year holiday, migrant workers in mainland China are growing increasingly frustrated due to unpaid wages. At the end of 2020, the Chinese regime promised to clear all unpaid wages to migrant workers—but this doesn't appear to be the case. One migrant worker who spoke with The Epoch Times said that the root cause of the problem is the Chinese Communist Party (CCP) and its deceptive tactics.
Before the Chinese New Year on Feb. 12, Chinese media reported a series of violent crimes committed by migrant workers over unpaid wages.
On the eve of Chinese New Year on Feb. 11, a family was murdered in Baotai town, Ping Yi county of Shandong Province. A local villager surnamed Liu murdered a family of six in an attempt to collect 6,000 yuan (about $910) of wages they owed him. Liu committed suicide after committing the crime.
On Feb. 9, a local villager surnamed He, who was a cement worker in Chenxi county, Huaihua city of Hunan Province, attacked the wife and son of the contractor who owed him wages with a hammer. They were seriously injured. He later killed the contractor's two young grandsons. The contractor reportedly owed He over 10,000 yuan (about $1,500) of unpaid wages. He was then arrested by the local police.
On Feb. 5, a video circulated on social media showing an artist named She Jiuwen from Hunan Province who was lamenting that he could not go home for the holidays because he didn't have enough money to pay for the trip due to unpaid wages. The artist was commissioned to work on paintings for the Chenzhou Dragon Lady Temple. "I went to all the government offices I could for help, the labor bureau, the religion bureau, the street office, the city government, but now no one cares about this matter. I don't know what to do, I'm very sad. I intend to end my life. I feel that the world is very unfair," he said.
寺庙欠薪,湖北画工春节前自杀,这是他生前最后视频。他为湖南郴州龙女寺做彩画,要回家过年,却要不到工钱。 pic.twitter.com/bSZ6nSyAks

— 李方 (@stanleynordic) February 8, 2021
Soon after, the artist took his own life and the news of his suicide spread on Chinese social media.
A migrant worker from Hubei Province surnamed Cai recently confirmed with The Epoch Times that the video was real and taken before the man died. The worker said that there were two similar suicide cases reported just days before. He believed that there will be more cases of extreme actions over unpaid wages, and the source of the problem lies with the Chinese regime.
Chinese Government Owes Most of the Unpaid Wages
Cai revealed that most of the unpaid wages come from government projects. "Most cases are due to the government not paying the money to contractors. Usually, the contractors have to hire workers directly, and if they don't keep their word, it's hard for them to hire migrant workers again. So basically, the contractors don't dare to delay paying the workers. But official reports often say the unpaid wages are due to economic disputes between contractors and subcontractors."
According to a report by Chinese news portal Sohu on Feb. 5, a contractor in Hezuo city of Gansu Province climbed onto a 50-meter-high crane boom on a construction site to demand for wages. He threatened to jump off the crane and commit suicide. In the end, although the man succeeded in getting paid, he was detained for 10 days by local police for "maliciously asking for unpaid wages."
The official police notice stated that there is zero tolerance for such "malicious pay collection," according to the report. The official rhetoric triggered a backlash among netizens. "It is justified to collect debts," netizens said on Chinese social media. Later, a Gansu official issued a public statement, saying that the police report had improperly used the term.
Cai said that the crane incident in Gansu reflects the current situation. "Think about it, the contractor has to threaten to jump off the crane to collect his wages … the government who contracted them for work didn't pay, so the contractor is not able to pay the migrant workers. The root cause is the government."
A similar case was reported last month. On Jan. 8, a contractor surnamed Liang and the owner of a crane at the Fumian Airport construction site in Yulin, Guangxi, along with other migrant workers, held a protest, demanding more than 30,000 yuan ($4,600) in unpaid wages. The construction site belonged to state-owned China First Metallurgical Group Co. The Epoch Times obtained a video of the incident.
The following day, after the company paid Liang, local police took him away and he was detained for five days for "disrupting order at a work unit," according to Chinese media sources.
Untrustworthy Regime
The issue of Chinese migrant workers not getting their wages has been prevalent in China for decades and has caught the attention of international media over the years.
Cai said that some go to extremes to protect their rights, because there's no other way for them to survive. "I am also a migrant worker, and till today I only managed to collect less than half of the salary they owed me. It is very, very difficult."
The Chinese regime officially announced in 2020 that it would settle all unpaid wages, stating that it was a solemn commitment to the migrant workers. Media reports did not specify how much was owed to them.
According to Chinese media, at the end of January 2019, about 820 million yuan (about $125 million) in wages owed to migrant workers by central government departments and the Ministry of Finance were cleared.
Cai said that the government made many promises, but they were all lies.
"We have all agreed verbally [to work and get paid], without a contract, which is not like in Western society," he said, adding that China's urban-rural household registration system is discriminatory toward migrant workers.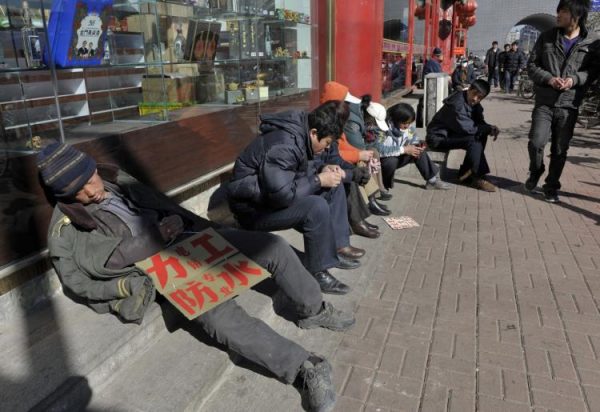 The Chinese regime classifies all people in the mainland into two types of household registrations: urban and rural, which have uneven rights and benefits. People are confined by their household registration and cannot move freely, and the social welfare they get is based on where they are registered. For instance, migrant workers and their children who are from the countryside are denied the right to attend school, receive medical care, labor protection, and pensions in the cities.
Cai said, "The (CCP) laws are set so well, as to how many hours a day and how many days in a month one works. But it's different for those who are inside and outside the [government] system, and urban and rural areas are different too. Communist Party members in the system work eight hours a day and five days a week. But things for those outside the system are different. For example, the highly paid employees in technology companies are '996' (working from 9 a.m. to 9 p.m. six days a week); while the majority of migrant workers are working 9 hours a day and only get paid for 8 hours. Most are like this, including government projects."
Yi Ru contributed to this report.