As the White House's free at-home COVID-19 test kits are reaching millions of U.S. households, the "made in China" label on some of those kits is stirring concerns.
The distribution, which started last month, is part of a Biden administration initiative to give away 1 billion self-test kits to Americans for free. A sizable portion of these kits will be sourced from iHealth Labs, a California subsidiary of Chinese medical gear manufacturer Andon Health.
Since December 2021, the company has won contracts worth more than $2.1 billion with the U.S. federal government and some state governments, according to Andon's filings and federal contract records.
Roughly $1.8 billion of the amount for the White House rollout came from the Department of Defense (DOD). The department awarded two contracts to the lab on Jan. 13 and Jan. 26, respectively, which would bring more than 354 million Chinese-made kits—or about a third of the total—to U.S. homes.
The White House said on Jan. 28 that 60 million U.S. households have ordered the free test kits through the government's new website, covidtests.gov. The order typically ships within seven to 12 days, according to the website.
U.S. reliance on China to produce these test kits—two years after COVID-19 spread from the country—is a call for reckoning, according to Rep. Rob Wittman (R-Va.).
"If we should have learned anything from this pandemic—it is that it's imperative to break U.S. dependence on Chinese medical and PPE [personal protective equipment] supply chains," Wittman told The Epoch Times.
U.S. supply chain vulnerabilities came into the spotlight during the early months of the pandemic, when U.S. frontline responders struggled for critical medical supplies and had to turn to foreign countries, principally China, for the gear.
Wittman called for the administration and members of Congress to lead by example and advocate for the medical equipment to be made at home.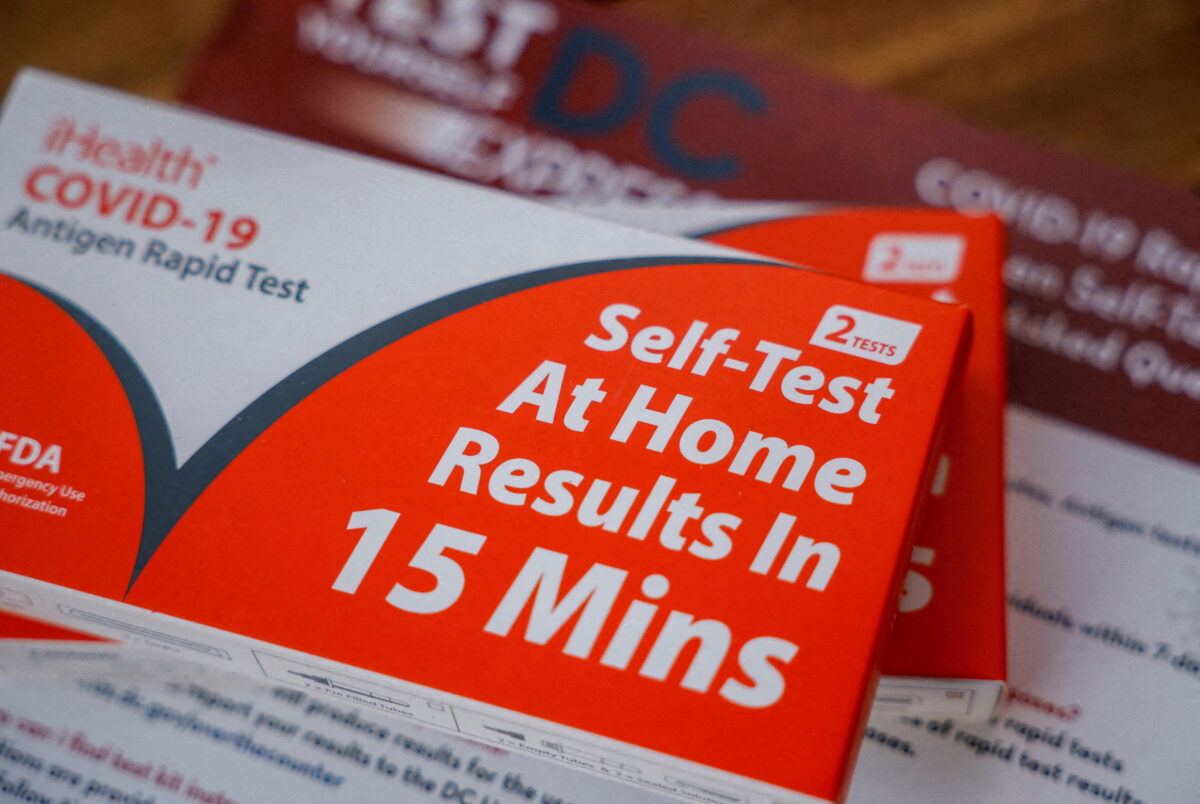 "We should be supporting hardworking Americans and businesses, not relying on unfriendly regimes," he said.
Rep. Brad Wenstrup (R-Ohio) expressed a similar view.
"The fact that the United States is mass distributing Chinese-manufactured COVID-19 tests further highlights the need to bring back U.S. manufacturing for critical industries," Wenstrup told The Epoch Times, describing it as a "national security issue, as well as a national health security issue."
The DOD contract didn't specify iHealth Labs' China connection, nor was the relationship mentioned on iHealth Labs' website.
White House officials didn't respond to The Epoch Times' request for comment, nor did representatives for Andon and iHealth Labs.
Established in 1995 in the Chinese megacity of Tianjin, Andon had been known as a producer of blood pressure monitors. The company was losing money for seven consecutive years prior to the COVID-19 pandemic.
Andon owns a 70 percent stake in iHealth Labs, which was founded in 2010, the year that Andon went public in Shenzhen, China. Chinese smartphone maker Xiaomi, which invested $25 million in iHealth in 2014, holds 20 percent ownership in the company.
Andon only began making the self-test kits on a commercial scale in November 2021. Driven by its U.S. success, Andon's stock has soared by nearly 14-fold as of Jan. 18.
The Food and Drug Administration granted Andon's iHealth Labs emergency approval in November 2021 to sell its COVID-19 nasal swab test kits in the United States. The lab has also received orders with a combined total of $333 million from the New York State Department of Health and the state of Massachusetts.
California, Washington, Louisiana, Maryland, Ohio, and the District of Columbia have also placed orders, according to Chinese media outlet reports.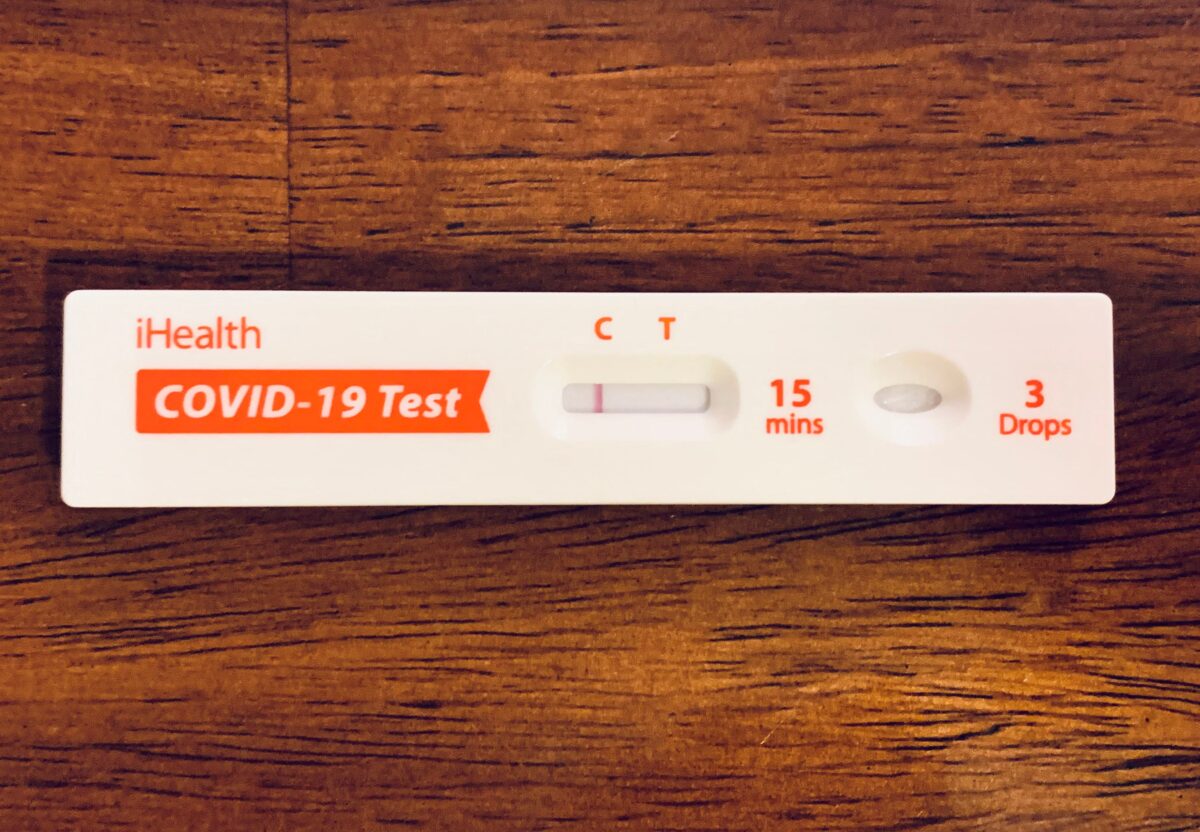 Chinese authorities had previously lauded Andon for its role in the country's pandemic control efforts. In 2020, Andon supplied body temperature scanners to Wuhan, China, and other virus-hit cities and donated shipments to countries such as the United States, Italy, and Germany.
In a May 10, 2020, post, marking the fourth "China Brand Day," Andon tapped into nationalist sentiment, saying that the company had been an "ambassador for Chinese brands" to bring a "high standard" of Chinese products to the world.
Republican members of Congress have recently expressed disagreement over the government purchase of Chinese-sourced medical gear.
Last month, more than 120 Republican lawmakers voiced complaints about having to wear "made in China" masks. In a letter to House Speaker Nancy Pelosi, they expressed their "disbelief and outrage" that taxpayer dollars are being used on Chinese-made masks when U.S. alternatives are available.
"China is perhaps the United States' greatest geopolitical adversary, and its government is culpable in the outbreak of the COVID-19 pandemic. Not a day goes by without new information showing the scale of the Chinese Communist Party's (CCP) efforts to hide and cover up the outbreak," the lawmakers wrote.
With the regime's pandemic cover-up, suppression of whistleblowers, and continued efforts to obfuscate virus origin tracing efforts, "it is inexcusable for taxpayer dollars to be spent in support of the Chinese economy," according to the letter.
Earlier this month, the senator wrote a letter to Xavier Becerra, secretary of the Department of Health and Human Services, asking the Biden administration to prohibit the purchase of test kits that are made in China.
To Sen. Rick Scott (R-Fla.), the matter stood the same with the test kits.
"Senator Scott thinks it is unacceptable that the Biden administration would spend American taxpayer dollars on COVID tests from Communist China, which just goes directly to supporting General Secretary Xi and his genocidal regime, instead of supporting American manufacturers and jobs," his office told The Epoch Times in a statement, referring to Chinese leader Xi Jinping.
Congress's distribution of Chinese-made masks and Andon's U.S. deals have nonetheless been trumpeted by some Chinese media outlets.
The wearing of masks that were made in China on the chamber floor was a "striking sign of the prevalent use of China-made facial masks in the U.S.," said an unsigned article was recently published in state-owned Global Times with the headline "Chinese test kit, mask manufacturers still relied on to fill US supply gaps."
Chinese-made masks have "played an essential role in supplying Americans," the article reads.
This article has been updated with a statement from Sen. Rick Scott (R-Fla.)'s office.