A Chinese court has handed down prison sentences of up to three years to 10 Hongkongers who were arrested at sea in August by Chinese coastal guards before they could successfully flee to Taiwan.
On Dec. 30, the Yantian District People's Court in southern China's Shenzhen city sentenced Tang Kai-yin and Quinn Moon to three years and two years, respectively, for "organizing others to illegally cross the border." Tang also was fined 20,000 yuan (about $3,060) and Quinn was fined 15,000 yuan (about $2,300).
Eight others, who were found guilty of "illegally crossing the border," were each handed seven-month sentences and fined 10,000 yuan (about $1,530).
The 10 were among 12 Hongkongers who set sail on a boat from Hong Kong on Aug. 23, allegedly seeking to claim political asylum on the self-ruled island of Taiwan. Since the pro-democracy movement escalated in June 2019 in response to Beijing's encroachment into city affairs, many Hongkongers have fled to other countries and regions, fearing prosecution over their roles in the movement.
The two Hongkongers who weren't sentenced on Dec. 30 are minors. The local prosecutor's office decided not to bring a case against the two and they have been repatriated out of Shenzhen, according to a statement from Yantian police.
The two minors were picked up by the Hong Kong police force in Tin Shui Wai, a district in the New Territories of Hong Kong that's a short distance from Shenzhen.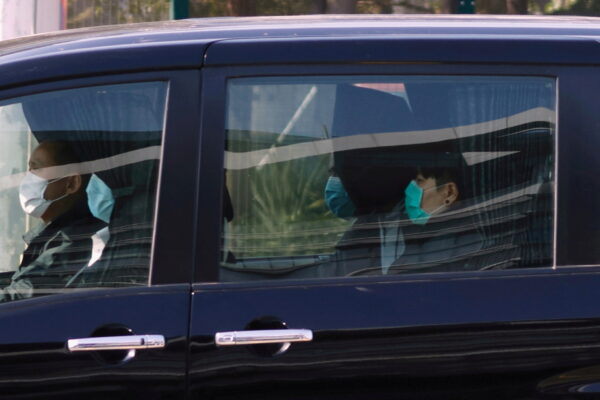 At a press conference, Hong Kong police said minors, identified as Liu Tsz-man and Hoang Lam-phuc, must complete a 14-day mandatory quarantine period—a Hong Kong government measure to prevent the spread of COVID-19.
Upon completing their quarantine, the two will be taken to court, and may face additional charges of absconding, according to police. The police said the two already faced charges in Hong Kong for suspected crimes that include arson and possession of offensive weapons during 2019 citywide protests.
Amnesty International issued a statement, expressing concern about the potential for mistreatment of the 10 Hongkongers in Chinese jails.
"These sentences meted out after an unfair trial lay bare the dangers faced by anybody who finds themselves tried under the Chinese criminal system. This group of young Hongkongers will be at risk of torture and other ill-treatment in Chinese jails," stated Yamini Mishra, Amnesty's Asia-Pacific regional director.
Mishra also criticized China's secretive Dec. 28 trial of the 10 Hongkongers before the court handed down the sentences.
"The Chinese authorities have shown the world once again that political activists will not receive a fair trial," she said. "Diplomats, journalists, and family members were not allowed to observe the effectively closed-door hearing on Monday."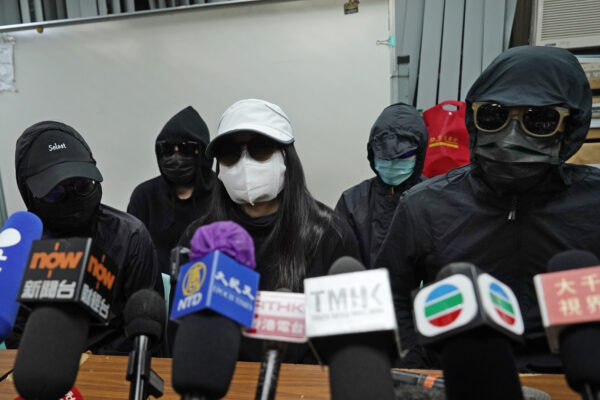 On Dec. 29, the European Union External Action, the EU's diplomatic agency, also criticized the trial, saying the defendants' rights to a fair trial and due process "have not been respected."
"The defendants were not permitted to appoint lawyers of their choice, and access to them in custody has been heavily restricted. The trial was not held in open court. Diplomatic representatives were unable to attend the court proceedings and the attendance of relatives of the detained was impeded," the agency stated.
Hong Kong media outlet Apple Daily, citing an unnamed mainland Chinese lawyer hired by the 12 Hongkongers, reported that Tang and Quinn's sentences were heavier than expected. The lawyer added that the families had 10 days to appeal the sentences.
On the evening of Dec. 30, Chow Hang-tung, a Hong Kong barrister who has assisted the families, district councilor Lester Sham, former lawmaker Eddie Chu, and local activist Owen Chow held a press conference outside the Tin Shui Wai police station, where Liu and Hoang were being held.
The two were expected to be transferred to a correctional institute for their 14-day quarantine.
Chow, who criticized the trial of the 10 Hongkongers as unjust, that noted the mainland Chinese court has yet to publicly release its written judgment.
Owen Chow said the two minors had met with lawyers and family members. He said the two looked nervous and declined to talk about what happened while they were detained in Shenzhen. He suspected that they were likely physically or psychologically tortured in detention.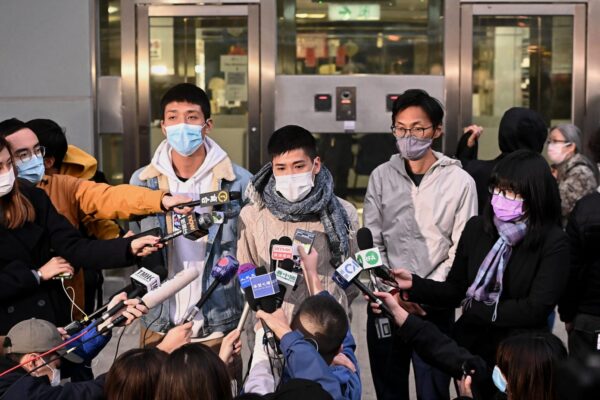 A concern group supporting the families said in a statement that China's legal proceedings were "a farce."
Some family members of the 10 Hongkongers have also released their own statements.
Quinn's older sister demanded that Chinese authorities release a list of relatives who attended the trial. While the Yantian court claimed that defendants' relatives were present, family members said no relatives had attended.
The father of Cheng Tsz-ho, who was given a seven-month prison sentence, stated that every single day his son will spend in jail is unjust, regardless of whether he was given a one-day or seven-month sentence.
The mother of Li Tsz-yin, who also was sentenced to seven months, said the sentence was too harsh. She wanted to know how she could visit him in jail.
Activists worried that the case has set a dangerous precedent for other pro-democracy Hongkongers.
"I fear for the more than 10,000 also facing protest-related charges, the more than 40 arrested under the national security law, and the more than 2 million Hongkongers who marched in protests last year—their fate will soon be in the hands of a court system growing more and more like the one in the mainland, shrouded in secrecy and darkness," said Samuel Chu, managing director of the U.S.-based Hong Kong Democracy Council.