The regime in China poses the leading challenge to U.S. national security, followed by Russia, Iran, and North Korea, in the annual threat assessment report compiled by the Office of the Director of National Intelligence.
"Beijing, Moscow, Tehran, and Pyongyang have demonstrated the capability and intent to advance their interests at the expense of the United States and its allies, despite the pandemic," according to the report (pdf) published on April 13. "China increasingly is a near-peer competitor, challenging the United States in multiple arenas—especially economically, militarily, and technologically—and is pushing to change global norms."
The Chinese Communist Party (CCP) and Moscow are "fueling" economic and humanitarian crises, political unrest, and geopolitical competition, while they engage in so-called vaccine diplomacy to expand their respective spheres of influence, the report notes.
The CCP will "continue its whole-of-government efforts to spread China's influence, undercut that of the United States, drive wedges between Washington and its allies and partners, and foster new international norms that favor the authoritarian Chinese system," according to the ODNI. "Chinese leaders probably will, however, seek tactical opportunities to reduce tensions with Washington when such opportunities suit their interests," saying that it is a matter of the regime's "survival."
"China is touting its success containing the COVID-19 pandemic as evidence of the superiority of its" communist system, the report noted, adding that it will continue to combine its military power with its "economic, technological, and diplomatic clout to preserve the CCP … at Washington's expense."
At the same time, the CCP will try to "muffle" criticism of China and human rights violations in the United States and will "pressure political figures whom Beijing believes oppose its interests," officials said. "Beijing has been intensifying efforts to shape the political environment in the United States to promote its policy preferences."
The report further notes that China's conventional and nuclear forces are becoming more capable of putting American lives at risk, predicting the CCP will try to construct more overseas military bases.
"Beijing will press Taiwan authorities to move toward unification and will condemn what it views as increased U.S.–Taiwan engagement. We expect that friction will grow as Beijing steps up attempts to portray Taipei as internationally isolated and dependent on the mainland for economic prosperity, and as China continues to increase military activity around the island," officials said.
"China's increasing cooperation with Russia on areas of complementary interest includes defense and economic cooperation."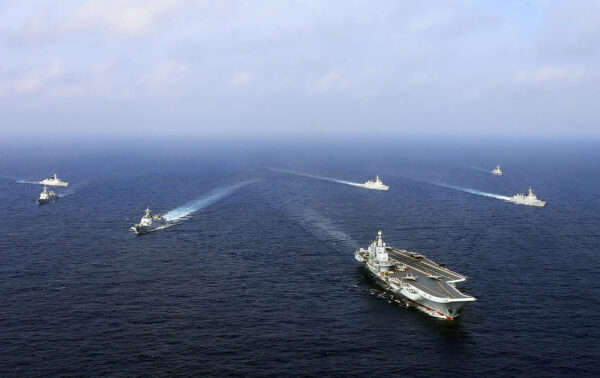 Russia was listed next on the threat report, but ODNI notes that Moscow doesn't want a direct conflict with the United States.
Rather, the report states, "We expect Moscow to seek opportunities for pragmatic cooperation with Washington on its own terms.
"We expect Moscow to insert itself into crises when Russian interests are at stake, it can turn a power vacuum into an opportunity, or the anticipated costs of action are low," it states, citing Moscow's involvement in Libya, Syria, Venezuela, and Cuba.
Russia will also employ cyberattacks and hacking schemes to target U.S. infrastructure, not limited to underwater cables and industrial systems, according to the report.
"Despite flat or even declining defense spending, Russia will emphasize new weapons that present increased threats to the United States and regional actors while continuing its foreign military engagements, conducting training exercises, and incorporating lessons from its involvement in Syria and Ukraine," the ODNI stated, adding that Moscow will increase its role in Caucasus nations as well as in eastern Ukraine and Belarus.
North Korea, officials said, will still continue to pursue its nuclear weapons program.
The isolated communist regime led by Kim Jong Un "aims to achieve his goals of gaining prestige, security, and acceptance as a nuclear power through conventional military modernization efforts, nuclear weapon and missile development, foreign engagement, sanctions-evasion, and cyber capabilities," the report stated.
Iran was described as more of a regional threat—rather than a global one—in the report.
"Although Iran's deteriorating economy and poor regional reputation present obstacles to its goals, Tehran will try a range of tools—diplomacy, expanding its nuclear program, military sales, and acquisitions, and proxy and partner attacks—to advance its goals. We expect that Iran will take risks that could escalate tensions and threaten U.S. and allied interests in the coming year," the ODNI stated.
The 27-page declassified report was released in advance of House and Senate intelligence committee hearings on April 14–15.