Two Chinese citizens are seeking to hold officials from the country's initial virus epicenter accountable over their handling of the CCP virus outbreak.
Yao Qing, a petitioner from the hard-hit city of Wuhan, filed lawsuits on Oct. 22 against the city government, saying that some of its virus rules had violated their rights.
The city entered a full lockdown on Jan. 23 with little prior notice and shut down all transportation in and out of Wuhan, prompting panic as residents scrambled to stockpile supplies. On Feb. 10, the officials issued further restrictions that effectively sealed residents in their homes.
These measures violated the citizens' personal liberty and never should have happened, Yao said in an interview on Oct. 22.
Yao became an activist last year after a nearby government-run railroad construction project caused cracks and deformation to her home. She subsequently lost her job (which has a 200,000 yuan annual salary, or around $29,910) after injuring her hand in a scuffle with neighborhood committee officers over the issue. Over the months of lockdown, Yao had difficulty accessing necessary medical treatment for her injuries.
The officers, who were charged with buying and bringing groceries to residents, only provided those services twice over a two-month period. They also denied her request for medicine, accusing her of "making a great commotion about nothing," she told The Epoch Times.
In June, Yao held a red banner in front of the city government seeking compensation for her house. A black-clad plainclothes police kicked her stomach and slapped her face until she lost consciousness; another threatened to arrest her, she said.
Another petitioner is Shenzhen-based Zhang Hai, son of a COVID-19 victim who died in Wuhan. He mailed a request on Oct. 19 to the city government and that of Hubei Province, where Wuhan is the capital, asking authorities to publicize the details of public servants responsible for concealing information about the virus cases.
The request marked his fifth attempt to seek accountability from Chinese officials over the outbreak since June. The previous materials brought little response other than retaliation from Chinese police, he said.
Zhang's father, a veteran who had worked on China's first secret nuclear project, suffered a bone fracture and was admitted to Wuhan's General Hospital of Central Theater Command for surgery on Jan 17. While the surgery had been a success and the patient appeared to be recovering, he exhibited symptoms of fever and was diagnosed with the virus on Jan. 30, by which time he was already in a coma. He died two days later. To Zhang, the authorities' delayed response about the virus and the lack of transparency over the infection risks had directly contributed to his father's death.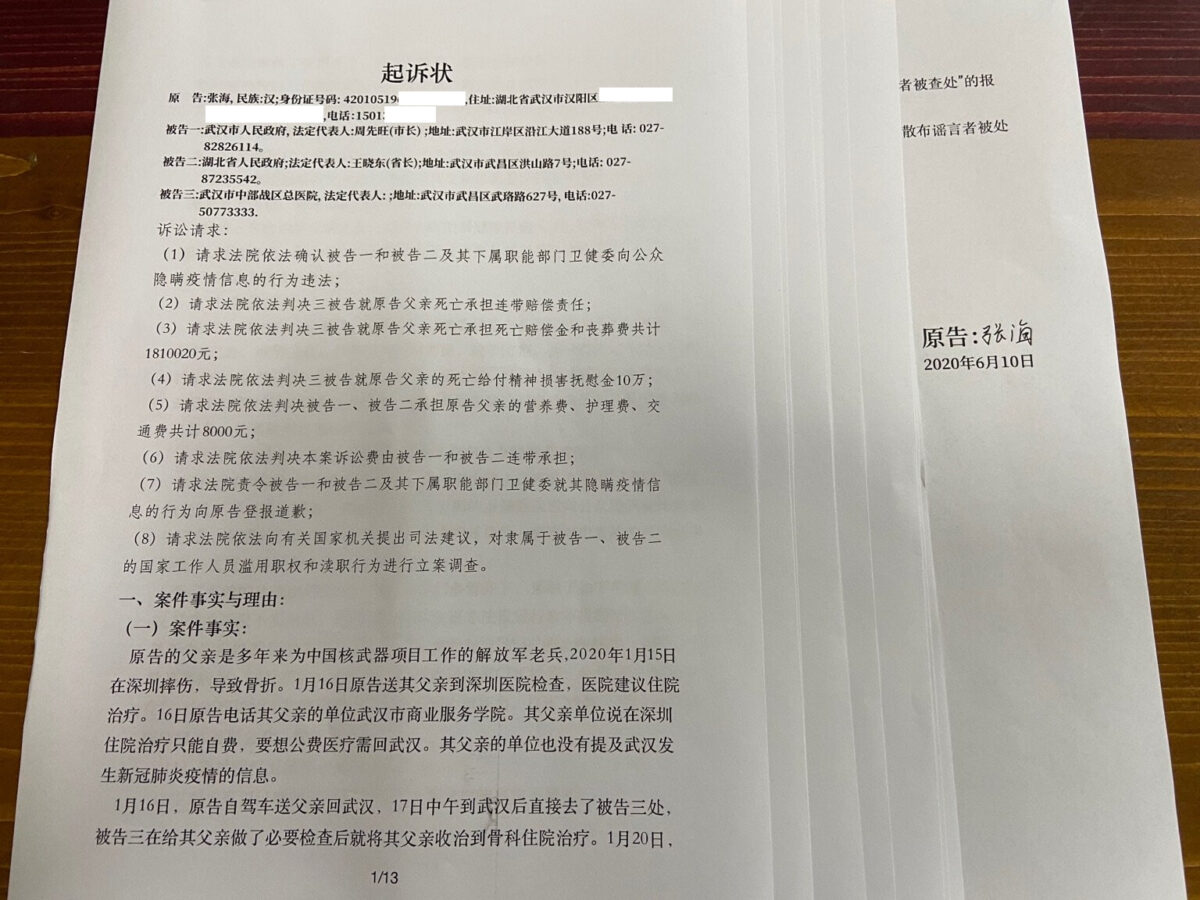 "I can't let [my father] die in vain like this," he told The Epoch Times in June, vowing that he won't be silenced until he can get "an explanation" from the government, that is, "an apology and compensation." He filed a second lawsuit in August after a lower court in Wuhan dismissed his original legal case.
The police visited Zhang and summoned him to the police station in mid-October after he wrote a letter appealing for help from Chinese leader Xi Jinping, and tried to deliver it to Xi at a Shenzhen conference that Xi attended.
He called Wuhan mayor Zhou Xianwang a "murderer" for withholding crucial virus information and named him a chief defendant in his lawsuit.
Zhou, in a state media interview days after locking down the city, admitted that the city government didn't disclose news about the outbreak in a timely fashion, but pinned the blame on the higher officials and regulatory requirements.
"As the local government, I can only reveal the information after receiving permission," he said and offered to step down to appease the public.
"Receiving permission, what does this mean? It means that he knew [about the outbreak]," he said in an interview with Sound of Hope, a Chinese-language news outlet based in the United States.
He called the officials "cold-blooded."
"At the same time he would definitely take precautionary measures," he added. "But did these ordinary people deserve to die? The commoners' lives are also lives and they have dignity too."
Zhang said the police had warned him not to accept any foreign media interviews.
Yang Zhanqing, a New York-based human rights advocate and member of the "COVID-19 Compensation Legal Advisory Group" that advises on COVID-19 victims seeking compensation from Chinese authorities, said that he expects his family in China will receive police harassment as a result of his providing legal assistance to Zhang.
Zhang recounted to Yang the last moments with his father, an experience that Zhang said he would "remember for life."
At the hospital bed, Zhang's father's mouth was wide open under an oxygen mask as he gasped for air. Zhang tried unsuccessfully to close his father's jaw, when his father left his last words: "Son, dad doesn't want to die, please plead to the doctor to save me."
Hong Ning and Zhang Dun contributed to this report.