Chinese Authorities Cover Up Deadly Tick Bite Epidemic
August 3, 2012 4:25 am Last Updated: October 1, 2015 12:42 pm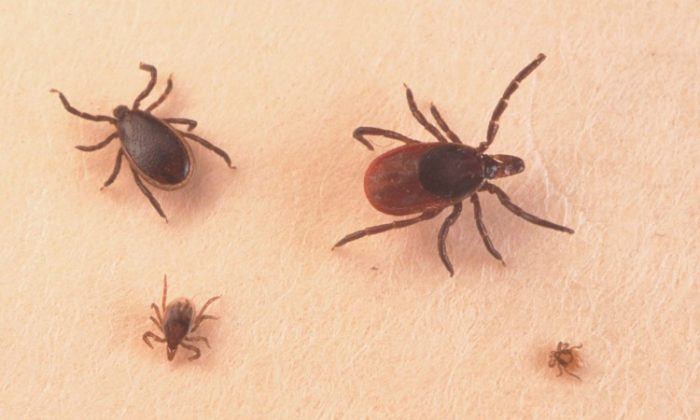 A deadly tick-borne disease has struck Xinyang City in central China's Henan Province. The hospital is overcrowded with patients, but local authorities are trying to conceal the outbreak and death toll. Media workers have urged city authorities to disclose details of the epidemic.
A tick-bitten villager named Ye Xianfa from Shangcheng County died at China's No. 154 People's Liberation Army Hospital on July 31 after his family borrowed more than 80,000 yuan (US$12,500) for treatment. The hospital is dedicated to tick-borne disease treatment, and has been overcrowded with inpatients.
During Ye's hospitalization, relatives kept updating his condition on the Internet with microblogs, such as: "Ye has been in a coma for several days. High fever persists. His life signs keep weakening. The accumulated medical expense is skyrocketing! Every day, there are tick-bitten people arriving at the No. 154 People's Liberation Army Hospital in Xinyang City. The local authorities have been trying to cover up the facts. More people will die if the government doesn't pay enough attention to this matter!"
Another microblog reads: "In Qilichong Village alone, seven people have died. The hospital is now jam-packed with tick-bitten patients. The situation is urgent. More people are likely to become victims. The city government did not pay any attention to controlling the epidemic and even tried to conceal the situation from the general public. Residents' health and lives are seriously threatened."
A physician interviewed by The Epoch Times admitted that the number of tick-bitten patients has increased quite a bit. When asked about Ye's case, he first tried to evade the question, but after repetitive inquiries he said Ye "had a high fever for five days before being sent to the hospital, and he died after being discharged from the hospital."
Amid grief and indignation, Ye's family said that villagers cannot afford the treatment for tick bites, and they were forced to borrow money for Ye's treatment after using up all their savings.
The outbreak has not been reported by any medical organizations or government officials. The Epoch Times made several phone calls to the Disease Control Center of Xinyang City and Shangcheng County, but nobody answered. A clerk at the Wanggang Village Health Center said his superiors wouldn't let him say too much.
He Guangwei, a journalist associated with Time Weekly, was born and raised in Xinyang City. He posted a microblog proposing three demands to the Xinyang City Chinese Communist Party secretary: (a) Publicize and update the situations of the epidemic in a timely manner; (b) take actions to help who those with tick bites, such as reducing or exempting their medical expenses; and (c) punish officials who have attempted to hide the facts of the epidemic.
Xinyang City has been hit by tick-borne disease in recent years. Last year, the No. 154 People's Liberation Army Hospital was also overcrowded with patients who had contracted the disease. A physician told The Epoch Times that there were four deaths among the patients of one doctor alone. But the doctor in charge of the emergency room said that the actual death toll was confidential and should not be revealed to outsiders.
Read the original Chinese article.
The Epoch Times publishes in 35 countries and in 19 languages. Subscribe to our e-newsletter.