Chinese Activist Brutally Beaten in Taishi Village
October 10, 2005 12:00 am Last Updated: October 10, 2005 12:00 am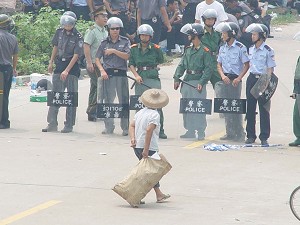 TAISHI, China – October 9, around 7 p.m., Lü Banglie, a delegate to the local People's Congress from Hubei province's Zhijiang city, was brutally beaten while entering the Taishi village with a reporter of the U.K.-based newspaper the Guardian and an interpreter. Many think that the incident further reveals the white terror faced by the villagers of Taishi, who recently have petitioned to recall the village chief and tried to elect the members of their village committee in response to the corruption of local government officials.
Lü told Radio Free Asia (RFA) in an interview that when he had just entered Taishi with Joffe-Walt, the Guardian reporter, and his interpreter, "All of a sudden many people surrounded our car." We tried to put the gear in reverse but the mob would not let us go in reverse either. They were pointing at me as if they knew me."
According to Joffe-Walt's report for the Guardian afterward, initially there were 30 to 50 men—"Some wore military camouflage uniform. Some wore blue uniforms with badges on the shoulders, and one guy had a greyish-mauve uniform with a walkie-talkie." Then those in uniform left. The remaining 20 some men, as soon as they had singled out Lü, "They pulled him out and bashed him to the ground, kicked him, pulverized him, stomped on his head over and over again," writes Joffe-Walt.
Lü became unconscious. "Someone splashed cold water on me and I regained consciousness for a second but then passed out again. When I came to, I was in a moving vehicle. My head was hurting very badly," Lü told RFA, "I started throwing up."
Joffe-Walt and his assistant flew from Beijing to Guangdong on late October 8 with the intention to interview some Taishi villagers. The Taishi villagers, after a suspicious land deal of U.S. $12 million made by the village chief Chen Jinsheng was exposed, have followed the "Villagers' Committee Organization Law" to recall Cheng and campaigned for an election of their own slate of village committee members. But the local government has responded to their peaceful actions with threats, kidnapping, and a violent crackdown.
Lü Banglie has been helping the Taishi villagers' campaign. On August 23, he accompanied Tim Johnson of the Philadelphia Inquirer and his interpreter to the village to report on the villagers' campaign and the government's crackdown on it. Afterward, Lü wrote a report of that trip and posted it on the Internet via the New Century Net. It is believed that Lü's support for the villagers was the reason behind the beating. According to RFA, "Lü said he was convinced that those who beat him did so on behalf of local government officials."
Since the beginning of the Taishi villagers' campaign, reporters trying to go to Taishi have been threatened by mobs. Just on October 8, two reporters, one from the French International Radio and the other from the Hong Kong-based South China Morning Post, were beaten while trying to enter Taishi.
For background to this story, please see: Taishi Village's Struggle for Democracy in China (Photo Essay, Part I) , Chinese Legal Community Provides Assistance to Missing Attorney , and Chinese Villagers' Lawful Election Meets Crackdown