Since the outbreak of the CCP virus, which caused the COVID-19 pandemic, China will ring in its third Chinese New Year on Feb. 1, 2022. However, at least 31 epidemic prevention centers in China's provinces and municipalities have issued their policy: People should stay where they are for the Chinese New Year.
The Chinese New Year is the most celebrated holiday of family gatherings, but China's strict zero COVID-19 policy is challenging the tolerance level of the population.
In addition, this policy will affect 370 million Chinese migrant workers, the largest contributors to the once-in-a-year holiday travel.
Stay Where You Are
According to a Chinese local government media report, Pingxiang city, Guangxi Province, was the first to issue the notice. On Dec. 5, the local CDC requested that shop and store employees "stay where they are," send New Year's greetings via the internet, and reduce mobility.
Liu Jun (pseudonym) from Shaanxi, a landlocked province in northwest China, has worked in a chemical plant in the coastal city, Guangzhou, for the past eight months.
He said the company's regulation was relatively relaxed because of the cultural mix—it's run by both a Korean investor and a state-owned enterprise.
However, the company did require that employees from medium- and high-risk areas get their managers' approvals to travel home.
He said that one of his coworkers from northwest China has not been allowed to go home for the past couple of years due to the surge of local cases.
The 26-year-old Liu talked about his previous employer, which blocked any possibility for the workers to go home so that the company could reduce the risk of shutting down the entire production.
Last year, Liu was able to spend the new year at home because he left the job, but the family reunion still didn't happen.
Both his sister and father were restrained at their workplaces in Guangzhou, southern China.
He believed the regime was demonizing the pandemic. "Restricting people from going places is convenient and easy for the administration. A little more humanity would have cost them resources," Liu said, explaining why the regime would not take the time to make the prevention measures more people-friendly.
Wang Yi (pseudonym), a native of Hebei, northern coastal China, is a designer in Beijing. He told the Chinese edition of The Epoch Times that he spent his new year by himself in Beijing last year, but he called home on Chinese New Year's Eve.
But, he really wanted to go home to visit his 94-year-old grandmother this year. He mentioned the feeling of spending the New Year's eve alone, "It's quite sad, not to the point of crying … but people were having the reunion dinner, and I was having instant noodles by myself."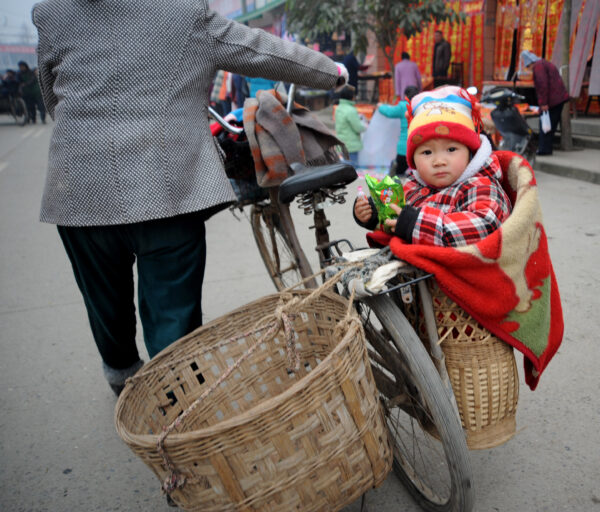 Not Staying Put for Another Year
In Zhejiang, eastern coastal China, at least 500,000 people were recently quarantined at home and another 100,000 in isolation facilities due to local outbreaks, according to Chinese state news media reports on Dec. 15.
A local resident Miao Hua (pseudonym) told The Epoch Times on Dec. 13, that since the city was locked down, "for six days, there's been no food supplies or door-to-door visits for a nucleic acid test."
According to the customary practice of the regime, local residents often encounter lockdowns on short notice; typically within a few minutes of announcement the lockdowns begin.
He said, "we wanted to go back to our hometown, but the highway was closed, so we couldn't drive back. Now the food has become a problem, it's scary."
Miao explained that the elderly are in need of medicines for high blood pressure, hyperlipidemia, and diabetes—there are also children—but the lockdown forbids them from going out shopping. Basic food supplies are gone, and the officials don't care about people's problems, even after addressing their issues.
Zhang Xin (pseudonym) was another local resident in Zhejiang. He had to celebrate the Chinese New Year by himself in a rental apartment last year.
He told The Epoch Times, "This year I will definitely not stay here for another new year. It's been two years since I went home. I will scramble back home if I have to."
Longing for Home
The travel ban also affected many college students who study in foreign provinces.
On Dec. 16, Xi'an city in Shaanxi Province suddenly announced the closure of a number of scenic spots, museums, shopping malls, and schools. Many college students are forced to stay for the new year on short notice.
Take a local university, Chang'an University, as an example.
Immediately following the city announcement, the university began to closely manage the dormitories on Dec. 17, and the meals are now collectively distributed.
Student Zhang Zhihui wrote on her Weibo (Chinese social media) page: "On the evening of the 14th, the campus was closed in five minutes, a shed was built in five minutes, a nucleic acid test in three hours. On the 15th, the residential area on campus was classified as medium risk."
She further stated: "The future is hopeless. It seems that what we planned will not come true. It's the second Christmas Eve, Christmas, and New Year's Eve that will be gone because of the epidemic. Now even going home for the Chinese New Year is a luxury."
Many Chinese web bloggers expressed their true feelings online via their Weibo accounts.
"Works at the Front Desk" wrote: "If the epidemic does not disappear for several years, will Chinese New Year be celebrated on the spot every year? … How long can we tolerate a life filled with isolation, nucleic acid testing, and not seeing families or spouses."
"Moon Li" said: "It's too early to say … stay where you are for the new year. … Epidemic prevention is of course important, but many people have not been able to go home for the New Year for two or three years!"
A blogger also wrote: "When you ask us to get a booster, I agreed; Do the nucleic acid test, I obeyed; But, not going home for three years, it's too much."