China recently reported its highest youth unemployment rate to date. However, the number of college graduates is also reaching a record high this year. These elements, coupled with an economic decline caused by the communist regime's COVID-19 lockdowns, are making the unemployment issue especially acute.
According to data published by the authorities in mid-May, the unemployment rate among China's youth aged 16-24 was as high as 18.2 percent in April, an increase of 2.2 percentage points from March, triggering wide concern and discussions in Chinese media. The articles on China's major news portals have compared the record-high number with other countries during the same period. An article on 163.com listed the youth unemployment rate of those 16 to 20 in the United States to be 9.5 percent, the unemployment rate among young people under the age of 24 in Japan was 3.8 percent last month; in Taiwan in March, the unemployment rate of young people under the age of 24 was 12.48 percent, and in the UK was 10.6 percent.
China's youth unemployment rate is basically twice that of European and American countries. It is also 46 percent higher than that of Taiwan and should be considered a very serious situation, the article said.
The numbers don't included the college students who will graduate in July this year.

According to data from the Ministry of Education in China, in 2022, the number of undergraduate students graduating from college will hit a record high of 10.76 million, a year-on-year increase of 1.67 million. It is also the first time that the number of yearly college graduates has exceeded 10 million.
On May 30, major Chinese media China Business Network published an article titled "4000 People Compete for 30 positions: China's 10-million New College Graduates Facing Huge Challenge to Find Job." It was reposted on other major media in mainland China and caused heated discussion on the internet.
The article interviewed an undergraduate student named Huang Qian, who majored in English in a top university in Wuhan in central China. She recounted her experience of struggling to find a job.
She applied for an English teacher position at a public junior high school in Wuhan. There were 300 to 400 applicants competing for the one position. She also applied for a low-level government job in Shandong Province. There were 30 positions open, but more than 4,000 people applied for them. She hasn't received a job offer yet. Huang also applied to graduate schools, but hasn't been successful there either, as there are so many other undergraduates applying as well.
The article became a top search on China's internet.
A netizen posted, "It is difficult to find a job, especially for college graduates who are from rural areas. They have student loans to pay, and cannot find a job after graduation, causing a great deal of mental pressure on them.
Another commented, "In a year or two, graduates with bachelor degrees will not even be able to find a job in a factory to make screws. In the future, a janitor's position may require a master's degree."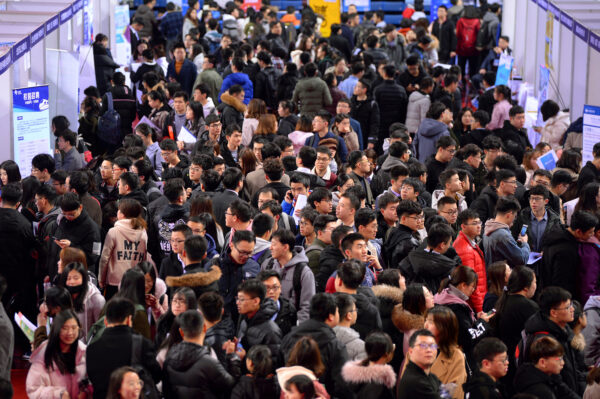 The Chinese regime has been pushing the increasingly large number of college graduates every year to attend graduate schools in order to postpone the employment issue. However, even mainland Chinese media acknowledge that the strategy is not working anymore. An article on 163.com said that on the one hand, China's economy is going down and the number of jobs is decreasing; on the other hand, the labor force has increased by more than 10 million. This is a major problem that is troubling and affects social stability. The measures that were adopted in the past to extend the time spent attending school are no longer effective in 2022, the article admitted.
According to the "2022 First Quarter Employment Market Report for College Graduates" released by the China Employment Research Institute of Renmin University and China's major job website Zhilian Recruitment, in the first quarter of this year, the demand for college graduates dropped by 8 percent year-on-year, while the number of job applicants increased by 75 percent year-on-year.
Another report recently released by Zhilian Recruitment, "2022 College Student Employability Survey Report," shows that as of May, the rate of male graduates who have signed job contracts was about 23 percent, and only 10 percent of female graduates have signed, both are fewer than last year.
Li Yiming, a Chinese current affairs commentator, told The Epoch Times that China's economy was already on the decline, but now the politicized COVID-19 prevention measures are another severe blow to the economy. Foreign companies have withdrawn from China, and domestic companies are laying off staff. Employment will naturally be difficult for college graduates.
Fang Xiao contributed to the report.