China's Unbalanced Property Market Spawns 'House Sitters' for Hire
October 12, 2010 7:17 pm Last Updated: October 1, 2015 6:48 pm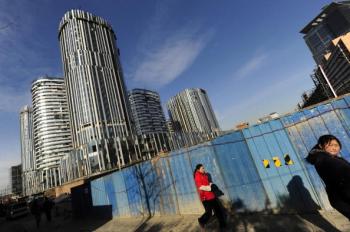 In today's "why aren't you rich" Chinese economy, a new niche needs filling: vacant house-sitter. An advertisement offering this service appeared recently in the want-ads of Internet forums and bulletin boards.
As reported in the Beijing Morning Post, offerings for vacant house management services began appearing this summer after a CCTV investigation showed that the vacant housing rates in Beijing and Tianjin have reached 40 percent, and that many of the unoccupied houses are new.
Then in September, the National Bureau of Statistics announced it would conduct surveys on the vacancy rates in different cities, and that Beijing had been selected as the first. The Bureau did not state a reason for the survey but some analysts and critics of the Chinese economy, after looking at the situation, see it as one where supply and demand are hopelessly unbalanced.
Vacant or Not?
A Mr. Wang posted an advertisement on qq.com which points out the three ways the survey will determine if a house is vacant: by entering the premises, by checking the utilities and by asking the developer. He said that his house sitters can be wherever they are needed for people looking to skirt the survey. Sitters can periodically enter the house and turn on the lights and water; as long as the meter readings increase, the inspectors will be satisfied. Wang also has sitters who will work with the developer and act as residents.
Wang began offering his service this past May, with rates that differ based on the age and style of the houses. He even gives discounts for good clients with multiple houses. He says that inquiries about his services increased after the survey was announced.
Statistics Unpublished
Hong Wei, a real estate critic who maintains a blog, points out that every city's real estate management department has an office which should have detailed information about vacancy rates. But not a single city has published these statistics.
According to Global Entrepreneur Magazine, the vacancy rate is easy to estimate from utility usage. The fact that it is not must be revealing, because the figure would be a blow to the real estate market, the article speculates.
Hong Wei presents an incisive analysis: the fact that there is demand for a "vacant housing management service" at all indicates something is amiss: owners of legally purchased properties have the right to leave their houses empty, so demand for the service must be a reflection of abuse of power, probably by Party officials, he indicates.
He notes that many officials possess large numbers of properties, far beyond what can be accounted for by their officially reported income.
Hao Pengjun, the former director of a county level coal bureau in Shanxi Province, is held up as an example. He purchased 36 properties in Beijing, Hainan, and Linfen, and the money for that was not from his government income, Hong writes.
For Hong, house sitting services represent an attempt by entrepreneurs to capture the market of officials who want to avoid scrutiny of their real estate holdings and finances.