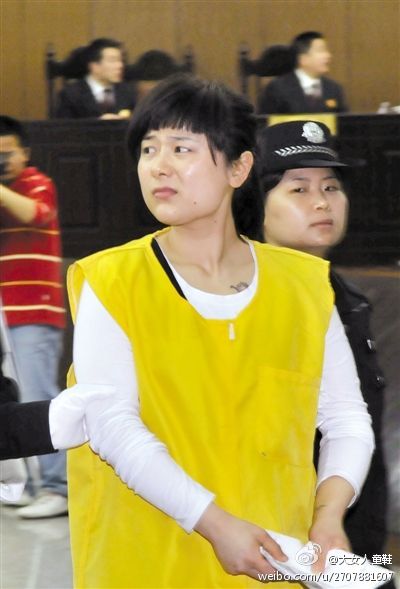 China's Supreme Court overturned a death sentence against Wu Ying on April 20. She is an entrepreneur from Zhejiang called "Rich Sister" by Chinese media. The announcement sparked widespread discussion among legal experts and scholars.
According to reports by Chinese state-sponsored media, the Supreme People's Court said Wu had committed large-scale financial fraud, harmed her lenders, and disrupted state financial management, and should be severely punished. The Supreme Court ruled that the High People's Court of Zhejiang must revisit Wu's sentence.
In March 2007, Wu was accused of illegally absorbing public deposits of 380 million yuan ($60.2 million) that she could not repay. She was arrested and quickly sentenced to death. All of Wu's 11 creditors denied that she had defrauded them. The whereabouts of Wu's 500 million yuan ($79.4 million) in assets is unknown. 
Wu's case received much attention after media exposure. An online petition drew tens of thousands of signatures. It demanded that the Supreme Court overturn the death sentence, saying, "Wu Ying is guilty, but she does not deserve a death sentence."
Tie Liu, the man who started an investigation group for Wu's case, told Voice of America (VOA) that he was not surprised at the new verdict, because he always thought that the case against Wu was not legitimate. "Wu Ying did not collect funds from the public but from 11 loan sharks. She borrowed money from them on pre-agreed terms and commitment. So it doesn't constitute a fraud."
Statements by Premier Wen Jiabao Turn Case
Wu's case turned around because of public opinion and Premier Wen Jiabao's statements on the case, according to Beijing lawyer Liu Xiaoyuan who is also a member of the investigation group. "As there is no judicial independence in China, the words of a top official can play a crucial role," Liu told VOA.
Beijing human rights lawyer Teng Biao voiced approval of the sentence being overturned. "As a young entrepreneur without any family background, it was almost impossible for Wu Ying to get any bank loan. Borrowing funds from friends for startup capital should only be counted as a civil dispute," Teng told Radio Free Asia (RFA).
He Bing, vice dean of the School of Law of China University of Politics Science and Law, wrote that this case shows the rigidity of regime control over China's private financial system and the severity of the state banks' monopoly. "Interest rates offered by banks cannot keep up with inflation. Private loans ask for high interest rates, yet it is not protected by the law." 
He said that fair trials do not depend on public opinion. The system needs to be reformed so that death penalty cases are handled with great caution. 
Teng Biao said Wen Jiabao said at a March 14 press conference that Wu's case "reflected the incompatibility between the need of private financial development and the economic development of society." On March 28, the state council held an executive meeting and decided to establish a comprehensive economic reform region in Wenzhou City to carry out pilot projects for private financing. 
"Wu's case did have some effect on breaking the financial monopolies in China," Teng said. However, the Supreme Court hinted that Wu should get a suspended death sentence. "This shows that Wu's case can do very little to push for a complete reform of the financial system."
Wu Ying's father, Wu Yongzheng, told New York-based New Tang Dynasty Television (NTD) that he was dissatisfied with the new verdict. He said he did not trust the Zhejiang High Court and wants a retrial outside of Zhejiang. He also said that his daughter owns real estate properties that were sufficient to pay off the debt—yet the court did not disclose this information to the public. 
Tie said that the two previous trials at the Zhejiang high court have exposed the darkness of the local judicial procedures. The case must be retried in a court outside of Zhejiang. 
He also said that, if the retrial goes well, the legal team would request that Wu's assets be returned to her. 
chinareports@epochtimes.com