Forests in Russia's Siberia and the African nation of Zambia are being destroyed by Chinese logging—through legal and illegal means.  
Russian news site Sibir Realii, in an article titled "Black Loggers," published on Sept. 30, detailed a "war" between locals trying to protect Siberian taiga from illegal loggers who were selling trees in China. Taiga, also known as snow forest, is an ecosystem characterized by coniferous trees such as spruces, larches, and pines.
Most of these illegal loggers are Chinese, according to Sibir Realii. Lyudmila Mysak, a resident of Paspaul village in southern Siberia, said: "It seems that they [Chinese] are selling our homeland, along with the land, the forest, us."
Antonina Raspayeva, a resident of Kebezeni village in southern Siberia, witnessed trees being cut down. "I just cried when I saw it all…I have a lump in my throat," she said to Sibir Realii.
Ivan Dek, a resident of Verkh-Biysk, southern Siberia, said locals have reported the problem to Russian prosecutors, but to no avail.
Problems in Russia
The United Nations' Food and Agriculture Organization (FAO), in a 2012 report on the outlook of Russia's forest sector, said that Russia had a forest area of about 1.18 billion hectares (about 2.9 billion acres) at the beginning of 2010, which accounted for over 20 percent of the world's forests. At the time of the report's release, the Russian forest sector—which processes timber such as pine, larch, birch, and oak trees—accounted for only 1.3 percent of the country's gross domestic product (GDP).
The underdeveloped industry has given rise to illegal logging, due to lucrative financial incentives: An illegal logger could profit about 6,000 rubles (about $90) from cutting down a pine tree, for example, but a legal logger would earn about 10 times less.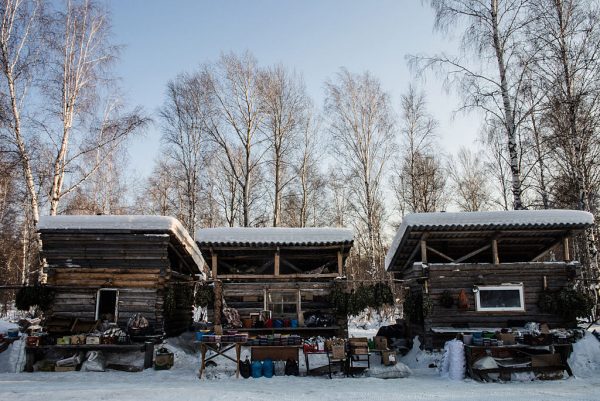 There is a real fear among Russian citizens that the Chinese could cut down all of Siberia's forests, according to a September article by Carnegie Moscow Center, a regional affiliate of the Carnegie Endowment for International Peace based in Washington. The fear has prompted thousands of locals in Siberia's Irkutsk and Krasnoyarsk regions to sign petitions seeking a ban on Russian timber exports to China.
Illegal loggers aren't all Chinese, according to the Carnegie article, as Chinese companies often hire Russian locals to carry out illegal logging. Some illegal logging is carried out in remote locations that are hard to monitor by Russian authorities, and in other instances, loggers take advantage of the fact that forest rangers are short-staffed due to lack of funding and can't sufficiently patrol forest areas.
Corruption among border patrol officials has also made the illegal timber trade difficult to quash. According to the Carnegie article, illegally cut timber can easily be cleared through Russian border customs. Loggers often bribe officials for fabricated paperwork that allows them to fell old-growth pine trees in protected areas.
In May, Russian newspaper Komsomolskaya Pravda reported the arrest of a deputy police chief in Kazachinsky district, in south-central Russia. He was detained for receiving bribes from a local logging company. In exchange for the bribes, the deputy police chief would inform the company of any planned police raids on illegal logging.
Chinese companies frequently bribe Russian officials to gain access to forest lands, according to an Oct. 4 article by Radio Free Asia (RFA), citing Russian media.
Jamestown Foundation, a Washington-based institute, published its findings on Chinese behavior in Siberia in June. It stated that Russian officials have pocketed fabulous sums, due to sizeable Chinese direct investment into the timber sector, represented as legal logging. However, few locals in the region have benefited at all.
Sayan Namsaraeva, a research associate with the University of Cambridge, said in an interview with Russian broadcaster Radio Svoboda in September that Siberia is turning into a "white Africa," where China has been injecting investment in order to financially pressure countries into granting China access to natural resources—an implicit goal under Beijing's "One Belt, One Road" initiative (OBOR, also known as Belt and Road).  
OBOR
Beijing first announced OBOR in 2013, an initiative to finance infrastructure projects in over 60 countries in order to form trade routes—and geopolitical influence—throughout Southeast Asia, Africa, Europe, and Latin America.
In March 2015, Beijing detailed its OBOR plans by announcing a set of measures and targets for different regions within China to undertake through partnering with other countries. According to state-run media Xinhua, one of the goals for China's northern provinces of Heilongjiang, Jilin, and Liaoning was to set themselves up as important gateways to Russia by partnering with land and maritime transportation systems in Russia's Far Eastern regions that border China.
China's state-run companies have been avid participants in OBOR. For example, in 2014, China Forestry Group, a state-run company established by China's State Forestry and Grassland Administration, started building a "forest city industrial park" in Suifenhe City, Heilongjiang. China Forest Group is tasked with managing forests in China and handling imports and exports of forest products.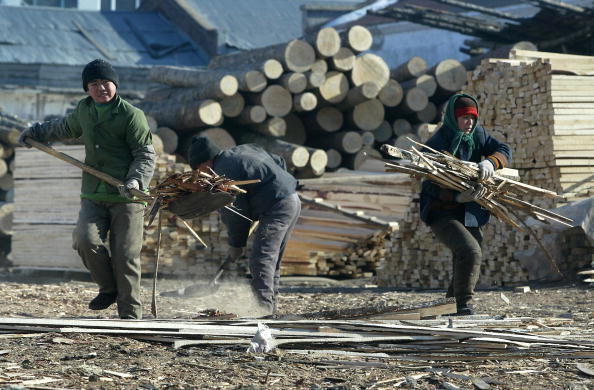 The industrial park has been billed by China Forest Group as a prime example of a project that combines the business of importing, exporting, and processing timber. As of May 2017, 55 companies are located in the industrial park, most of them manufacturers of wooden floor tiles and furniture.
China has long been one of the world's major producers of furniture and thus, it has great demand for timber imports. Since Beijing unveiled OBOR, China's furniture industry has been boosted by imported wood.
According to a February article by Chinese financial website JRJ.com, the furniture industry in Chongqing, one of China's megacities located in southwestern China, reported a cut in transport costs because Russian and European imports began coming through newly built OBOR railways that connect Russia to the megacity. Before OBOR, the same timber imports had to enter through Zhangjia Port, a port in eastern China's Jiangsu Province.  
China's hawkish state-run newspaper Global Times, in an article on June, reported that the total export and import value of timber and timber products in China topped $82.193 billion in 2017, an increase of almost 12 percent from a year earlier. And China imported 108 million cubic meters (about 38 million tons) of timber, with Russia accounting for 31 percent of that, the highest among all the countries China imported wood from.  
Zambia
China also imports timber from a number of African countries, such as Mozambique, the Democratic Republic of Congo, Tanzania, and Zambia.
Zambia, one of the African countries that has received significant investment under OBOR, is facing similar problems to Russia on timber. According to data from Zambia's Ministry of Lands and Natural Resources, the West African nation is covered by roughly 44 million hectares (about 108 million acres) of forest, which is about 60 percent of the country's total landmass. China has its eyes set on these natural resources.
At the center of trade between Zambia and China is mukula, better known as rosewood, which commands high prices in China because rosewood furniture (known as hongmu in Chinese) was historically used by the imperial elite and has become a status symbol in modern days.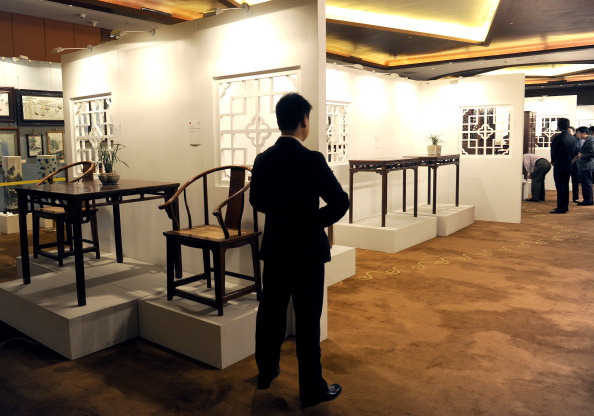 "The rush started around 2012. Chinese buyers were looking for mukula trees everywhere in the country," said Mercy Kandulu Mupeta, an official with Zambia's Forestry Department, according to an April 2017 report by the International Institute for Environment and Development (IIED), an independent policy-research institute based in London.
Evidence of illegal logging is apparent when looking at discrepancies between export data announced by FAO and import data announced by Chinese customs, according to an April 2018 paper published by the Center for International Forestry Research (CIFOR), a non-profit research organization headquartered in Indonesia.
For example, in 2016, Zambia exported roughly 3,000 cubic meters (about 1,060 tons) of timber in total, according to FAO, but China alone received a total of 60,000 cubic meters from Zambia (about 21,190 tons), according to Chinese customs data. The paper pointed out that rosewood made up the majority of both Zambia's exports and Chinese imports in those data sets, even though accurate data wasn't available.
The CIFOR paper estimated that the Zambian government suffers a loss of about $3.2 million annually due to illegal logging—the total estimated amount of businesses taxes should the timber exports be done through legal local companies. Additionally, the paper estimated that Zambian officials collected about $1.7 million in bribes annually in order to facilitate illegal timber exports.