China's Three Gorges Dam Project to Finish by May
February 6, 2006 12:00 am Last Updated: February 6, 2006 12:00 am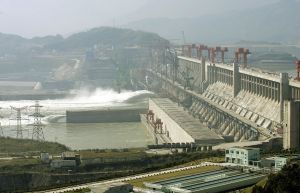 BEIJING – China's Three Gorges Dam, the world's largest hydroelectricity project, is expected to be completed by May, nine months ahead of schedule, state media reported on Monday.
The project, launched in 1993, will have 26 generators with a combined generating capacity of 18.2 kilowatt hours, easing a power crunch in energy-starved China.
It has already generated more than 80 billion kilowatt hours of electricity since its first generator started production in 2003.
But critics say the dam, whose flooding has swallowed whole cities and archaeological treasures, is an environmental nightmare.
The project will have cost a total $21.7 billion by the time it is completed, using 16 million cubic metres of concrete, the report said.